Video Games
Si vous passez sur ce blog, j'aurai bien du mal à croire que vous n'ayez pas encore entendu parler d'Alt-Minds, la fiction totale en cours de production par Lexis Numérique et Orange. Pour planter le décor, parlons alors d'un jeu-vidéo, tout éclaboussé de l'aura d'Eric Viennot (oui oui, celui là même qui avait réalisé In Memoriam), qui n'est pas un jeu vidéo. Hein ? D'accord, c'est un jeu, un jeu d'aventure, un thriller interactif paranormal pour être précis, qui sortira le 12 novembre prochain, avec un léger retard sur l'annonce précédente ; mais c'est surtout un mix entre série TV, jeu-vidéo, roman, tout en exploitant les ressorts du web : réseaux sociaux, sites participatifs et blogs.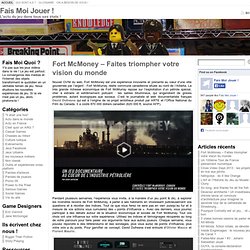 [by Leigh Alexander] Not all that long ago, your average game developer was likely to be defined by one key trait: Obsessiveness. Job postings sought those willing to "eat, breathe and sleep" games -- shorthand, basically, for the willingness to work long and unreasonable hours and to have an internal lexicon so broad that one's almighty 'cred' would be beyond reproach. The industry ecosystem has permanently changed, though. Game developers can no longer expect they'll definitely become anonymous nodes on massive assembly lines.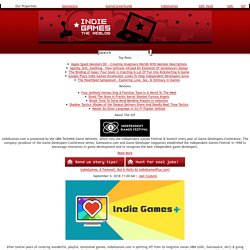 C'était quoi, Diablo 3 ? Il aura duré 200 heures sur deux semaines. Autant dire que ça fait beaucoup, une sacrée expérience même, un moment unique dans ma vie de gamer. On était quoi, de 4 à 8 joueurs, certains, comme moi, plus de 10 heures par jour. Limite flippant.
Gamer's Epicerie | Tout pour le gamer, à petit prix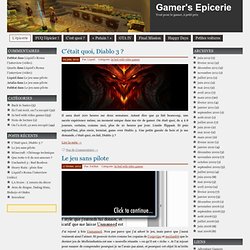 U.S. demand for digital games grows 11% in 2013 The U.S. digital games market continues to expand at a brisk pace thanks to expanding demand for mobile and free-to-play titles, including global sales juggernauts like CrossFire and League of Legends. Subterfuge: Designing a strategy game that takes a week to play The creators of Flower Garden and World of Goo are teaming up to develop Subterfuge, a mobile game of diplomacy and strategy that plays out in real time -- at very low speed. New video game documentary tied to top dev talent The video production company is trying to crowdfund a series of six documentaries on topics like game preservation, the fighting game community, speedrunners, and more.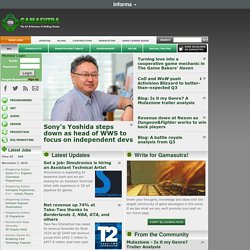 De E.T. à Watch_Dogs: combien coûte un "grand" jeu ? Divers - USA : Apple va rembourser 32,5 millions de dollars à ses clientsDivers - No Man's Sky : pas de retard à prévoir malgré l'inondation des studiosPC -
Mobile