Installation/ Sculpture Techniques
Get flash to fully experience Pearltrees
Google has released a new software framework that aims to give programmers the ability to create interactive experiences in physical spaces.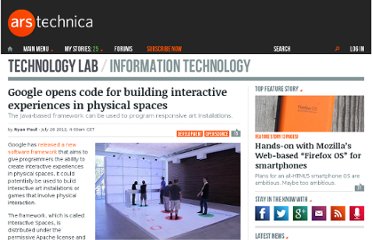 This is the start page for my series of over fifty Arduino tutorials . Each tutorial from chapter zero to thirteen will cover a variety of topics and lessons, then from chapter fourteen each chapter will cover a particular topic.
Installations using Kinect(s)
Maxuino is an open source project for quickly and easily getting the Max/MSP/Jitter talking to Arduino compatible micro-controllers. This allows Max to read analog and digital pins, write to digital and PWM pins, control servos, drive stepper motors and much more.