Vegan
Vegan Summer: 15 Delicious Dairy-Free Picnic Recipes
Olives for Dinner
Rosemary Soysage, Spinach and Mushroom with Farfalle
Hell Yeah It's Vegan!
cocoa macarons, vegan. « madcap cupcake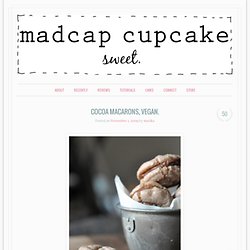 Happy World Vegan Day! It is also time to reveal the most recent Daring Bakers' challenge: Macarons. Well, truth be told, it was actually time to reveal the Daring Bakers challenge last Wednesday. Better late than never I say.
When I told my friend Mo recently that I've had INSANE cravings for sugar lately, she said "It's because you haven't gotten laid in a while. You just need to get laid, and problem solved." Easy 'nuff. But since *that* hasn't panned out quite yet, I instead spent last Friday baking just a wee bit shy of three dozen VwaV chocolate chip cookies, and then nearly plowed my way through all of them. By myself.
VwaV Chocolate Chip Cookies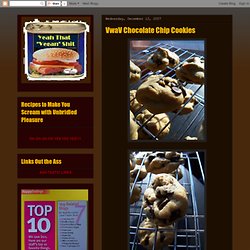 Vegan Recipes at VegFamily.com
i eat food
Really Good Vegan Raisin Scones
| Post Punk Kitchen | Vegan Baking & Vegan Cooking