Vegan
Take your cruelty-free cooking to the park, the beach and wherever else you're picnicking this summer. Loaves of bread stuffed with veggies and vegan pesto, spicy tempeh sushi rolls, fruity strawberry cocktails and coconut custard pie with spicy papaya sauce are just a few of the dairy-free dishes you could be enjoying on your summer adventures. From appetizers to dessert, these fresh, flavorful and creative vegan picnic recipes will impress even your most skeptical omnivore friends and family. Antipasto-Stuffed Picnic Loaf (image via: dailymail)
Vegan Summer: 15 Delicious Dairy-Free Picnic Recipes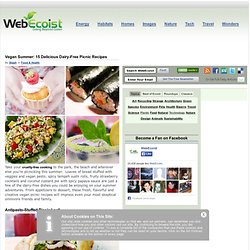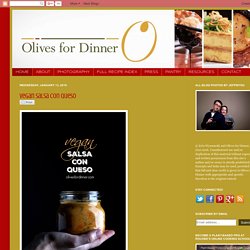 Olives for Dinner
Serves 2Passive Time: 1-2 hours, for marinating the portobelloActive Time: 40 minutesThis. Is. It. Rich and meaty portobello slices, drenched in a miso-kissed marinade, are paired with a garlic-scented cauliflower mash on the side and crispy shallots over the top.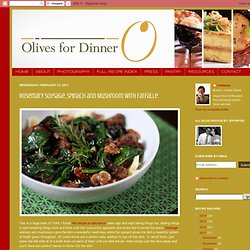 Rosemary Soysage, Spinach and Mushroom with Farfalle
This is a huge bowl of YUM. I found this recipe on epicurious years ago and kept taking things out, adding things in and tweaking things here and there until this concoction appeared and acted like it owned the place. Soysage, walnuts and mushrooms give the dish a wonderful heartiness while the spinach gives the dish a beautiful splash of bright green throughout.
Hell Yeah It's Vegan!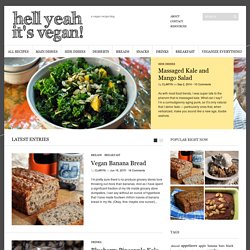 How to Grow Your Own Sprouts Lately I've been really excited about growing sprouts. Spring has been mercilessly taunting the northeastern U.S. for the last couple of months, and things have been looking really bleak. To keep from losing my mind, I've taken to "eating optimistically," which involves eating piles of sprouts and all the raw veggies I can get my... Vegan Irish Soda Bread
cocoa macarons, vegan. « madcap cupcake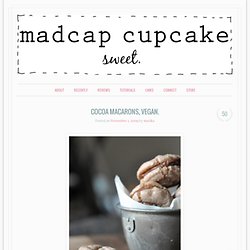 Happy World Vegan Day! It is also time to reveal the most recent Daring Bakers' challenge: Macarons. Well, truth be told, it was actually time to reveal the Daring Bakers challenge last Wednesday. Better late than never I say.
When I told my friend Mo recently that I've had INSANE cravings for sugar lately, she said "It's because you haven't gotten laid in a while. You just need to get laid, and problem solved." Easy 'nuff. But since *that* hasn't panned out quite yet, I instead spent last Friday baking just a wee bit shy of three dozen VwaV chocolate chip cookies, and then nearly plowed my way through all of them. By myself.
VwaV Chocolate Chip Cookies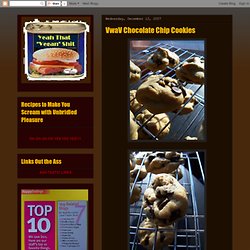 Vegan Recipes at VegFamily.com
Spring is here, spring is here; call it from the mountain tops, SPRING IS HERE. And an auspicious first day of spring it is: although I was met with intense fog when I awoke early this morning, the sun was trying to burn a hole through it on my drive to work and it was absolutely gorgeous. The temperature was in the 50s during my afternoon commute (convertible weather!), and considering we got 6″ of snow on Monday, I couldn't be happier about that.
i eat food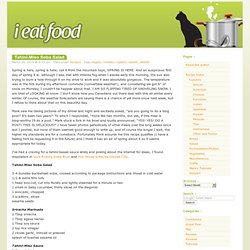 Really Good Vegan Raisin Scones
| Post Punk Kitchen | Vegan Baking & Vegan Cooking