Guns and explosions!!!
Sharpshooter amazes friends with his skills on Vimeo
The King Of Bombs (Largest nuclear explosion ever)
New Weapon
50 Caliber Sniper
Aks-47U
How To Make EXPLOSIVE AMMO !
Life/Death Clock
.577 T-Rex Rifle Video « CollegeSlackers.com
Girl Shoots Desert Eagle Video « CollegeSlackers.com
50 Cal Handgun Video « CollegeSlackers.com
Fastest Gunman Ever
Unmanned Vehicle Is Named "Crusher" theBRIGADE
Video of "Metal Storm" gun firing theBRIGADE
If you've ever worried about the threat from supersonic tennis balls, then BAE Systems' Artisan medium-range Type 997 3D surveillance radar should put you at ease – it can detect one traveling at Mach 3 (1,980 mph, 3,186 km/h) at a distance of 25 kilometers (15.5 mi). The new radar, developed for the Royal Navy's Type 23 Duke-class frigates, is designed to simultaneously detect 900 targets smaller than a bird, against background noise equivalent to 10,000 mobile phone signals at ranges from 200 meters (656 ft) to 200 kilometers (124 mi).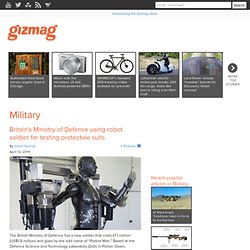 Military
Silynx's C4Grip puts soldier's non-trigger fingers to good use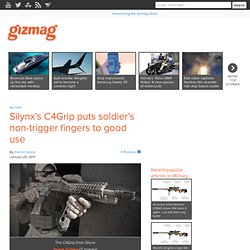 These days guns used by soldiers are more than just a weapon designed to send a high velocity projectile at an enemy.
Video#p=c1k7m55pw6
Video#p=7hpump67kb