Distance learning
Choose Change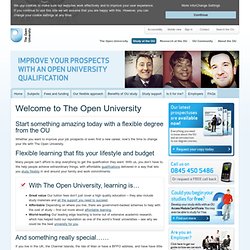 Start something amazing today with a flexible degree from the OU Whether you want to improve your job prospects or even find a new career, now's the time to change your life with The Open University. Flexible learning that fits your lifestyle and budget Many people can't afford to stop everything to get the qualification they want. With us, you don't have to.
Masters in Economics: Guide to Online Economics Degrees
Masters in economics takes a further exploration into how basic principles like supply and demand affect global and isolated economies. Masters in economics programs also prepare students for leadership positions in many cases. Below are some business and economics programs from highly-rated schools. Click here to view more masters in economics degrees About Master of Economics Degree The Master of Economics degree is most often sought by students who wish to work in research, government positions, or the financial realm.