Blogs
Scraping organism metadata for Treebase repositories from GOLD using Python and R Scraping organism metadata for Treebase repositories from GOLD using Python and RI recently wanted to get hold of habitat/phenotype/sequencing metadata for the individual organisms of an archived Read more » Two R tutorials for beginners Two R tutorials for beginnersI am currently in the process of rescuing some of the pages from my now defunct datajujitsu.co.uk blogger blog and moving to this Github/Clojure/Bootstrap version....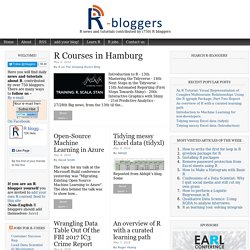 French | R blogs / lang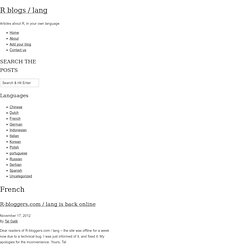 R-bloggers.com / lang is back online Dear readers of R-bloggers.com / lang – the site was offline for a week now due to a technical bug. I was just informed of it, and fixed it.
Guest post by Marek Hlavac Since its first introduction on this blog, stargazer, a package for turning R statistical output into beautiful LaTeX and ASCII text tables, has made a great deal of progress. Compared to available alternatives (such as apsrtable or texreg), the latest version (4.0) of stargazer supports the broadest range of model objects. In particular, it can create side-by-side regression tables from statistical model objects created by packages AER, betareg, dynlm, eha, ergm, gee, gmm, lme4, MASS, mgcv, nlme, nnet, ordinal, plm, pscl, quantreg, relevent, rms, robustbase, spdep, stats, survey, survival and Zelig.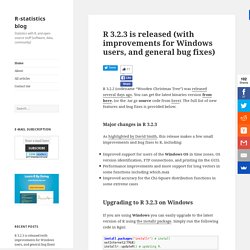 What makes this book different from other books about R is stated clearly by the author Norman Matloff in the introduction: "This book is not a compendium of the myriad types of statistical methods that are available in the wonderful R package. It really is about programming and cover programming-related topics missing from most other books on R". Most books about R present a gentle introduction to the language and then jump to practical applications. Norman Matloff, across the 350 pages of this book, accompanies the reader in developing the necessary skills useful to write software in a proper way focusing on the characteristics and idiosyncrasies of the R language.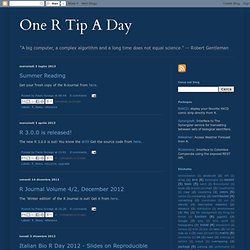 One R Tip A Day
This post provides links to a range of resources related to the use and interpretation of correlations. I wanted to provide a page with links to a number of additional resources that would be useful both for those of my students who might be keen to learn more and for anyone else who might be interested. Specifically, this post provides links to: (a) introductory book-style chapters on correlation, (b) resources related to assorted issues in correlation (i.e., discussion of causal inference, correlation with various variable types, range restriction, statistical power, correlation interpretation, and significance testing), (c) tutorials on computing correlations using SPSS and R, and (d) tips for reporting correlations in APA Style.
Psychology and Statistics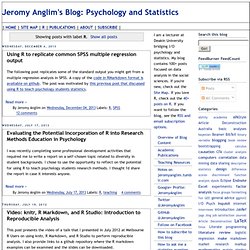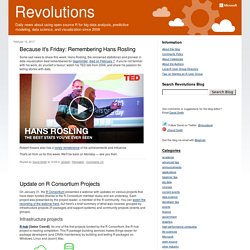 by Mike Bowles Mike Bowles is a machine learning expert and serial entrepreneur. This is the second post in what is envisioned as a four part series that began with Mike's Thumbnail History of Ensemble Models. One of the main reasons for using R is the vast array of high-quality statistical algorithms available in R. Ensemble methods provide a prime example. As statistics researchers have advanced the forefront in statistical learning, they have produced R packages that incorporate their latest techniques.