Piano
Piano key frequencies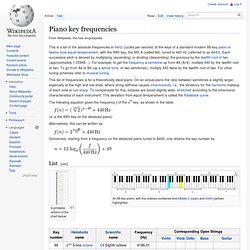 This is a virtual keyboard showing the absolute frequencies in hertz (cycles per second) of the notes on a modern piano (typically containing 88 keys) in twelve-tone equal temperament , with the 49th key, the fifth A (called A4), tuned to 440 Hz (referred to as A440 ). Each successive pitch is derived by multiplying (ascending) or dividing (descending) the previous by the twelfth root of two (approximately 1.05946...). For example, to get the frequency a semitone up from A4 (A ♯ 4), multiply 440 by the twelfth root of two. To go from A4 to B4 (up a whole tone , or two semitones), multiply 440 twice by the twelfth root of two.
Fantasie Impromptu
Building a "boon companion."
When I was studying at the MacPhail Center , I showed up to class and someone had taken the piano bench out of our studio. Rather than hunt it down my teacher reluctantly grabbed a simple desk chair for me to use. I haven't gone back since. Once exposed to it I just preferred it. Several years later I was introduced to the technique of pianist Glenn Gould via a PBS documentary (via BBC). I saw that he was using a chair and I said (out loud) " Finally, someone else who uses a chair too!