Books
Best Sellers: Best Science Fiction
Best Sellers: Best Mystery & Thrillers
A Clockwork Orange eBook: Anthony Burgess
One Flew Over the Cuckoo's Nest: (Unknown) eBook: Ken Kesey, Robert Faggen
The Epic of Gilgamesh (Penguin Classics) eBook: Penguin Classics, N. K. Sandars
The Black God's War: A Novella Introducing a new Epic Fantasy eBook: Moses Siregar III
Murder on the Orient Express (Poirot) eBook: Agatha Christie
The Perks of Being a Wallflower eBook: Stephen Chbosky
Catch-22 eBook: Joseph Heller, Christopher Buckley
Do you want the most complete collection of all of Shakespeare's legendary works? A collection that also includes the lesser known, yet acclaimed plays PLUS annotations, commentaries and biographies? Then you want this compilation from Everlasting Flames Publishing - designed for You. In this irresistible collection you get all the celebrated plays, AND all the hard-to-get Apocryphal Plays. These Apocryphal Plays, as they are known, were not as widely published as Shakespeare's well-known works, due to not being included in the famous 'First Folio' published by his fellow actors. As a result, they are extremely sought-after.
William Shakespeare Complete Works Ultimate Collection: 213 Plays, Poems, Sonnets, Poetry including the 16 rare, hard-to-get Apocryphal Plays PLUS Annotations, Commentaries of Works, Full Biography eBook: Algernon Charles Swinburne, William Hazlitt, Willi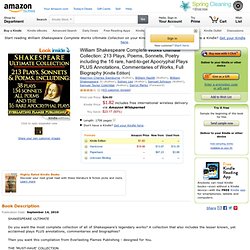 It took this reviewer half a century to get around to reading this great novel for the first time! Appreciating it then, with 'fresh eyes' I share the view that "Gone With The Wind" is quite simply the most readable long novel of all time. With world-wide sales nudging 25 million, it's probably fair to say that most first-time readers (apart from the odd reviewer here at the world's biggest web site) have shared that opinion in the almost 70 years since Margaret Mitchell wrote her one-and-only book.
Gone with the Wind eBook: Margaret Mitchell, Pat Conroy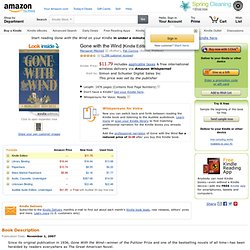 Mind Cafe eBook: Lizzy Ford
The Prophet of Panamindorah, Book One Fauns and Filinians eBook: Abigail Hilton
The Dragon Reborn: Book Three of 'The Wheel of Time' eBook: Robert Jordan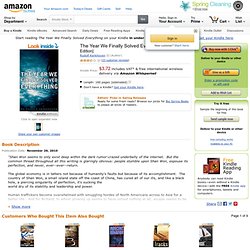 The Year We Finally Solved Everything eBook: Rudolf Kerkhoven
"Shan Won seems to only exist deep within the dark rumor-crazed underbelly of the internet. But the common thread throughout all this writing is glaringly obvious: people stumble upon Shan Won, espouse its perfection, and never, ever--ever--return. The global economy is in tatters not because of humanity's faults but because of its accomplishment. The country of Shan Won, a small island state off the coast of China, has cured all of our ills, and like a black hole, a piercing singularity of perfection, it's sucking theworld dry of its stability and leadership and power.
Spellmonger (The Spellmonger Series) eBook: Terry Mancour
The Shadow Rising: Book Four of 'The Wheel of Time' eBook: Robert Jordan
Death Magic (Haven Series #6) eBook: B. V. Larson
A Feral Darkness eBook: Doranna Durgin
About two years ago, Ms. Harrison teased her blog followers about an upcoming book involving Rachel, Trent, and Jenks on a road trip headed out west. Fast forward to now as Book 9 has finally been released. If you follow Ms. Harrison, you know that she touts this particular book as her favorite of the series. As a fan since 2005, I can say it's without a doubt my new favorite as well.
Pale Demon eBook: Kim Harrison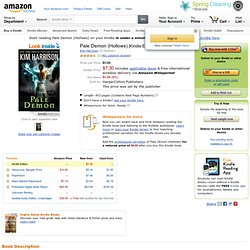 Hilda - Snow White Revisited (Hilda the Wicked Witch) eBook: Paul Kater
Hard Day's Knight (Black Knight Chronicles) eBook: John G. Hartness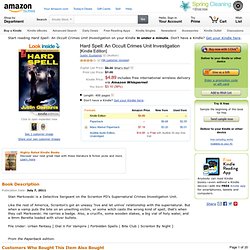 "A cool mix of cop show and creature feature. Gustainis had me at 'meth-addicted goblins'." - Marcus Pelegrimas, author of the Skinners series "A magical mystery tour of a murder case rife with supernatural suspects. Sit down for an enchanted evening of otherworldly entertainment!" - Laura Resnick, author of Unsympathetic Magic & Vamparazzi "Hard Spell deals with hardened professionals looking for supernatural things hiding under rocks, and then dragging them out and giving them a good kicking.
Hard Spell: An Occult Crimes Unit Investigation eBook: Justin Gustainis
Grave Dance: An Alex Craft Novel eBook: Kalayna Price
Home Improvement: Undead Edition eBook: Charlaine Harris, Toni L. P. Kelner
If you've been waiting on this series to *finish* for as long as I have, this book is for you. It's the next-to final volume in Robert Jordan's twenty-years-in-the-making Wheel of Time series, not the ending itself, but -- well, I'll explain below. If you're familiar with the series at all, you know that Jordan passed away before he could finish writing the final volumes, and you know that Brandon Sanderson, an expert writer in his own right, has been brought on to finish the final three books -- The Gathering Storm, released last year, this volume, Towers of Midnight, and a final volume, _A Memory of Light_, which seems likely to be released around March 2012.
Towers of Midnight eBook: Robert Jordan, Brandon Sanderson
Forsaken (Fall of Angels) eBook: Keary Taylor
Fairy tale villains are real, but luckily there's one woman crazy enough to stop them: Veronica Grim, Fairy Tale Assassin. Follow her exploits in the seedy world of fairy tale crime in these two thrilling short stories. "Blood Don't Lie" is a 1000 word tale involving blue facial tattoos, a bloody key, and a whole closet full of trouble. Can Veronica take down a killer without becoming one of his victims?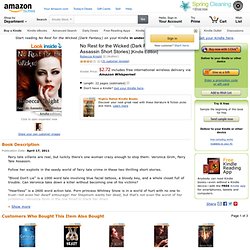 No Rest for the Wicked (Fairytale Assassin Short Stories) eBook: Rebecca Knight
Inherited Danger (The Dawning of Power) eBook: Brian Rathbone
Branded (Fall of Angels) eBook: Keary Taylor
Horker's Law (The Six Books of Magic) eBook: Mike Lee
Other reviewers are correct that Brooks approaches the problem posed by a zombie issue as a problem to be solved within the structure of modern global politics. In my opinion, the approach of focusing on the response to the zombie plague is more sophisticated and more timely than making an allegory of the zombies themselves. It was Romero who took the voodoo myth of the reanimated corpse and popularized an idea of the zombie as a vessel for a communicable plague. He identified a fundamental anxiety and created new monster in response to modern anxieties.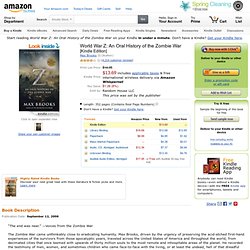 World War Z: An Oral History of the Zombie War eBook: Max Brooks
The Wayfarer King (The Kinshield Saga) eBook: K.C. May
The Labyrinth eBook: Kenneth McDonald
Ghost Story: A Novel of the Dresden Files eBook: Jim Butcher
Through A Dark Mist (Robin Hood Trilogy) eBook: Marsha Canham
Riptide eBook: Michael Prescott
I have to say this book was a disappointment. The first three books in this series were unquestionably 5-star reading. A Feast for Crows, however, truly was -- as one reviewer described it -- a chore to get through. I wondered often as I read it whether Martin would have fared better to collapse this book and the sequel, A Dance with Dragons, into one volume after all. The argument that the book would have then been too long doesn't wash with me since many of the chapters here -- far too many -- felt like "packing material", the popcorn and bubblewrap that you have to dig through to get to the good stuff that you really wanted and paid for. A Feast for Crows would have been a far better book if the dross chapters had been eliminated and the pure gold chapters from the next book added in.
A Feast for Crows: A Song of Ice and Fire: Book Four (Martin, George Rr) eBook: George R.R. Martin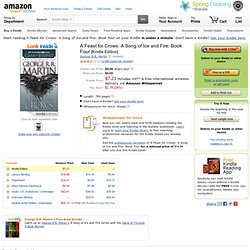 I've read through some of the other reviews of the first three books of this series and I think it time to address a few of the most commonly cited complaints. First: the sex. Yes, there is a lot of graphic sexuality in these novels. But, you know, there's a lot more warfare, fighting, murder and mutilation.
A Storm of Swords: A Song of Ice and Fire: Book Three eBook: George R.R. Martin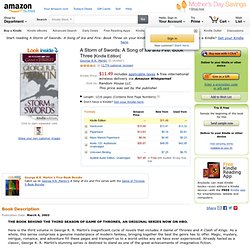 A Clash of Kings: A Song of Ice and Fire: Book Two eBook: George R.R. Martin
Michael Vey eBook: Richard Paul Evans
Review Michael Vey: The Prisoner of Cell 25 by Richard Paul Evans Reviewed by John M.
First off, I'm a heavy duty fan of GRRM. I've read over a 100 different fantasy authors in my time (started at 12; I'm now 32). Took about 5 years off from the genre b/c I felt it was all getting too formulaic and cliched.
A Game of Thrones: A Song of Ice and Fire: Book One eBook: George R.R. Martin
A Dance with Dragons: A Song of Ice and Fire: Book Five eBook: George R.R. Martin
SPOILERS AHEAD I'm Varamyr Sixskins. I'm here for the prologue to set us all up for the impending horrors of the North and all the excitement to come...
The Hangman's Daughter eBook: Oliver Pötzsch, Lee Chadeayne, Lee Chadeayne
Amazon Exclusive: A Q&A with Author Oliver Pötzsch Question: What initially inspired you to write this story? Oliver Pötzsch: As a descendant of the executioner's dynasty Kuisl, I have been fascinated by their history since my childhood. Engaging myself with the Kuisls makes me feel connected to a greater lineage. In addition, executions are a fascinating topic often treated with undue prejudice. In this respect my books are a defense of my ancestors' honour.
The Magicians: A Novel eBook: Lev Grossman
Stop thinking this is a fantasy book. I know, I know, it's called "The Magicians," the plot synopsis references all three of the most famous fantasy series and describes a handful of familiar fantasy tropes, including the school of magic and the fairy tale land come to actual life. But forget all of that.
The Magician King: A Novel eBook: Lev Grossman
Robert Ludlum's (TM) The Bourne Dominion (Jason Bourne) eBook: Robert Ludlum, Eric Van Lustbader
The Black Echo eBook: Michael Connelly