Oracle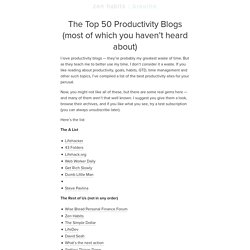 I love productivity blogs — they're probably my greatest waste of time. But as they teach me to better use my time, I don't consider it a waste. If you like reading about productivity, goals, habits, GTD, time management and other such topics, I've compiled a list of the best productivity sites for your perusal. Now, you might not like all of these, but there are some real gems here — and many of them aren't that well known.
The Top 50 Productivity Blogs (most of which you haven't heard about)
Human Capital Management | Applications | Oracle
systematicHR | The intersection between HR strategy and HR technology
Posted on March 5th, 2011 by Sanjit Anand | Print This Post| Email This Post So WHAT IS "ORACLE FUSION"? People often get confuse with this term .To start with, it will be a good idea to know the difference between Fusion Applications and Middleware. Oracle Fusion is composed of two parts: Fusion middle ware and Fusion applications.Oracle Fusion Middle ware aka FMW : Comprises of the Oracle Application Server and other technology stack components that Oracle has acquired in past few years.
Oracle Fusion and Oracle Fusion Applications : Overview | OracleApps Epicenter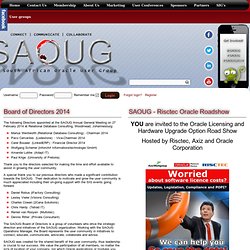 The following Directors appointed at the SAOUG Annual General Meeting on 27 February 2014 at Relational Database Consulting, Woodmead, Johannesburg: Marius Wentworth (Relational Database Consulting) : Chairman 2014 Paco Cervantes (Lodestone) : Vice-Chairman 2014 Carel Bouwer (LinkedERP) : Financial Director 2014 Wolfgang Scherrer (infomArt Informationstechnologie GmbH) Amanda Lubbe (Adapt IT) Paul Krige (University of Pretoria) Thank you to the directors selected for making the time and effort available to assist in growing the user community.
SAOUG - South African User Group
Modern organizations are under intense pressure to provide accurate, reliable, and speedy financial information to business decision-makers. Furthermore, complying with global standards has become more of a headache than ever ... Greater flexibility, improved performance, lower costs – the list of cloud benefits goes on and on.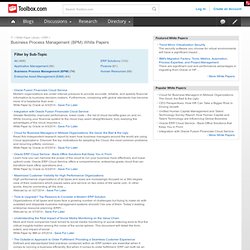 Business Process Management (BPM) White Paper Library - Toolbox for IT
Index (Oracle HRMS Help)
Applications (Release 12) Documentation Library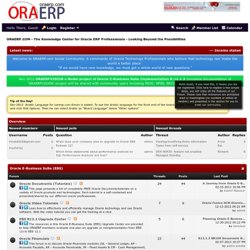 ORAERP.COM - The Knowledge Center for Oracle ERP Professionals - Looking Beyond the Possibilities
Welcome to ORAERP.com Social Community. A community of Oracle Technology Professionals who believe that technology can 'make the world a better place'. "If we would have new knowledge, we must get a whole world of new questions." Nov 2012 Complete documentation of 'ORAERPVISION' project will be shared with community users including RD20, BP80, BR100, MD50, Project Charter, etc After a journal entry is posted, it cannot be deleted.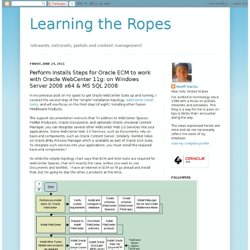 In my previous post on my quest to get Oracle WebCenter Suite up and running, I covered the second step of the "simple" installation topology, WebCenter install tasks , and will now focus on the third step (of eight): Installing other Fusion Middleware Products. The support documentation instructs that "in addition to WebCenter Spaces, Portlet Producers, Oracle Discussions, and optionally Oracle Universal Content Manager, you can integrate several other WebCenter Web 2.0 Services into your applications. Some WebCenter Web 2.0 Services, such as Documents, rely on back-end components, such as Oracle Content Server. Similarly, Worklist relies on Oracle BPEL Process Manager which is available as part of Oracle SOA Suite. To integrate such services into your applications, you must install the required back-end components."
Install ECM to work with Oracle WebCenter 11g: on Windows Server 2008 x64 & MS SQL 2008