Textbooks - order from Web
Helping to empower students to be a catalyst for change From planting trees (over 5 million and counting), to supporting student philanthropists that are leading the next generation of social entrepreneurs, to joining up with ONE and sending students to Africa, we are constantly looking for ways to do good in the world around us. Check out what Chegg for Good has been up to » At Chegg, we know how expensive college textbooks can be. That's why we give students the option to rent textbooks, as well as buy both new and used textbooks. Chegg also lets you sell textbooks directly to us, and we'll pay top dollar for your books.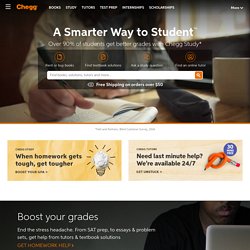 Amazon - Student
15 Sub Categories Adoption Children Divorce Domestic Violence Extended Family Family Planning Fertility Geneology Marriage Nobility Parenting Pregnancy Relationships Siblings Step Family Main Categories Agriculture Arts Business Childrens Literature Computers Construction Education Engineering Entertainment Family Food Foreign Language Health Hobbies Industry Law Literature Mathematics Medicine Military Nature Reference Religion Science Self Help Social Science Sports Transportation Travel World
CheapBooks® : Book Price Comparison : Buy Sell Rent Textbooks, Buybacks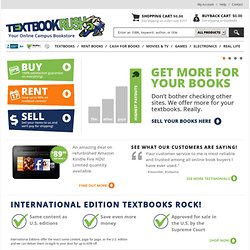 TextbooksRUs - College textbooks - New and Used Textbooks - Book Buyback - TextbooksRus
Free shipping on orders over $25* *A minimum purchase of $25 is required. Shipping is provided via FedEx SmartPost® and FedEx Express Saver®. Average delivery time is 1 – 5 business days, but is not guaranteed in that timeframe. Also allow 1 - 2 days for processing.