Collaboration
Humor. Want to be more creative at work? Be happy! Yesterday I spoke at a huge media conference in Sweden – my talk was about the link between creativity and happiness at work.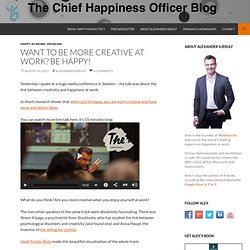 In short, research shows that when you're happy, you are more creative and have more and better ideas. You can watch my entire talk here, it's 15 minutes long: Other People's trees for Collaboration. Pages · rdrewd/collaboration Wiki. Markdown. Download Markdown 1.0.1 (18 KB) — 17 Dec 2004 Introduction Markdown is a text-to-HTML conversion tool for web writers.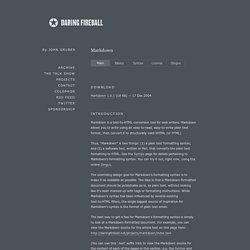 Markdown allows you to write using an easy-to-read, easy-to-write plain text format, then convert it to structurally valid XHTML (or HTML). Thus, "Markdown" is two things: (1) a plain text formatting syntax; and (2) a software tool, written in Perl, that converts the plain text formatting to HTML. WikiSyntax - support - The reference to the wiki syntax for Google Code projects - User support for Google Project Hosting. Each wiki page is stored in a .wiki file under the /wiki directory in a project's repository.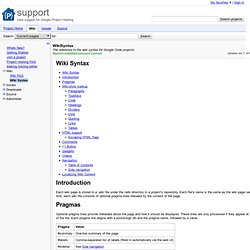 Each file's name is the same as the wiki page name. And, each wiki file consists of optional pragma lines followed by the content of the page. Collaboration. 10 things Gen Y do online.. and shouldn't. The Generation Y.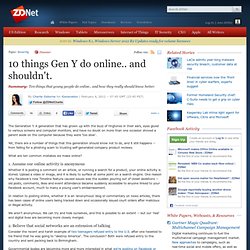 A generation that has grown up with the buzz of ringtones in their ears, eyes glued to various screens and computer monitors, and have no doubt on more than one occasion shoved a parent aside on the computer because they were 'too slow'. Yet, there are a number of things that this generation should know not to do, and it still happens -- from falling for a phishing scam to trusting self-generated company product reviews. What are ten common mistakes we make online?
Inappropriate Facebook pictures on your profile really could lose you a job. Researchers warn of increase in employers checking candidates social networking profileLifestyle, attitudes and even your appearance in photos can matter By Mark Prigg Published: 14:34 GMT, 23 July 2012 | Updated: 15:04 GMT, 23 July 2012.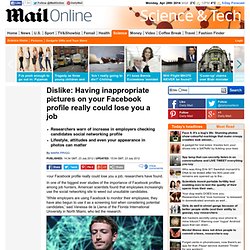 Joe Kraus - Culture of Distraction. A few weeks ago I gave this rough presentation on a topic called "SlowTech".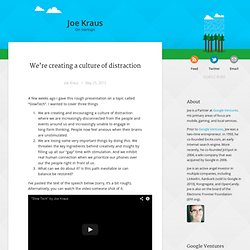 I wanted to cover three things We are creating and encouraging a culture of distraction where we are increasingly disconnected from the people and events around us and increasingly unable to engage in long-form thinking. People now feel anxious when their brains are unstimulated.We are losing some very important things by doing this. We threaten the key ingredients behind creativity and insight by filling up all our "gap" time with stimulation.
Inside Collaboration Now Archive. Collab. Books | References. Mind-Mapping. Time Management.
---