Better Presentations
If you've ever wondered why your presentations do not get enough of your audience to act on what you present, then spend 20 minutes with this book. Advanced Presentations by Design overturns much of the conventional wisdom and practice for creating presentations. Based on over 200 research studies from the fields of communication, marketing, psychology, multimedia, and law, it provides fact-based answers to critical questions about presentation design. The book shows how to adapt your presentation to different audience personality preferences, what role your data should play and how much of it you need, how to turn your data into a story, and how to design persuasive yet comprehensible visual layouts. All this is delivered via the succinct 10-step Extreme Presentation method, which has been field-tested extensively in leading corporations such as Microsoft, Kimberly-Clark, eBay, ExxonMobil, HJ Heinz, and Motorola.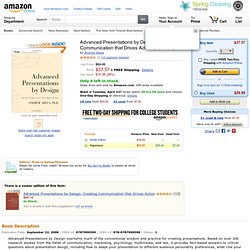 Advanced Presentations by Design: Creating Communication that Drives Action (9780787996598): Andrew Abela
Big "thumbs-up" for Rick Altman's "Why Most PowerPoint Presentations Suck..." Everybody admits - our PowerPoint presentations need to improve. There's an understatement!
Why Most PowerPoint Presentations Suck and How You Can Make Them Better (9780615142234): Rick Altman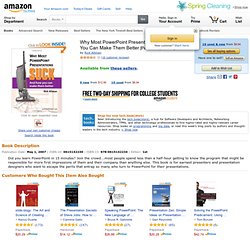 slide:ology: The Art and Science of Creating Great Presentations (9780596522346): Nancy Duarte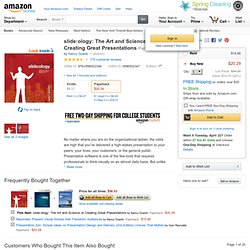 I just destroyed this book with folded pages and ink annotations, so the perfectionists out there may want to order two copies, one for eating and one for sharing. The price is phenomenally reasonable, especially for something that is all color and totally elegant. This is not about powerpoint slides. If anything, it is a very subtle but explicit critique of how retarded they still are (e.g. no separation between bullet groups). This is an utterly inspiring combination of wisdom, education, visual excitement, and plain fun that "lives" what it preaches. When I get back to the office I am going to read this book again while I create a briefing on the Earth Intelligence Network and educating the poor one cell call at a time that respects the deep knowledge being imparted by this author and her team.