Texts
Hume - A Treatise of Human Nature
www.humesociety.org/hs/issues/v2n2/patten/patten-v2n2.pdf
Philosophy Index
Two Dogmas of Empiricism
Willard Van Orman Quine Originally published in The Philosophical Review 60 (1951): 20-43. Reprinted in W.V.O. Quine, From a Logical Point of View (Harvard University Press, 1953; second, revised, edition 1961), with the following alterations: "The version printed here diverges from the original in footnotes and in other minor respects: §§1 and 6 have been abridged where they encroach on the preceding essay ["On What There Is"], and §§3-4 have been expanded at points."
Hume - A Treatise of Human Nature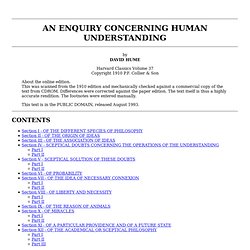 Hume: Enquiry Concerning Human Understanding
MORAL philosophy, or the science of human nature, may be treated after two different manners; each of which has its peculiar merit, and may contribute to the entertainment, instruction, and reformation of mankind. The one considers man chiefly as born for action; and as influenced in his measures by taste and sentiment; pursuing one object, and avoiding another, according to the value which these objects seem to possess, and according to the light in which they present themselves. As virtue, of all objects, is allowed to be the most valuable, this species of philosophers paint her in the most amiable colours; borrowing all helps from poetry and eloquence, and treating their subject in an easy and obvious manner, and such as is best fitted to please the imagination, and engage the affections.
Edmund L. Gettier From Analysis 23 ( 1963): 121-123. Transcribed into hypertext by Andrew Chrucky, Sept. 13, 1997. Various attempts have been made in recent years to state necessary and sufficient conditions for someone's knowing a given proposition.
Is Justified True Belief Knowledge?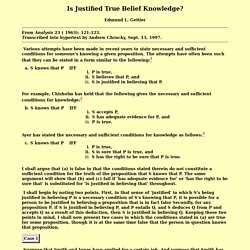 Philosophical Hermeneutics
"All Things Shining": How Greek philosophers can bring back wonder - Page 1 - Arts
Early Modern Texts - Philosophers and Philosophy Topics
On the Nature of Things by Lucretius
Introductory Articles: Introduction to The Epicurus Reader An introduction of Epicureanism by D.S. Hutchinson Introduction to Lucretius An introduction to Lucretius in four parts by M.F. Smith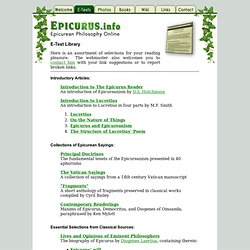 E-Texts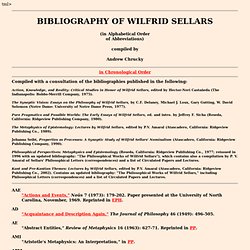 (in Alphabetical Order of Abbreviations) compiled by Andrew Chrucky in Chronological Order Compiled with a consultation of the bibliographies published in the following: Action, Knowledge, and Reality: Critical Studies in Honor of Wilfrid Sellars, edited by Hector-Neri Castañeda (The Indianapolis: Bobbs-Merrill Company, 1975).
BIBLIOGRAPHY OF WILFRID SELLARS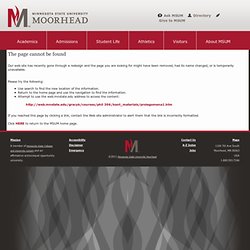 Kant's Prolegomena
Our web site has recently gone through a redesign and the page you are looking for might have been removed, had its name changed, or is temporarily unavailable. Please try the following: Use search to find the new location of the information. Return to the home page and use the navigation to find the information. Attempt to use the web.mnstate.edu address to access the content: http://web.mnstate.edu/gracyk/courses/phil 306/kant_materials/prolegomena1.htm If you reached this page by clicking a link, contact the Web site administrator to alert them that the link is incorrectly formatted. Click HERE to return to the MSUM home page.
Wiredshelf.com
www.nyu.edu/gsas/dept/philo/faculty/block/papers/HOPHOT.pdf
Ethics (Spinoza)
repository of texts written by Michel Foucault
Of grammatology
Sein und Zeit
SovLit.com - Soviet Literature Summarized
Edited by S.T. Joshi Dust Jacket Text In the 1920s and '30s, H.P. Lovecraft pioneered a new type of weird fiction that fused elements of supernatural horror with the concepts of visionary science fiction. Lovecraft's tales of cosmic horror revolutionized modern horror fiction and earned him the reputation of the most influential American writer of weird tales since Edgar Allan Poe.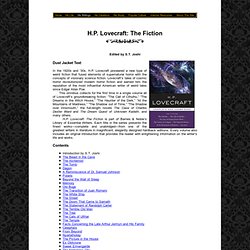 H.P. Lovecraft: The Fiction
Inferno - Contents
Origins of the Family
Works of Frederick Engels 1884 Written: March-May, 1884;First Published: October 1884, in Hottingen-Zurich;Source: Marx/Engels Selected Works, Volume Three;Translation: The text is essentially the English translation by Alick West published in 1942, but it has been revised against the German text as it appeared in MEW [Marx-Engels Werke] Volume 21, Dietz Verlag 1962, and the spelling of names and other terms has been modernised;Transcription/Markup: Zodiac/Brian Baggins;Online Version: Marx/Engels Internet Archive (marxists.org) 1993, 1999, 2000. Proofed and corrected: Mark Harris 2010 Table of Contents: