Texts
Hume - A Treatise of Human Nature
www.humesociety.org/hs/issues/v2n2/patten/patten-v2n2.pdf
Philosophy Index
Philosophy Index Philosophy Index is a site devoted to the study of philosophy and the philosophers who conduct it. The site contains a number of philosophy texts, brief biographies and introductions to philosophers and explanations on a number of topics. Philosophy Index is a work in progress, a growing repository of knowledge.
Two Dogmas of Empiricism
Willard Van Orman Quine Originally published in The Philosophical Review 60 (1951): 20-43. Reprinted in W.V.O. Quine, From a Logical Point of View (Harvard University Press, 1953; second, revised, edition 1961), with the following alterations: "The version printed here diverges from the original in footnotes and in other minor respects: §§1 and 6 have been abridged where they encroach on the preceding essay ["On What There Is"], and §§3-4 have been expanded at points."
Hume - A Treatise of Human Nature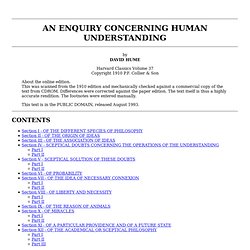 Hume: Enquiry Concerning Human Understanding
MORAL philosophy, or the science of human nature, may be treated after two different manners; each of which has its peculiar merit, and may contribute to the entertainment, instruction, and reformation of mankind. The one considers man chiefly as born for action; and as influenced in his measures by taste and sentiment; pursuing one object, and avoiding another, according to the value which these objects seem to possess, and according to the light in which they present themselves. As virtue, of all objects, is allowed to be the most valuable, this species of philosophers paint her in the most amiable colours; borrowing all helps from poetry and eloquence, and treating their subject in an easy and obvious manner, and such as is best fitted to please the imagination, and engage the affections.
Edmund L. Gettier From Analysis 23 ( 1963): 121-123. Transcribed into hypertext by Andrew Chrucky, Sept. 13, 1997. Various attempts have been made in recent years to state necessary and sufficient conditions for someone's knowing a given proposition.
Is Justified True Belief Knowledge?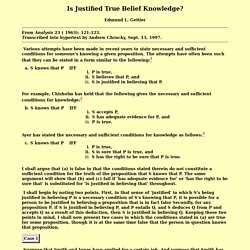 Philosophical Hermeneutics
Hey kids, ever wondered how Western philosophical thought has evolved over the past few thousand years, and why, and what we should think and do about it now? Well, we can start with a new book by What Computers Can't Do author and iTunesU podcast-lecture rock star Hubert Dreyfus of UC Berkeley and his former student Sean Dorrance Kelly, now Harvard's chair of philosophy. All Things Shining, it's called, and maybe that sounds too optimistic for a book whose ambition is partly to explain how the various heavy hitters of human understanding wound up giving mankind a self-image that "destroys the possibility of a meaningful and worthwhile existence." But these authors, gods bless them, have in mind an antidote to all that destruction — namely, "the basic phenomenon of Homeric polytheism." That is, now that we live with a tyranny of too many choices in life, we sure could use an array of ancient-Greek-style gods to guide us through them.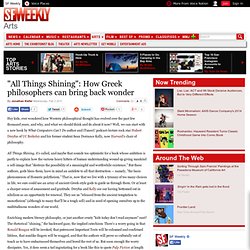 "All Things Shining": How Greek philosophers can bring back wonder - Page 1 - Arts
Early Modern Texts - Philosophers and Philosophy Topics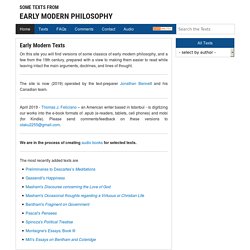 On this site you will find versions of some classics of early modern philosophy, and a few from the 19th century, prepared with a view to making them easier to read while leaving intact the main arguments, doctrines, and lines of thought. The better to focus on preparing more texts, Jonathan Bennett has handed over the ownership and maintenance of this site to Peter Millican and Amyas Merivale, of Hertford College, Oxford. Returning visitors will notice that we have given the site a fresh lick of paint, but the core content is unchanged. In particular, we will continue to host Jonathan Bennett's articles here, and - of course - all of his wonderful translations of early modern texts. Any questions or comments about this site should now be directed to Peter Millican (see the Contact page).
On the Nature of Things by Lucretius
Introductory Articles: Introduction to The Epicurus Reader An introduction of Epicureanism by D.S. Hutchinson Introduction to Lucretius An introduction to Lucretius in four parts by M.F. Smith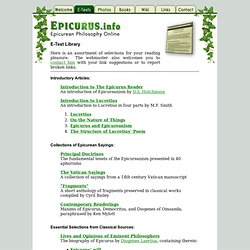 E-Texts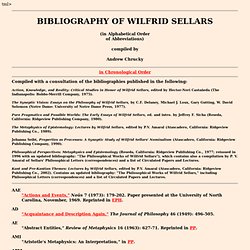 (in Alphabetical Order of Abbreviations) compiled by Andrew Chrucky in Chronological Order Compiled with a consultation of the bibliographies published in the following: Action, Knowledge, and Reality: Critical Studies in Honor of Wilfrid Sellars, edited by Hector-Neri Castañeda (The Indianapolis: Bobbs-Merrill Company, 1975).
BIBLIOGRAPHY OF WILFRID SELLARS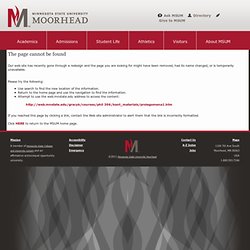 Kant's Prolegomena
Our web site has recently gone through a redesign and the page you are looking for might have been removed, had its name changed, or is temporarily unavailable. Please try the following: Use search to find the new location of the information. Return to the home page and use the navigation to find the information. Attempt to use the web.mnstate.edu address to access the content: http://web.mnstate.edu/gracyk/courses/phil 306/kant_materials/prolegomena1.htm If you reached this page by clicking a link, contact the Web site administrator to alert them that the link is incorrectly formatted. Click HERE to return to the MSUM home page.
Wiredshelf.com
www.nyu.edu/gsas/dept/philo/faculty/block/papers/HOPHOT.pdf
Ethics (Spinoza)
repository of texts written by Michel Foucault
Of grammatology
Sein und Zeit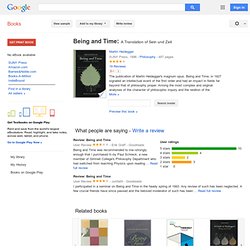 Martin Heidegger was born in Messkirch, Baden, Germany on September 22, 1889. He studied Roman Catholic theology and philosophy at the University of Frieburg before joining the faculty at Frieburg as a teacher in 1915. Eight years later Heidegger took a teaching position at Marburg. He taught there until 1928 and then went back to Frieburg as a professor of philosophy. As a philosopher, Heidegger developed existential phenomenology.
SovLit.com - Soviet Literature Summarized
Edited by S.T. Joshi Dust Jacket Text In the 1920s and '30s, H.P. Lovecraft pioneered a new type of weird fiction that fused elements of supernatural horror with the concepts of visionary science fiction. Lovecraft's tales of cosmic horror revolutionized modern horror fiction and earned him the reputation of the most influential American writer of weird tales since Edgar Allan Poe.
H.P. Lovecraft: The Fiction
Inferno - Contents
Origins of the Family
Works of Frederick Engels 1884 Written: March-May, 1884;First Published: October 1884, in Hottingen-Zurich;Source: Marx/Engels Selected Works, Volume Three;Translation: The text is essentially the English translation by Alick West published in 1942, but it has been revised against the German text as it appeared in MEW [Marx-Engels Werke] Volume 21, Dietz Verlag 1962, and the spelling of names and other terms has been modernised;Transcription/Markup: Zodiac/Brian Baggins;Online Version: Marx/Engels Internet Archive (marxists.org) 1993, 1999, 2000. Proofed and corrected: Mark Harris 2010 Table of Contents: