Team Cathron!
Get flash to fully experience Pearltrees
You could say the Lee Harvey Keitel Band has taken this troubled title through sheer persistence, and you might have something there. Like a band possessed, this foursome has gigged and gigged and gigged and gigged and gigged and gigged-at one point, as part of the group's summer "Balti-tour," it attempted to play a different local venue each night for two weeks (and, for the most part, it succeeded). If you've missed LHKBND it wasn't because the band wasn't playing somewhere nearby.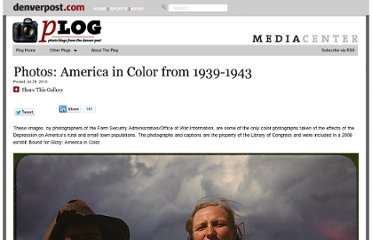 Posted Jul 26, 2010 These images, by photographers of the Farm Security Administration/Office of War Information, are some of the only color photographs taken of the effects of the Depression on America's rural and small town populations. The photographs and captions are the property of the Library of Congress and were included in a 2006 exhibit Bound for Glory: America in Color. Faro and Doris Caudill, homesteaders. Pie Town, New Mexico, October 1940. Reproduction from color slide.
NED BLOCK (Ph.D., Harvard), Silver Professor of Philosophy , Psychology and Neural Science , came to NYU in 1996 from MIT where he was Chair of the Philosophy Program. He works in philosophy of mind and foundations of neuroscience and cognitive science and is currently writing a book on attention. He is a Fellow of the American Academy of Arts and Sciences , a Fellow of the Cognitive Science Society , has been a Guggenheim Fellow , a Senior Fellow of the Center for the Study of Language and Information, a Sloan Foundation Fellow, a faculty member at two National Endowment for the Humanities Summer Institutes and two Summer Seminars , the recipient of fellowships from the National Endowment for the Humanities the American Council of Learned Societies and the National Science Foundation ; and a recipient of the Robert A.
Stoop Storytelling Podcast All Stoop stories are available via our podcast . The Stoop returns to Hopkins medical campus one night only for a show that offers an inside look at life at a world-renowned medical institution. Seven people will tell seven-minute, true, personal tales about close calls, humbling experiences, great victories and crushing defeats, memorable moments—anything that shines a light on what life is truly like at Hopkins, both in the present and past.