Twitter
David Free - Social Software Showcase
Hashtags are all the rage.
Twubs: Wikipedia-Style Hubs for Twitter Hashtags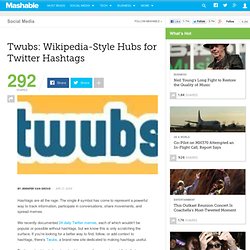 Microsoft Vine – Request an invitation
An Introduction to Twitter Hashtags
Tagging helps to organize and share our online information with others. By attaching one or more keywords to a Flickr photograph, for example, we group it together with others that have the same tag. Hashtags serve a similar purpose on Twitter, the social micro-blogging service. The aim is to bring some order to Twitter users' published updates ("tweets") and make it easier to follow a topic of interest.