Visual Studio
Get flash to fully experience Pearltrees
In-Depth 17 Free Tools for Visual Studio It's our June issue toolapalooza. We look at the best free Visual Studio and .NET tools and add-ins. What developer doesn't love a new toy?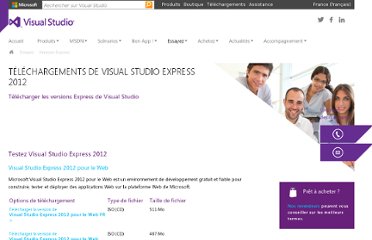 Visual Studio Express 2012 pour le Web Microsoft Visual Studio Express 2012 pour le Web est un environnement de développement gratuit et fiable pour construire, tester et déployer des applications Web sur la plateforme Web de Microsoft. Visual Studio Express 2012 pour Windows 8 Microsoft Visual Studio Express 2012 pour Windows 8 fournit les outils de base nécessaires pour bâtir des applications Windows Store intéressantes et innovantes. Visual Studio 2012 Express pour Windows Desktop
Dans le monde du développement logiciel, la popularité des méthodes « Agiles » va croissant. Ces approches partagent les mêmes objectifs : améliorer la visibilité au sein de l'équipe de projet et l'interactivité entre les membres de l'équipe tout en augmentant le flux de valeur pour le client. Beaucoup de bonnes pratiques sont associées aux méthodes Agiles. Ces pratiques peuvent être adoptées progressivement et appliquées à presque n'importe quel projet ou type de processus, y compris lorsqu'il s'agit d'approche formelle telle que CMMI ou traditionnelle de type « Waterfall ».
Connect Visual Studio to your team project in TFS so that you can use TFS to share your code, build your apps, and improve collaboration with your customers and your team members. Create a team project Once you've created your Team Foundation Service account , you'll want to create a team project. A team project is where you store all your source code, as well as tasks and builds. It's also a good way to get a team together to do some great work!
You can now download Visual Studio 2010 projects that contain all the samples targeting .NET Framework 4. The samples environment for Microsoft Chart Controls for .NET Framework contains over 200 samples for both ASP.NET and Windows Forms. The samples cover every major feature in Chart Controls for .NET Framework. They enable you to see the Chart controls in action as well as use the code as templates for your own web and windows applications.
Sign in to Write a Review Sort By: Excellent product, easy to use, outstanding quality. GemBox.Spreadsh eet Professional except it is limited to 150 rows and 5 worksheets per workbook. Good component but 150 rows limitation is not enough for me. by MZed | September 24 2009
SlimTune is a free profiler and performance analysis/tuning tool for .NET based applications, including C#, VB.NET, and more. It provides many powerful features, such as remote profiling, real time results, multiple plugin-based visualizations, and much more. The source code is available under the terms of the MIT License.