9/11
View Current 9/11 News & Events Ever since the moment of the first impact at the World Trade Center, a struggle has raged between two broad, competing ideas of what really happened on September 11th, 2001. The US administration delivered an almost immediate verdict, which can be described as follows: Dispatched by Osama Bin Ladin's network and motivated by hatred and religious fanaticism, 19 suicide bombers hijacked four planes, crashed three of them into their targets, and caused the collapse of the Twin Towers as a consequence of the resulting damage and fires. The 19 men did not necessarily require any accomplices within the United States; and no one in the US government could have possibly anticipated or prevented the attacks.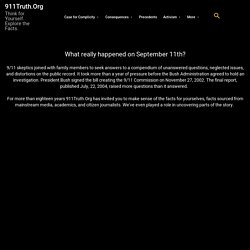 WTC Tower construction showing core columnIntroduction To believe the official conspiracy theory regarding the destruction of the three World Trade Center high-rise buildings requires an Olympian leap of faith. It asks us to accept impossible coincidences, to assume the laws of physics don't always apply, and to ignore common sense. Being one of 9/11's least likely hypotheses, it requires that we emotionally moor ourselves to its tenets, because an intellectual examination or inquiry would quickly reveal dots that don't connect. Fortunately, a much more cogent theory exists.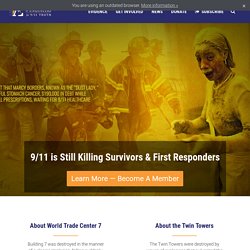 Pilots for 9/11 Truth is an organization of aviation professionals and pilots throughout the globe who have gathered together for one purpose. We are committed to seeking the truth surrounding the events of the 11th of September 2001. Our main focus concentrates on the four flights, maneuvers performed and the reported pilots. We do not offer theory or point blame at this point in time. However, we are focused on determining the truth of that fateful day based on solid data and facts -- since 9/11/2001 is the catalyst for many of the events shaping our world today -- and the United States Government does not seem to be very forthcoming with answers or facts.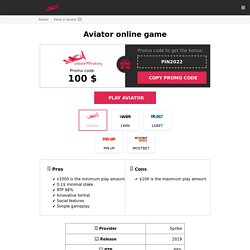 9-11 Was An Inside Job - A Call To True Patriots
We are on the verge of an important milestone in our world's political history. State-sponsored false flag operations, the central weapon of governments seeking a pretext for war and domestice repression can be eliminated forever. George Santayana wrote: "Those who do not learn from history are condemned to repeat it." Today we have an opportunity to learn from our past and forge a new era in human sovereignty while righting the scales of justice.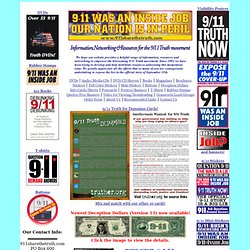 9/11: Explosive Evidence - Experts Speak Out, Full-length, Pre-Release-v1.3; Low-Res.
9/11 Truth: What Happened to Building 7
911 Truth : The Elephant In The Room - Full Movie.