Education
PEDAGOGIE INVERSEE. Apps. iPad. Free Technology for Teachers. E-LEARNING-INCLUSIVO. Curation & The Future of Publishing. Playing With Pearltrees - A Great Way to Organize the Web.
Over the years I've written about a lot of social bookmarking services and mind-mapping services (I even co-authored a chapter of a book on mind-mapping).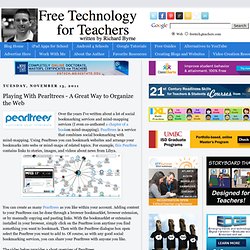 Pearltrees is a service that combines social bookmarking with mind-mapping. Using Pearltrees you can bookmark websites and arrange your bookmarks into webs or mind-maps of related topics. Digital Citizenship in Schools.
---