Jquery
Home.
Roundabout for jQuery by Fred LeBlanc. It's ready-to-go straight out of the box, but if you want to get crazy, Roundabout is highly-customizable with an extensive API that allows for some pretty amazing results.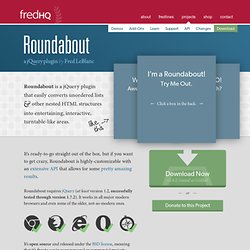 Roundabout requires jQuery (at least version 1.2, successfully tested through version 1.7.2). It works in all major modern browsers and even some of the older, not-so-modern ones. It's open source and released under the BSD license, meaning that it's free to use in your personal or commercial projects. 300+ Jquery, CSS, MooTools and JS navigation menus. If You are web developer great navigation menus always comes handy.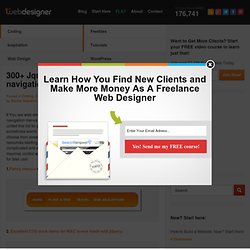 I united this list for people like me, who sometimes wants to do job fast and choose from already prepared examples, which are easy to use. So here are many resources starting from very simple HTML and CSS navigation menus, until very complicated and advanced jQuery, JavaScript and MooTools techniques used to get maximal control with fading, sliding, dragging etc. effects. Be sure to bookmark this site for later use!
Create a Progress Bar With Javascript - Nettuts+ The Progress Bar is one of the latest components to be added to the excellent library of UI widgets and interaction helpers built on top of jQuery.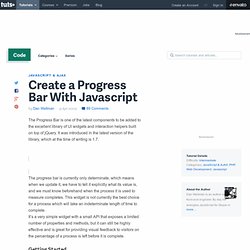 It was introduced in the latest version of the library, which at the time of writing is 1.7. The progress bar is currently only determinate, which means when we update it, we have to tell it explicitly what its value is, and we must know beforehand when the process it is used to measure completes. This widget is not currently the best choice for a process which will take an indeterminate length of time to complete. It's a very simple widget with a small API that exposes a limited number of properties and methods, but it can still be highly effective and is great for providing visual feedback to visitors on the percentage of a process is left before it is complete. Getting Started. Manual do PHP. PHP 5.6.0beta1 released Edit Report a Bug Manual do PHP ¶ por: Mehdi Achour.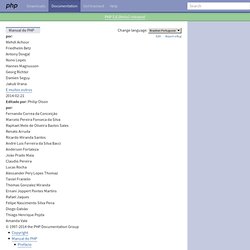 ---