Social
Hyperactivate is the marketing solutions company that activates fans and followers by creating participatory social media promotions that encourage and facilitate sharing of brand messages. Named one of the top three social media companies of 2013, Hyperactivate has a powerful technology platform for harnessing word-of-mouth marketing, analyzing social media efforts, and for the first time ever, accurately measuring social media ROI. The company is the first of its kind to develop a proprietary patent-pending platform that can actually trace a brand revenue stream back to a single tweet or post and the chatter it created. Social Media You have fans and followers, so now what?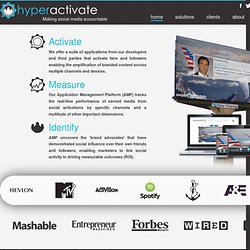 Hyperactivate
Home - Dynamic Signal: Employee Advocacy Platform
Foursquare I'm looking for... What's happening in Montreal? Let's explore nearby: "Sweet place ! Coup de cœur !"