Interest
Beat Kings - The Producers. HTC Desire HD vs Iphone 4. Android is better! Ft Android Girl. How to draw / paint on the iPad by Kyle Lambert (Portrait of Evan from Cartoon Block) Introducing Word Lens. Music Blogs Caught Up in Labels' Online Piracy Fight. "At first I thought it was hackers," Mr.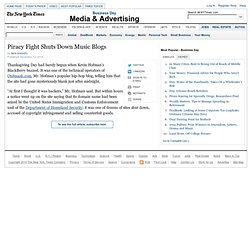 Hofman said. But within hours a notice went up on the site saying that its domain name had been seized by the United States Immigration and Customs Enforcement unit of the ; it was one of dozens of sites shut down, accused of copyright infringement and selling counterfeit goods. The Hip-Hop Word Count: A Searchable Rap Almanac by Tahir Hemphill. Note: Thanks for your support in getting us to our goal!
Even though we are fully funded we are still actively seeking funding and appreciate any level of involvement. All additional pledges will be used to cover the costs of adding more functionality to the search tool and shortening the production time of the public launch. The Hip-Hop Word Count (HHWC) is a searchable ethnographic database built from the lyrics of over 40,000 Hip-Hop songs from 1979 to present day. Dead Drops 'How to' - NYC. Equus iPad Owners Manual. Andrea - Great Music Video. My favorite iPad app: Algoriddim's djay.
One of my favorite hobbies is DJing.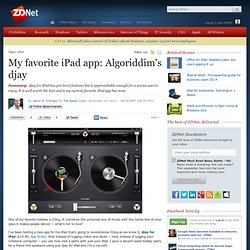 It combines the universal love of music with the tactile feel of vinyl (plus it makes people dance) -- what's not to love? I've been testing a new app for the iPad that's going to revolutionize DJing as we know it, djay for iPad ($19.99, App Store). Now instead of lugging crates and decks -- heck instead of lugging your notebook computer -- you can now rock a party with just your iPad. Everythings Amazing & Nobodys Happy. Mobiles Replace Wallets (NFC) The day when near field communication (NFC) will help replace plastic credit cards, coupons and loyalty program cards with a wave of a phone at a payment terminal has been long anticipated.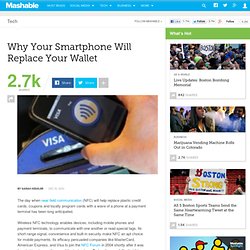 Wireless NFC technology enables devices, including mobile phones and payment terminals, to communicate with one another or read special tags. Its short-range signal, convenience and built-in security make NFC an apt choice for mobile payments. Its efficacy persuaded companies like MasterCard, American Express, and Visa to join the NFC Forum in 2004 shortly after it was founded to advance the use of the technology. L.A. Noire: Facial Capture Technology.
---