Javascript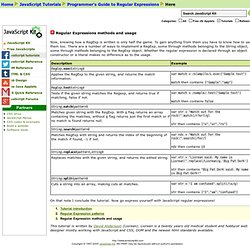 Regular Expressions methods and usage Now, knowing how a RegExp is written is only half the game. To gain anything from them you have to know how to use them too.
JavaScript Regular Expressions methods and usage
JavaScript Kit- RegExp (regular expression) object
Updated: June 27th, 2011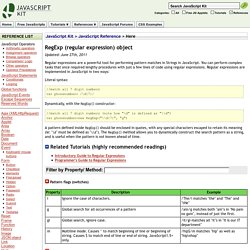 Un livre de Wikilivres.
Programmation JavaScript/Notation JSON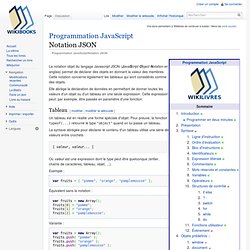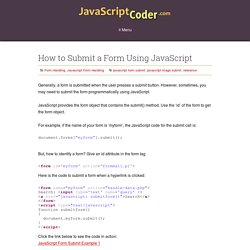 Generally, a form is submitted when the user presses a submit button.
How to Submit a Form Using JavaScript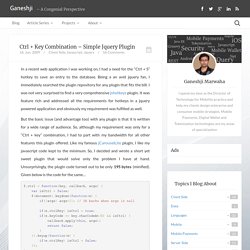 Ctrl + Key Combination – Simple Jquery Plugin | Ganesh
In a recent web application I was working on, I had a need for the "Ctrl + S" hotkey to save an entry to the database. Being a an avid jquery fan, I immediately searched the plugin repository for any plugin that fits the bill. I was not very surprised to find a very comprehensive jshotkeys plugin.
Regular Expressions: Methods - Doc JavaScript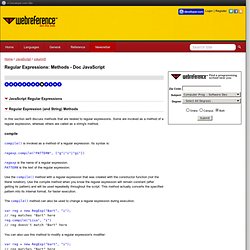 JavaScript Regular Expressions
The escape() method does not encode the + character which is interpreted as a space on the server side as well as generated by forms with spaces in their fields.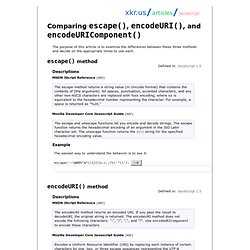 javascript / escape(), encodeURI(), encodeURIComponent()
the best resource for PHP tutorials, templates, PHP manuals, content management systems, scripts, classes and more.
Introduction: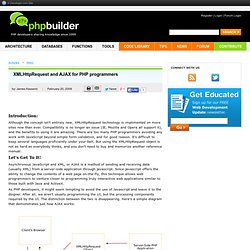 PHP Input Filter (xss, filter, input filter, inputfilter)
x5s - test encodings and character transformations to find XSS hotspots
Here's a quick tutorial to get you familiar with x5s and how to use it.
How to capture enter key pressed in a form (JavaScript) - Barattalo