Facebook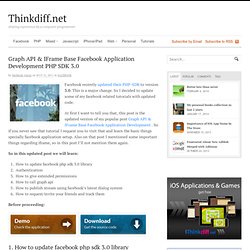 Graph API & IFrame Base Facebook Application Development PHP SDK 3.0
Facebook recently updated their PHP-SDK to version 3.0 . This is a major change. So I decided to update some of my facebook related tutorials with updated code. At first I want to tell you that, this post is the updated version of my popular post Graph API & IFrame Base Facebook Application Development .
Facebook Stack Overflow
Introduction So you have a great idea for an application, and you've developed your idea into a somewhat functional Facebook app. The only problem is, it looks completely out of place in the space Facebook has designated for your layout. Let's look at how we can change that. Facebook invested a lot of money in creating the fluid graphic design work you see in front of you, but we won't have to.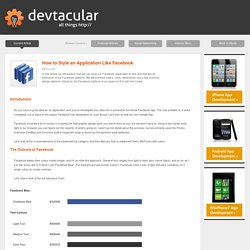 How to Style an Application Like Facebook - Devtacular
For many, Facebook is the web and the first port of call for socialising, sharing and much more. Its deep-rooted, social eco-system enables users to share their life and experiences, and it should not be overlooked in any digital marketing strategy. Advertisement <a href="http://ad.doubleclick.net/jump/fut.gb.net/tutorials;kw=CSS;kw=HTML;kw=JavaScript;kw=PHP;tile=1;sz=300x250;ord=2013033029?" target="_blank"><img src="http://ad.doubleclick.net/ad/fut.gb.net/tutorials;kw=CSS;kw=HTML;kw=JavaScript;kw=PHP;tile=1;sz=300x250;pos=2;ord=2013033029?" width="300" height="250" alt=""></a>
Embed your site on Facebook
Lately, there's been quite a fuzz about lazy registration . It turns out that the less the user has to think, the higher the conversion rates are! What a thought!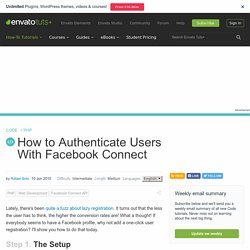 How to Authenticate Users With Facebook Connect
java - Facebook offline access step-by-step
As described in the documentation it's a fairly easy process — and it does not require any signatures. For example, I have an application with an id 116122545078207 , and I am using the URL of this blog ( http://benbiddington.wordpress.com ) to collect request tokens. [update, 2010-04-29] If ever there was a lesson to read specification and documentation carefully, this is it.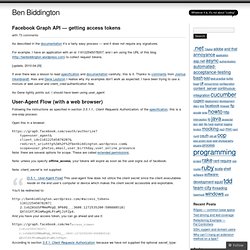 Facebook Graph API — getting access tokens « Ben Biddington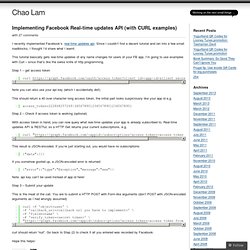 I recently implemented Facebook's real-time updates api . Since I couldn't find a decent tutorial and ran into a few small roadblocks, I thought I'd share what I learnt. This tutorial basically gets real-time updates of any name changes for users of your FB app. I'm going to use examples with Curl – since that's like the swiss knife of http programming. Step 1 – get access token Note you can also use your api key (which I accidentally did!)
Implementing Facebook Real-time updates API (with CURL examples) « Chao Lam
PHP SDK & Graph API base Facebook Connect Tutorial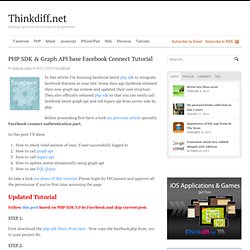 In this article I'm focusing facebook latest php sdk to integrate facebook features in your site. Some days ago facebook released their new graph api system and updated their core structure. They also officially released php sdk so that you can easily call facebook latest graph api and old legacy api from server side by php. Before proceeding first have a look my previous article specially Facebook connect authentication part. In this post I'll show How to check valid session of user, if user successfully logged in How to call graph api How to call legacy api How to update status dynamically using graph api How to use FQL Query
Page - Développeurs Facebook
This document contains the following topics: Introduction to Pages via the Graph API A Page in the Graph API.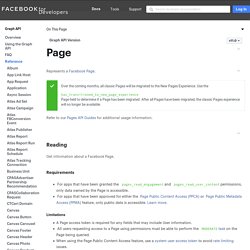 Simple example to post on Facebook wall using PHP, post on facebook wall using PHP | FBSMM: Fine Business Solutions
Introduction The Graph API supports Realtime Updates to enable your app to subscribe to changes in data. Your app can then cache data and receive updates, rather than continuously polling Facebook's servers. Caching data and using this API can improve the reliability of your app and decrease its load times.
Mises à jour temps réel - Développeurs Facebook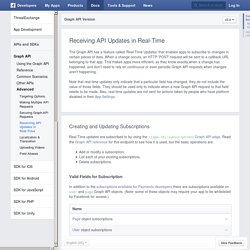 facebook/php-sdk - GitHub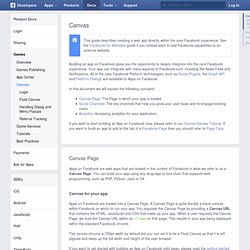 This guide describes creating a web app directly within the core Facebook experience. See the Facebook for Websites guide if you instead want to add Facebook capabilities to an external website. Building an app on Facebook gives you the opportunity to deeply integrate into the core Facebook experience. Your app can integrate with many aspects of Facebook.com, including the News Feed and Notifications.