Big Data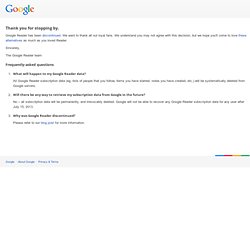 Google Reader has been discontinued. We want to thank all our loyal fans. We understand you may not agree with this decision, but we hope you'll come to love these alternatives as much as you loved Reader. Sincerely,
Reader (456)
Yesterday, I reported that Oracle does indeed have a big data strategy in place, complete with plans for Hadoop, NoSQL and even an integration of the R statistical analysis software. Today, some of the startups affected by Oracle's impending moves weighed in with their takes on the situation. Maybe they're just keeping brave faces, but the consensus is that Oracle's forays into their respective spaces just validate the work they've been doing, and they welcome the competition.
Big data startups weigh in on competing with Oracle — Cloud Computing News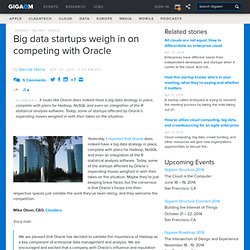 Big Data: Sorting Reality From the Hype
The quest to find decision-making insights in the modern data flood is certainly an appealing notion. After all, there is so much of data, from the traditional stuff inside corporate databases to e-mail, Web-browsing patterns, social-network messages and sensor data. Information drives decisions, so more of it ought to open the door to better decisions.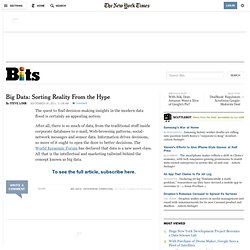 Karmasphere, a startup focused on helping analysts write better big data applications, raised $6 million in a Series B round from Presidio Ventures, Hummer Winblad and US Venture Partners. That brings the Cupertino, Calif.-based company's total funding to $11 million, and the announced VC investment in Hadoop to more than $30 million in the last 30 days. As the old saying goes, you'd have to have been living in a cave for the past year to have not heard about Hadoop, the open-source, data-processing engine. Once a darling among large web sites such as Yahoo and Facebook, Hadoop has spread like wildfire into web companies of all sizes and, thanks in part to Cloudera's presence, into banking, intelligence and other traditional industries.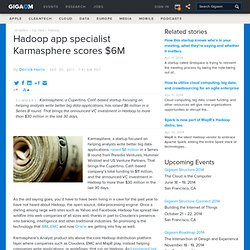 Hadoop app specialist Karmasphere scores $6M — Cloud Computing News
High performance access to file storage Revolution Analytics, the company that is extending R, the open source statistical programming language, with proprietary extensions, is making available a free set of extensions that allow its R engine to run atop Hadoop clusters. Now statisticians that are familiar with R can do analysis on unstructured data stored in the Hadoop Distributed File System, the data store used for the MapReduce method of chewing on unstructured data pioneered by Google for its search engine and mimicked and open sourced by rival Yahoo! as the Apache Hadoop project.
Revolution speeds stats on Hadoop clusters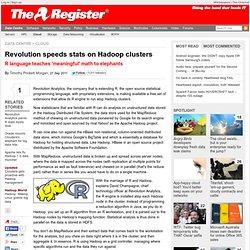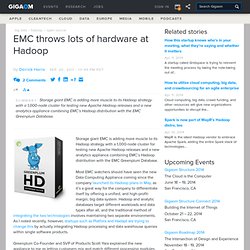 Storage giant EMC is adding more muscle to its Hadoop strategy with a 1,000-node cluster for testing new Apache Hadoop releases and a new analytics appliance combining EMC's Hadoop distribution with the EMC Greenplum Database. Most EMC watchers should have seen the new Data Computing Appliance coming since the company launched its Hadoop plans in May, as it's a great way for the company to differentiate itself by offering a unified, and high-profit-margin, big data system. Hadoop and analytic databases target different workloads and data types after all, and the traditional method of integrating the two technologies involves maintaining two separate environments.
EMC throws lots of hardware at Hadoop — Cloud Computing News
danah boyd Microsoft Research; New York University (NYU) - Department of Media, Culture, and Communication; University of New South Wales (UNSW); Harvard University - Berkman Center for Internet & Society Kate Crawford Microsoft Research; MIT Center for Civic Media; University of New South Wales (UNSW)September 21, 2011 A Decade in Internet Time: Symposium on the Dynamics of the Internet and Society, September 2011 Abstract: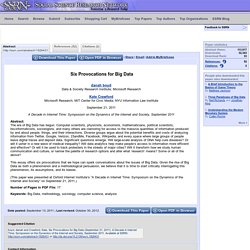 Six Provocations for Big Data by Danah Boyd, Kate Crawford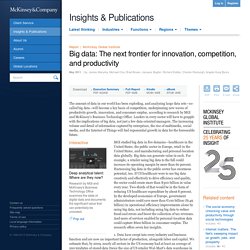 The amount of data in our world has been exploding, and analyzing large data sets—so-called big data—will become a key basis of competition, underpinning new waves of productivity growth, innovation, and consumer surplus, according to research by MGI and McKinsey's Business Technology Office. Leaders in every sector will have to grapple with the implications of big data, not just a few data-oriented managers. The increasing volume and detail of information captured by enterprises, the rise of multimedia, social media, and the Internet of Things will fuel exponential growth in data for the foreseeable future.
Hadoop data-management provider Platfora raises $5.7M months after launch
How can big data and smart analytics tools ignite growth for your company? Find out at DataBeat, May 19-20 in San Francisco, from top data scientists, analysts, investors, and entrepreneurs. Register now and save $200! Platfora, a data management software provider based on Hadoop, announced on Thursday it has raised $5.7 million from Andreessen-Horowitz just a few months after the company was founded.