Abus Google
Whether Google is a monopoly isn't the point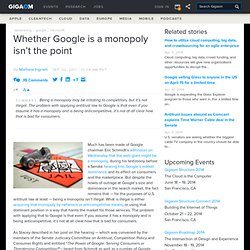 Much has been made of Google chairman Eric Schmidt's admission on Wednesday that the web giant might be a monopoly, during his testimony before a Senate hearing into Google's market dominance and its effect on consumers and the marketplace.
In previous posts, I wrote about the epic battles that are brewing between spammers and content farms—which are turning the web into a massive garbage dump—and search providers, which have to choose between profit and customer satisfaction.
How Google Ambushed Microsoft and Changed the Subject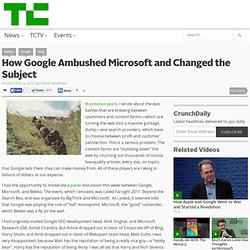 Blekko Launches Spam Clock To Keep Pressure On Google
Every hour, one million spam pages are created. That's a stat that start-up search engine Blekko has now put out — complete with a new "Spam Clock" showing a count-up of spam pages created since the first of the year. Currently, the Spam Clock estimates that there's been about 155 million spam pages made since January 1.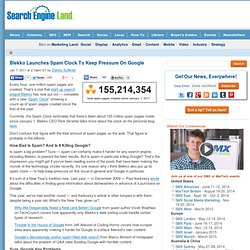 The Internet sometimes doesn't work as we hope it would, or think it should. In certain verticals, great content doesn't create great links, and because of that, in my opinion, SEOs are often forced to resort to manipulative link practices to get their clients and websites to rank.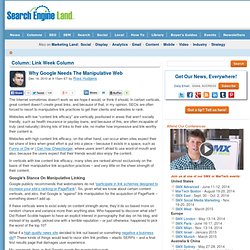 Why Google Needs The Manipulative Web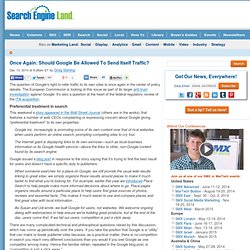 This fall, Google made its links to its millions of Place pages even more prominent on the first search results page, pushing sites such as TripAdvisor.com farther down the page for searches on "Berlin hotels," for instance.
Once Again: Should Google Be Allowed To Send Itself Traffic?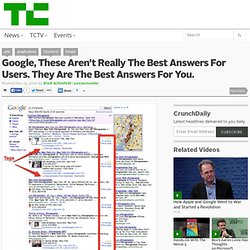 Google, These Aren't Really The Best Answers For Users. They Are The Best Answers For You.
Over the weekend, the Wall Street Journal ran an article pointing out how Google is increasingly favoring its own properties, in search results over natural results to outside sites which previously commanded the top spots. This practice is especially noticeable with Google Places and local results, but there are other examples as well from product and mortgage search to health search.
2015 : le démantèlement de Google ?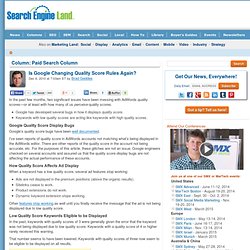 In the past few months, two significant issues have been messing with AdWords quality scores—or at least with how many of us perceive quality scores. Google has developed several bugs in how it displays quality score.Keywords with low quality scores are acting like keywords with high quality scores.
Is Google Changing Quality Score Rules Again?
Hard-Coding Bias in Google "Algorithmic" Search Results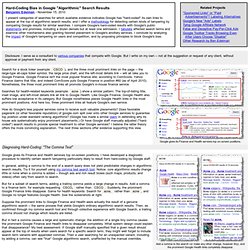 Disclosure: I serve as a consultant to various companies that compete with Google. But I write on my own -- not at the suggestion or request of any client, without approval or payment from any client.
Pour lutter contre les pratiques de référencement naturel peu scrupuleuses, le moteur de recherche a modifié son algorithme. Les sites aux pratiques de rabattage douteuses en sont pour leurs frais. Depuis mercredi, Google a doté son moteur de recherche d'un nouvel algorithme. Objectif visé : empêcher que les commentaires et critiques négatives émises en ligne sur un site favorisent son positionnement (ranking) dans le moteur de recherche. On le sait, parmi les critères pris en compte par Google pour faire remonter un site dans ses pages de résultats, le nombre de liens externes en est un de premier plan. C'est ce levier qu'a utilisé Vitaly Borker, propriétaire du site de ventes de lunettes en ligne DecorMyEyes aux pratiques commerciales douteuses.
Google chasse les avis négatifs de sa méthode de ranking - Journal du Net Solutions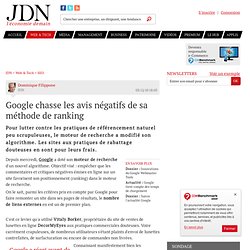 La partialité du moteur Google démontrée - Journal du Net Solutions
Le moteur favorise ses propres services en leur appliquant un mode d'indexation particulier. C'est ce que démontre un chercheur de Harvard dans une thèse qui vient d'être rendue publique. Certains pouvaient en douter, d'autres ont cherché à le prouver. C'est le cas de Benjamin Edelman, chercheur à Harvard, qui conteste l'impartialité du moteur de recherche le plus utilisé au monde. Les services de ce dernier (ses sites Web dédiés aux cours de Bourse ou à la santé notamment) échapperaient aux méthodes classiques de référencement de Google.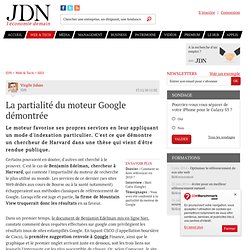 Bruxelles pourrait ouvrir une enquête anti-trust sur Google
L'UE ouvre une enquête sur Google pour abus de position dominante
L'enquête fait suite à des plaintes de services de recherche en ligne concurrents. Google viole-t-il la législation européenne antitrust avec son moteur de recherche ? Pour le savoir, la Commission a décidé d'ouvrir une enquête. Cette décision fait suite aux plaintes émanant de "fournisseurs de service de recherche en ligne" pour qui "leurs services seraient pénalisés dans les résultats de recherche payants et gratuits de Google".