Norcal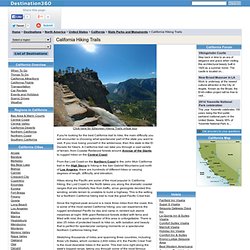 If you're looking for the best California trail to hike, the main difficulty you will encounter is choosing what spectacular part of the state you want to visit. If you love losing yourself in the wilderness, then this state is like El Dorado for hikers. A California trail can take you through a vast variety of terrain, from Coastal Redwood forests around Avenue of the Giants to rugged hikes on the Central Coast.
California Trail, Northern California Hiking Trail, California Hiking, Pacific Crest Trail
Northern California Hiking Trails Blog — Dayhikes and Backpacking: Bay Area | Coast and Redwoods | Sierra Nevada | Cascade Range | Klamath Mountains
Rating: Area: ArizonaDistance: 7 milesType: Out-and-backDifficulty: MediumElevation gain: 400ft (from 5,320 to 5,660ft) Out of Bounds: Occasionally we venture beyond NorCal and we usually take our hiking boots with us.
Trailspotting | Northern California Hiking and More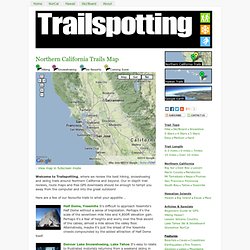 Bay Area Hiker: Home page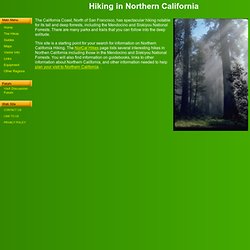 The California Coast, North of San Francisco, has spectacular hiking notable for its tall and deep forrests, including the Mendocino and Siskiyou National Forrests. There are many parks and trails that you can follow into the deep solitude. This site is a starting point for your search for information on Northern California Hiking.
in Northern California - Hiking Information
Shasta Camping, NorCal Camps, Shasta Lake Campgrounds, Lassen Hikes