Project Risk Management
M_o_R® - Management of Risk Home. Risk Management SIG (RiskSIG) SRA-Europe > Home. IT Risk Management Special Report at silicon.com. Effective IT risk management. Demystifying IT risk to achieve greater security and compliance.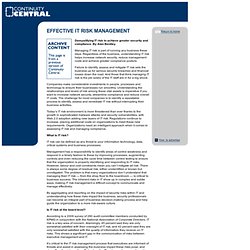 By Alan Bentley. Managing IT risk is part of running any business these days. Regardless of the business, understanding IT risk helps increase network security, reduce management costs and achieve greater compliance posture. Failure to identify, assess and mitigate IT risk sets the business up for serious security breaches and financial losses down the road. And those that think managing IT risk is the job solely of the IT staff are in for a big shock. Risk Assessment - IT Governance Framework - Risk IT. The scope of the Risk IT framework is also fully covered within the scope of the COBIT 5 framework.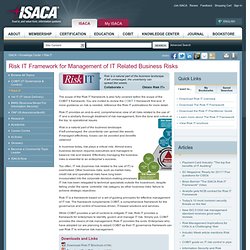 You are invited to review the COBIT 5 framework first and, if more guidance on risk is needed, reference the Risk IT publications for more detail. Risk IT provides an end-to-end, comprehensive view of all risks related to the use of IT and a similarly thorough treatment of risk management, from the tone and culture at the top, to operational issues. Risk is a natural part of the business landscape.If left unmanaged, the uncertainty can spread like weeds.If managed effectively, losses can be avoided and benefits obtained. In business today, risk plays a critical role. Almost every business decision requires executives and managers to balance risk and reward.
Risk Management. Risk Management Professional. Enterprise wide risk , risk management, Risk assessment - Risk Management infoKit - Overview and Introduction. What is risk management?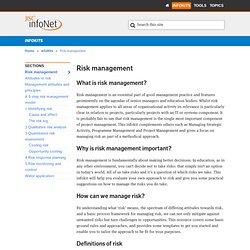 Risk management is an essential part of good management practice and features prominently on the agendas of senior managers and education bodies. Whilst risk management applies to all areas of organisational activity its relevance is particularly clear in relation to projects, particularly projects with an IT or systems component. It is probably fair to say that risk management is the single most important component of project management. The Institute of Risk Management. RiskINFO. Nonprofit Risk Management Center. GARP - Global Association of Risk Professionals. Public Risk Management Association. RIMS - The Risk Management Society - Know Risk? | Know RIMS. The Association for Risk Professionals.
RIMS | Risk Management Magazine. RiskWorld: news and views on risk analysis, risk assessment, risk management.
---