Project Risk Management
"The term 'management of risk' incorporates all the activities required to identify and control the exposure to risk which may have an impact on the achievement of an organization's business objectives." - from Management of Risk: Guidance for Practitioners This website is all about M_o_R - what it is, who owns the method, which qualifications are available and who you can contact for training or consultancy. M_o_R considers risk from different perspectives within an organization: strategic, programme, project and operational. While it links to other AXELOS Global Best Practice, it respects the roles, responsibilities and terminologies used outside the disciplines of programme and project management.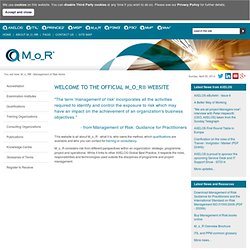 M_o_R® - Management of Risk Home
The Risk Management SIG (RiskSIG) provides forums for the professional exchange of ideas on a myriad of topics related to the management of risk in projects. Experts and practitioners from Public and Private sectors share their knowledge and experience. The Risk Management SIG is in the forefront of developing concepts and ideas.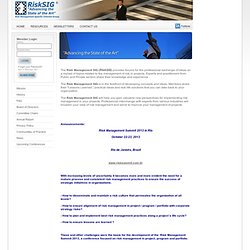 Risk Management SIG (RiskSIG)
The Society for Risk Analysis - Europe aims to bring together individuals and organisations interested in risk assessment, risk management and risk communication in Europe The Society for Risk Analysis (SRA) is an interdisciplinary society which addresses emerging issues in risk analysis, management and policy. It operates world-wide and it has many International Section. The Society encourages those interested in all aspects of risk analysis to communicate, collaborate and develop new methodologies for risk analysis and risk management. SRA-E emphasises the European dimension in the promotion of interdisciplinary research and education, and in practical application in industry and Government.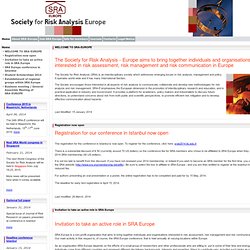 SRA-Europe > Home
Insider secrets for getting help at the Apple Store Insider secrets for getting help at the Apple Store Whether you broke your iPhone or you need to learn how to edit video on your Mac, the Apple Store has services to assist. Here are tips to navigate it from a former employee.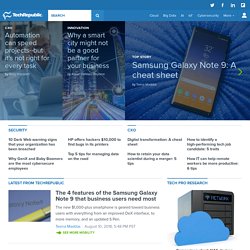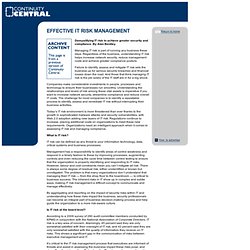 Demystifying IT risk to achieve greater security and compliance. By Alan Bentley. Managing IT risk is part of running any business these days. Regardless of the business, understanding IT risk helps increase network security, reduce management costs and achieve greater compliance posture. Failure to identify, assess and mitigate IT risk sets the business up for serious security breaches and financial losses down the road. And those that think managing IT risk is the job solely of the IT staff are in for a big shock.
Effective IT risk management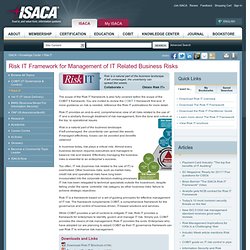 The scope of the Risk IT framework is also fully covered within the scope of the COBIT 5 framework. You are invited to review the COBIT 5 framework first and, if more guidance on risk is needed, reference the Risk IT publications for more detail. Risk IT provides an end-to-end, comprehensive view of all risks related to the use of IT and a similarly thorough treatment of risk management, from the tone and culture at the top, to operational issues. Risk is a natural part of the business landscape.If left unmanaged, the uncertainty can spread like weeds.If managed effectively, losses can be avoided and benefits obtained. In business today, risk plays a critical role. Almost every business decision requires executives and managers to balance risk and reward.
Risk Assessment - IT Governance Framework - Risk IT | ISACA
Risk Management
Risk Management Professional
15 January 2014 Food manufacturer Nestle has admitted it has made a mistake in focusing upon buyers of cheap sweets and noodles in its Indian market, while ignoring more affluent potential customers ... Read more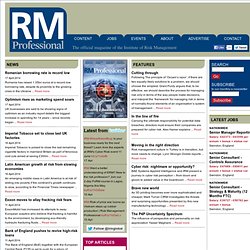 Enterprise wide risk , risk management, Risk assessment -
Risk Management infoKit - Overview and Introduction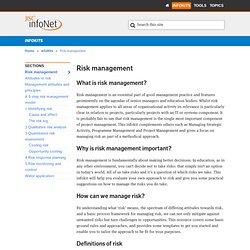 What is risk management? Risk management is an essential part of good management practice and features prominently on the agendas of senior managers and education bodies. Whilst risk management applies to all areas of organisational activity its relevance is particularly clear in relation to projects, particularly projects with an IT or systems component. It is probably fair to say that risk management is the single most important component of project management.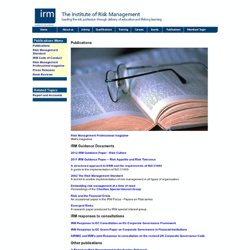 RM Professional magazine IRM's quarterly magazine IRM Guidance Documents
IRM - Publications
RiskINFO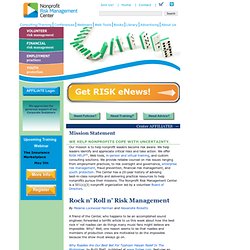 Nonprofit Risk Management Center
Center AFFILIATES — Loudoun Human Services Network United Community Ministries Council Services Plus, Inc. Catholic Guardian Services The Association of Junior Leagues International, Inc. PowderHorn Consulting
GARP - Global Association of Risk Professionals
About GARP The Global Association of Risk Professionals (GARP) is the only globally recognized leader in financial risk testing and certification programs, and educational and training activities.Learn More Financial Risk Manager (FRM®) Financial risk management is one of the top skill sets to have in the financial services industry today and offers excellent visibility and outstanding earning potential.
Public Risk Management Association
RIMS - The Risk Management Society - Know Risk? | Know RIMS. The Association for Risk Professionals.
RIMS | Risk Management Magazine
RiskWorld: news and views on risk analysis, risk assessment, risk management
To help survivors of natural disasters through the Red Cross, call 1-800-733-2767, donate on line, or give $10 by texting "REDCROSS" to 90999. Find additional opportunities to make donations or to volunteer through Serve.gov. For information on how the United States is helping with the recovery from natural disasters worldwide, go to USAID. News Releases