Indian Dishes
Chicken tikka masala is the world's most popular Indian restaurant dish, said Rebecca Hays in Cook's Illustrated. Why, then, "is it so rarely made at home?" Supposedly, the dish was first created by a quick-thinking Bangladeshi chef at a London curry house. When a diner complained about a plate of chicken tikka that had been left in the tandoor oven too long, the chef combined canned tomato soup with cream, added a few Indian spices, and poured it over the dried-out tikka.
Chicken Tikka Masala the New British National Dish Recipe at Epicurious.com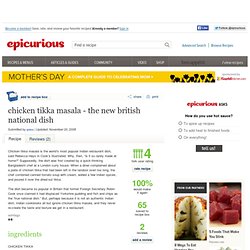 Directions Combine the chicken, carrots, bay leaf and a pinch of salt in a medium saucepan. Add 3 cups broth and bring to a boil; immediately reduce the heat to low, cover and cook until the chicken is just firm, about 20 minutes. Meanwhile, heat the butter in another saucepan over medium-low heat.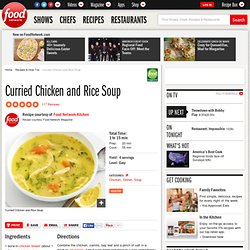 Murgh Makhani, otherwise known as Butter Chicken, is probably one of India's most famous dishes. The name says it all, but essentially, tender succulent pieces of chicken are gently simmered in a rich and creamy tomato based curry. This dish is truly a delicious taste of heaven. Please don't be discouraged by the lengthy ingredient list or the preparation, this dish is completely worth it. Butter Chicken is thought to have originated in Delhi and the Mughlai influences in this dish are quite prevalent. It is very often confused with a similar dish known as Chicken Tikka Masala, which actually originated in the UK.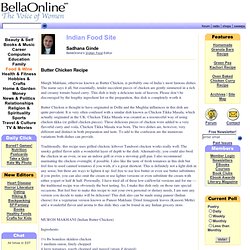 Butter Chicken Recipe - Indian Food
Tandoori Rub Recipe at Epicurious.com
We are big Indian food fans around here, but it's always something that I've found a bit elusive in terms of cooking. I don't know what it is, something about achieving the perfect combination of spices and the right cooking time and consistency that you can't get just from a recipe. But we made this channa the other night, the second time we've tried this recipe, and it was really good so we must be on to something! Chana Masala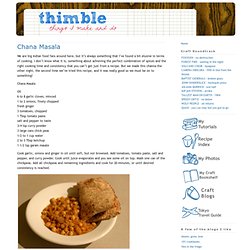 Chana Masala | thimble
Lentils with Chia Seeds Recipe
Indian Spiced Cauliflower Recipe