enigma
Get flash to fully experience Pearltrees
The Internet is littered with stories that seem completely insane when you read the headline, but turn out to have fairly straightforward explanations once you get a few links deep. And then there are the stories that get weirder the more research you do.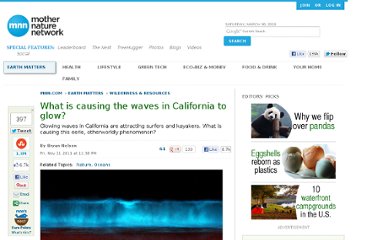 It looks like something from the movie "Avatar": ocean waters that light up like neon glow sticks when they splash.
Although they say curiosity has the power to somehow kill your cat, it seems that humans are immune.
We like to feel superior to the people who lived centuries ago, what with their shitty mud huts and curing colds by drilling a hole in their skulls. But we have to give them credit: They left behind some artifacts that have left the smartest of modern scientists scratching their heads. For instance, you have the following enigmas that we believe were created for no other purpose than to fuck with future generations.
T he Bible tells us that God created Adam and Eve just a few thousand years ago, by some fundamentalist interpretations. Science informs us that this is mere fiction and that man is a few million years old, and that civilization just tens of thousands of years old.
On 6th July 1960 the U.
merefalowa Dec 03 2012 at 3:06 PM Canuck Reader Nov 22 2012 at 11:55 PM The mysterious commissioner of the Guidestones, 'Christian', told the contractors that his group hoped that other 'conservation-minded groups' would emerge and foster 12 additional stones, to be arranged as a circle around the existing stones and to be called 'Moonstones', which would carry the same message in yet more languages (eg French, German).
There are places on this planet that are stranger than the most alien landscapes we have ever imagined. Places that make your skin crawl. Places that induce heavy breathing and paranoia, before anything has even happened.
Science fiction is home to some fantastic societies, from Cloud City to Bartertown. But you doesn't have to leave reality for this—our own world has places so abnormal, they make alien societies seem ordinary. Here are 12 remarkable locations in which people once lived (and some still do). 1.