Enigma
mental_floss magazine - Where Knowledge Junkies Get Their Fix
10 News Stories That Raise Endless Unanswered Questions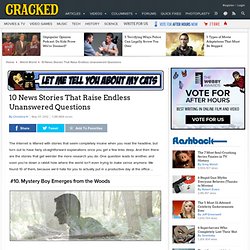 The Internet is littered with stories that seem completely insane when you read the headline, but turn out to have fairly straightforward explanations once you get a few links deep. And then there are the stories that get weirder the more research you do. One question leads to another, and soon you're down a rabbit hole where the world isn't even trying to make sense anymore. We found 10 of them, because we'd hate for you to actually put in a productive day at the office ... #10. Mystery Boy Emerges from the Woods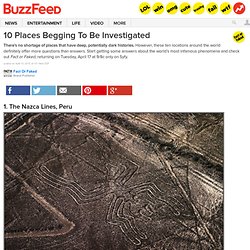 1. The Nazca Lines, Peru Created thousands of years ago, the "Nazca lines" are a series of gigantic figures sketched across the desert sands in Peru. They were made by scraping red pebbles against the ground, revealing a lighter-colored sand beneath. Other than the method of their creation, however, no-one knows the figures' meaning.
10 Places Begging To Be Investigated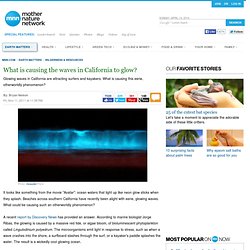 It looks like something from the movie "Avatar": ocean waters that light up like neon glow sticks when they splash. Beaches across southern California have recently been alight with eerie, glowing waves. What could be causing such an otherworldly phenomenon? A recent report by Discovery News has provided an answer. According to marine biologist Jorge Ribas, the glowing is caused by a massive red tide, or algae bloom, of bioluminescent phytoplankton called Lingulodinium polyedrum.
What is causing the waves in California to glow?
Did You Know Archive & 15 Fun Facts you probably didn't know
WEIRD FACTS - LINCOLN AND KENNEDY
Although they say curiosity has the power to somehow kill your cat, it seems that humans are immune. We would however, suggest putting Pooky away (just in case) because we are about to unleash the biggest mysteries known to man. Although some of these mysteries are only on the list as a result of their infamy, some are genuinely baffling, and if you manage to solve any of them leave a comment below so that we can cross them off. In 1587 121 colonists led by John White arrived on Roanoke Island in present day North Carolina to establish a colony. As tensions mounted with the native population, however, John White returned to England in order to solicit reinforcements.
The 25 Biggest Mysteries of History - List25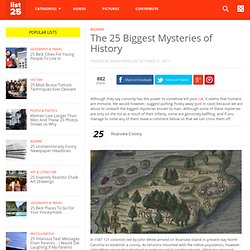 We like to feel superior to the people who lived centuries ago, what with their shitty mud huts and curing colds by drilling a hole in their skulls. But we have to give them credit: They left behind some artifacts that have left the smartest of modern scientists scratching their heads. For instance, you have the following enigmas that we believe were created for no other purpose than to fuck with future generations.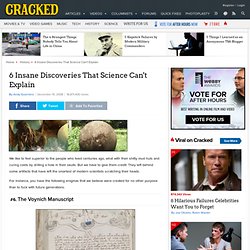 6 Insane Discoveries That Science Cant Explain | Cracked.com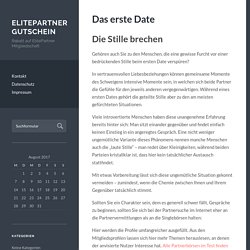 The Bible tells us that God created Adam and Eve just a few thousand years ago, by some fundamentalist interpretations. Science informs us that this is mere fiction and that man is a few million years old, and that civilization just tens of thousands of years old. Could it be, however, that conventional science is just as mistaken as the Bible stories? There is a great deal of archeological evidence that the history of life on earth might be far different than what current geological and anthropological texts tell us. Consider these astonishing finds: The Grooved Spheres
The 10 Most Puzzling Ancient Artifacts
World-Mysteries.com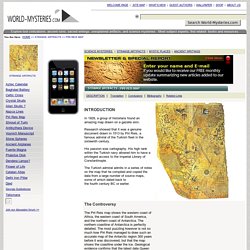 On 6th July 1960 the U. S. Air Force responded to Prof. Charles H. Hapgood of Keene College, specifically to his request for an evaluation of the ancient Piri Reis Map:
10 of the worlds biggest unsolved mysteries: Georgia Guidestones | MNN - Mother Nature Network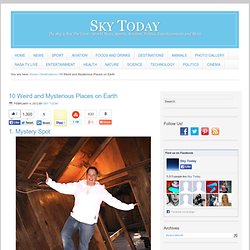 10 Weird and Mysterious Places on Earth
digg 1. Mystery Spot Mystery Sport is a tourist attraction near Santa Cruz, California, famous because of its disrespect to the laws of physics and gravity.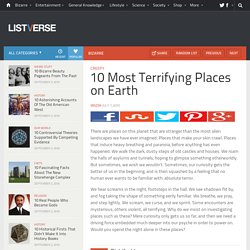 Creepy There are places on this planet that are stranger than the most alien landscapes we have ever imagined. Places that make your skin crawl.
10 Most Terrifying Places on Earth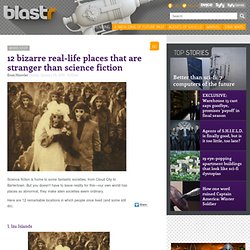 Science fiction is home to some fantastic societies, from Cloud City to Bartertown. But you doesn't have to leave reality for this—our own world has places so abnormal, they make alien societies seem ordinary. Here are 12 remarkable locations in which people once lived (and some still do). 1.
12 bizarre real-life places that are stranger than science fiction | Blastr