Web2.0 Institutes
Wikimedia Foundation projects. Our projects are the core of the Wikimedia movement.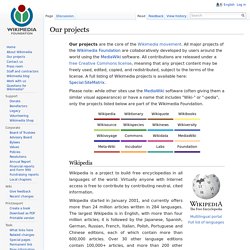 All major projects of the Wikimedia Foundation are collaboratively developed by users around the world using the MediaWiki software. All contributions are released under a free Creative Commons license, meaning that any project content may be freely used, edited, copied, and redistributed, subject to the terms of the license. A full listing of Wikimedia projects is available here: Special:SiteMatrix. Please note: while other sites use the MediaWiki software (often giving them a similar visual appearance) or have a name that includes "Wiki-" or "-pedia", only the projects listed below are part of the Wikimedia Foundation.
Grand Challenges for Engineering. NTRG: Networks & Telecommunications Research Group. InstituteOf NetworkCultures Amsterdam. Center for Future Civic Media. Mobile Life VINN Excellence Center. Henriette Cramer. I'm a research scientist at Yahoo!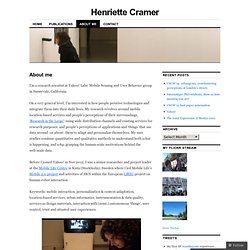 Labs' Mobile Sensing and User Behavior group in Sunnyvale, California. On a very general level, I'm interested in how people perceive technologies and integrate them into their daily lives. My research revolves around mobile location-based services and people's perceptions of their surroundings, 'Research in the Large': using wide distribution channels and existing services for research purposes, and people's perceptions of applications and 'things' that use data around -or about- them to adapt and personalize themselves. Startup @ Berkeley. New Media & Digital Culture at the University of Utrecht.
Jonah BruckerCohen. FRONTLINE: digital nation - life on the virtual frontier. Virtual Think Tank. Willkommen auf dem Wiki zu den Virtual Think Tanks im Rahmen des BVDW (Bundesverband Digitale Wirtschaft) TrendONE Media Evolution als PDF 3.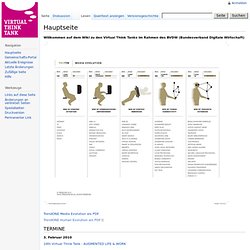 MIT Center for Future Civic Media | Innovating civic media tools.
---