Structured data web3.0
Structured Data. This week ReadWriteWeb will run a series of posts detailing what we think are the 5 biggest, most cutting edge Web trends to come out of 2009.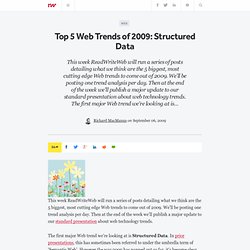 We'll be posting one trend analysis per day. Then at the end of the week we'll publish a major update to our standard presentation about web technology trends. Meaningtool SemanticTrees. GoogleSearch Evolves - But Has Google Finally Lost its Core Foc. Yesterday at Google's Searchology event, which we live-blogged, the search market leader announced two significant features to its search product: Search Options and Rich Snippets.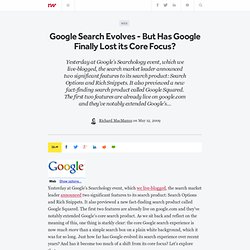 It also previewed a new fact-finding search product called Google Squared. The first two features are already live on google.com and they've notably extended Google's core search product. As we sit back and reflect on the meaning of this, one thing is starkly clear: the core Google search experience is now much more than a simple search box on a plain white background, which it was for so long. Bscopes: Mining, Mapping and Visualizing the Blogosphere. Wolfram|Alpha. Pearltrees. Digg Beyond Digg With New Chrome And Firefox Extensions. One common complaint about Digg is that you have to visit the site to actually digg anything.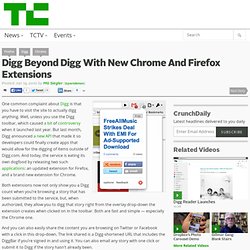 Well, unless you use the Digg toolbar, which caused a bit of controversy when it launched last year. But last month, Digg announced a new API that made it so developers could finally create apps that would allow for the digging of items outside of Digg.com. And today, the service is eating its own dogfood by releasing two such applications: an updated extension for Firefox, and a brand new extension for Chrome. Both extensions now not only show you a Digg count when you're browsing a story that has been submitted to the service, but, when authorized, they allow you to digg that story right from the overlay drop-down the extension creates when clicked on in the toolbar.
TimBerners-Lee: The year open data went worldwide.
---