LBS Carriers/ phoneNetworks
TelecomPaper Your One-Stop Source for Telecoms Information!" Telecompaper (Telecompaper) CHINA MOBILE LIMITED. Vodafone wil belang in China Mobile verkopen. China Mobile. China Mobile Communications Corporation (Chinese: 中国移动通信集团公司) is a Chinese state-owned[4] telecommunication company that provides mobile voice and multimedia services[5] through its nationwide mobile telecommunications network.[2] The company is one of the largest mobile telecommunications companies by market capitalization today, and it was named as such in March 2011.[6] China Mobile Limited (Chinese: 中国移动有限公司) is listed on both the NYSE and the Hong Kong stock exchange.[2] As of July 2013, China Mobile (Chinese: 中国移动) is the world's largest mobile phone operator by subscribers with about 760 million.[7] History[edit] A state-owned enterprise directly controlled by the government of the People's Republic of China[4] and also a public company that is listed on the NYSE and the Hong Kong stock exchanges,[2] China Mobile has dominated Chinese mobile services since its inception.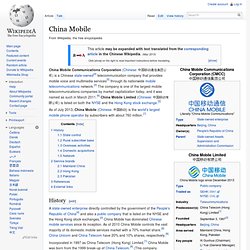 Vodafone Group - corparate website. Vodafone. Vodafone Group plc /ˈvoʊdəfoʊn/ is a British multinational telecommunications company headquartered in London and with its registered office in Newbury, Berkshire.[2] It is the world's 2nd-largest mobile telecommunications company measured by both subscribers and 2013 revenues (in each case behind China Mobile), and had 453 million subscribers as of June 2013.[3][4] Vodafone owns and operates networks in 21 countries and has partner networks in over 40 additional countries.[5] Its Vodafone Global Enterprise division provides telecommunications and IT services to corporate clients in over 65 countries.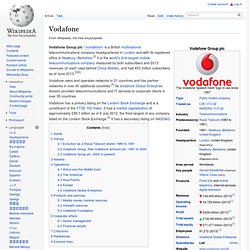 Vodafone has a primary listing on the London Stock Exchange and is a constituent of the FTSE 100 Index. It had a market capitalisation of approximately £89.1 billion as of 6 July 2012[update], the third-largest of any company listed on the London Stock Exchange.[6] It has a secondary listing on NASDAQ. Name[edit] Vodafone 360. PocketLife vodafone. iPhone app. Ad: Prepaid Millionaire. Vodafone Foursquare Partnership Expands to Australia, Portugal. The Vodafone – Foursquare partnership expanded under-the-radar beyond the UK in June, with the geolocation startup now featured by Vodafone in Australia and Portugal.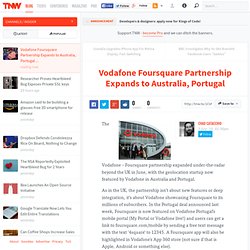 As in the UK, the partnership isn't about new features or deep integration, it's about Vodafone showcasing Foursquare to its millions of subscribers. In the Portugal deal announced last week, Foursquare is now featured on Vodafone Portugal's mobile portal (My Portal or Vodafone live!) And users can get a link to foursquare.com/mobile by sending a free text message with the text '4square' to 12345. A Foursquare app will also be highlighted in Vodafone's App 360 store (not sure if that is Apple, Android or something else). Vodafone Wayfinder Open Source Software | Information and resources for Location Based Open Source Software from Vodafone Wayfinder. Vodafone plots course for Wayfinder by giving it away free! Vodafone's purchase two years ago of Wayfinder for 230 million Swedish crowns (roughly $31 million USD) to backbone its location services is now, brace yourself, being given away!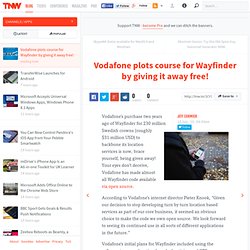 Your eyes don't deceive, Vodafone has made almost all Wayfinder code available via open source. According to Vodafone's internet director Pieter Knook, "Given our decision to stop developing turn by turn location based services as part of our core business, it seemed an obvious choice to make the code we own open source. We look forward to seeing its continued use in all sorts of different applications in the future."
Pocket Life wins race to bring real-time location-based social networking to Facebook. Pocket Life , the geo-location social network initially created out of Vodafone's Innovation lab in Australia, has released its new Facebook app, bringing real-time geo-location integration to Facebook.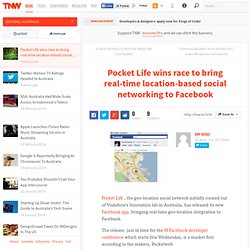 The release, just in time for the f8 Facebook developer conference which starts this Wednesday, is a market first according to the makers, Pocketweb. The app was actually released quietly today and will be officially launched later on in the week. Verizon Wireless. Verizon Wireless. Cellco Partnership, doing business as Verizon Wireless and branded and referred to as Verizon, is a wholly owned subsidiary of Verizon Communications Inc..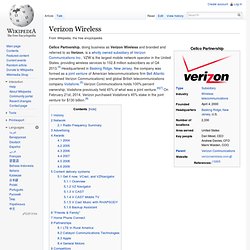 VZW is the largest mobile network operator in the United States, providing wireless services to 102.8 million subscribers as of Q4 2013.[4] Headquartered in Basking Ridge, New Jersey, the company was formed as a joint venture of American telecommunications firm Bell Atlantic (renamed Verizon Communications) and global British telecommunications company Vodafone.[5] Verizon Communications holds 100% percent ownership; Vodafone previously held 45% of what was a joint venture.[6][7] On February 21st, 2014, Verizon purchased Vodafone's 45% stake in the joint venture for $130 billion.[8] History[edit] On April 3, 2000, Verizon Communications began operations as the result of the merger between Bell Atlantic Mobile and GTE.
Droid from Verizon Wireless. Get things done.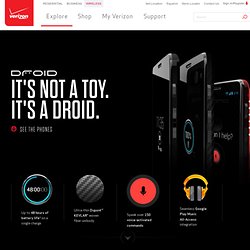 Perform the tasks you need to with software that makes sense. No useless add-ons. No bloat. No distractions. :: Mobile Exciting!! - Samsung Mobile :: Promoties - News&Events - Samsung Mobile Nederland. Nieuws - News&Events - Samsung Mobile Nederland. Search superswypers. T Wireless. AT&T Jumps into Mobile Location Biz SCVNGR.
T-Mobile. Sherpa. Geodelic. Brings Serendipity to Location – GigaOM. From chip makers to mobile phone giants to tiny upstarts, location-based services are seen as the wireless world's pot of gold.
Among those looking to dip into that pot is Geodelic, a Santa Monica, Calif. -based startup that this week announced $3.5 million in funding from Clearstone Venture Partners and Shasta Ventures. Even more impressive is the fact that Geodelic has partnered with T-Mobile to offer an LBS application known as Sherpa on the the company's myTouch phone. Unlike other mapping applications, Geodelic's technology customizes your location search according to your interests and preferences.
According to Geodelic: Geodelic (geodelic) Skyhook Wireless Powers Location on Sherpa App Available in Andr. Connect and share with friends, family, and T-Mobile. Android 2.0 Coming to T-Mobile G1 [RUMOR] Owners of T-Mobile's G1 phone might be getting the latest version of Google's Android operating system, if rumors are to be believed.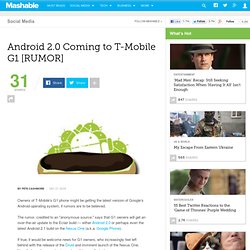 The rumor, credited to an "anonymous source," says that G1 owners will get an over-the-air update to the Eclair build — either Android 2.0 or perhaps even the latest Android 2.1 build on the Nexus One (a.k.a. Google Phone). If true, it would be welcome news for G1 owners, who increasingly feel left behind with the release of the Droid and imminent launch of the Nexus One. Nonetheless, the sourcing is weak on this one: A single anonymous source on an unofficial Android blog doesn't instill 100 percent confidence. HTC. HTC Corporation. History[edit] Cher Wang (王雪紅), H.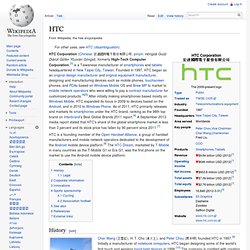 T. Cho (卓火土), and Peter Chou (周永明) founded HTC in 1997.[9] Initially a manufacturer of notebook computers, HTC began designing some of the world's first touch and wireless hand-held devices in 1998.[10] The company is credited with creating the first Android smartphone, the first Microsoft-powered smartphone (2002) and the first Microsoft 3G phone (2005). Nexus One: The Google Phone Has a Name. It's just about confirmed now: Google will sell its own phone, built by HTC and named the Nexus One. It will sell the Google Phone online and unlocked, so you'll need to buy your cellular service separately. The entire user experience is designed by Google, according to the WSJ. KPN.com - informatie, service en online winkelen. WaarZitWie HiKPN. KPN Acq- uires iBasis For $93.3 Million. Dutch telecom group KPN has agreed to acquire the 44% of U.S.
-based operator iBasis that it doesn't already own for $3 a share, or $93.3 million in cash. A special committee of the iBasis board has approved the terms put forward a couple of weeks ago, and is urging company holders to accept KPN's tender offer. KPN says it intends to complete the acquisition of iBasis through a merger no later than today. Sprint: Cell-Mobile Phones,Wireless. SingTel leads Asia's telecommunications with offers on Mobile, B. Property Buddy itunes.apple.
Go! Shopping for Android. Go! Shopping provides you with accurate indoor maps to the major malls in Singapore. With Go! Shopping, you no longer need to squint at maps within the mall to find the nearest restaurants, shops or cinemas. Find information on stores and promotions plus navigate from one store to another all at your fingertips. Carriers worldwide ramping up their support for geolocation apps. More indications that carriers worldwide are taking an active role to leverage the growth in popularity of location services and augmented reality today came from Singapore carrier SingTel, which is releasing two apps to the public (and a third app for subscribers only that is a price comparison app) today. Property Buddy The first app is a called Property Buddy and is available for the iPhone 3GS (and we're assuming the iPhone 4), with an Android app in the works.
The augmented reality app allows users to point their camera phones at residential properties for real-time overlays of property information from Singapore's Urban Redevelopment Authority, including prices and available properties. Go! Why Gmail's New Phone Service Scares Mobile Providers. Google announced a new communication service this week – you can dial up your friends and talk to them on their phones through your computer. The service joins Gmail's other capabilities – like instant chatting, videochatting and of course e-mailing – and is probably not a function that mobile providers are rejoicing over. While many are calling the Gmail phone a competitor to Skype, mobile providers across the board may have cause for jealousy.
Here are the big reasons why Gmail's snazzy new dialing power might alarm mobile providers.
---