LBS Carriers/ phoneNetworks
TelecomPaper Your One-Stop Source for Telecoms Information!"
Telecompaper (Telecompaper) on Twitter
CHINA MOBILE LIMITED
Vodafone wil belang in China Mobile verkopen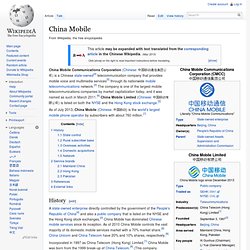 China Mobile
The old logo of China Mobile
Vodafone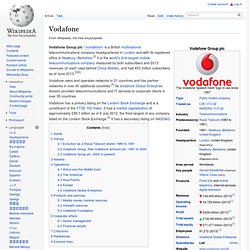 Vodafone Group plc /ˈvoʊdəfoʊn/ is a British multinational telecommunications company headquartered in London and with its registered office in Newbury, Berkshire.[2] It is the world's third-largest mobile telecommunications company measured by both subscribers and 2011 revenues (in each case behind China Mobile), and had 439 million subscribers as of December 2011.[3][4][5] Vodafone owns and operates networks in over 30 countries and has partner networks in over 40 additional countries.[6] Its Vodafone Global Enterprise division provides telecommunications and IT services to corporate clients in over 65 countries.
PocketLife vodafone
iPhone app
Ad: Prepaid Millionaire
Vodafone Wayfinder Open Source Software | Information and resources for Location Based Open Source Software from Vodafone Wayfinder
Vodafone's purchase two years ago of Wayfinder for 230 million Swedish crowns (roughly $31 million USD) to backbone its location services is now, brace yourself, being given away!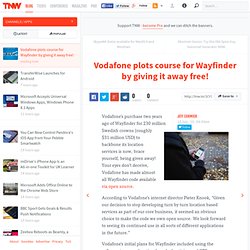 Vodafone plots course for Wayfinder by giving it away free!
Pocket Life , the geo-location social network initially created out of Vodafone's Innovation lab in Australia, has released its new Facebook app, bringing real-time geo-location integration to Facebook. The release, just in time for the f8 Facebook developer conference which starts this Wednesday, is a market first according to the makers, Pocketweb. The app was actually released quietly today and will be officially launched later on in the week.
Pocket Life wins race to bring real-time location-based social networking to Facebook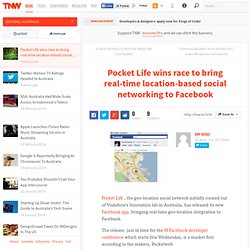 Cellco Partnership, doing business as Verizon Wireless, is the largest mobile network operator in the United States, providing wireless services to 119.4 million subscribers as of Q3 2013.[4] Headquartered in Basking Ridge, New Jersey, the company was formed as a joint venture of American telecommunications firm Bell Atlantic (renamed Verizon Communications) and global British telecommunications company Vodafone.[5] Verizon Communications holds 55 percent ownership and Vodafone holds the remaining 45 percent of the joint venture.[6][7] On September 2, 2013, Verizon Communications announced that it had agreed to buy Vodafone's stake for $130 billion in a deal expected to close by the first quarter of 2014.
Verizon Wireless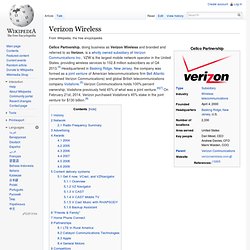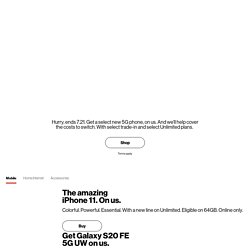 Droid from Verizon Wireless
Get things done.
search superswypers
Sherpa
Geodelic
From chip makers to mobile phone giants to tiny upstarts, location-based services are seen as the wireless world's pot of gold. Among those looking to dip into that pot is Geodelic, a Santa Monica, Calif.
Brings Serendipity to Location – GigaOM
geodelic (geodelic) on Twitter
Skyhook Wireless Powers Location on Sherpa App Available in Andr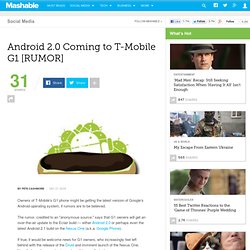 Owners of T-Mobile's G1 phone might be getting the latest version of Google's Android operating system, if rumors are to be believed.
Android 2.0 Coming to T-Mobile G1 [RUMOR]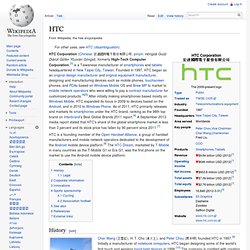 HTC Corporation
History[edit]
Nexus One: The Google Phone Has a Name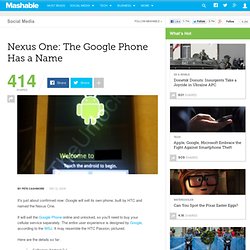 It's just about confirmed now: Google will sell its own phone, built by HTC and named the Nexus One. It will sell the Google Phone online and unlocked, so you'll need to buy your cellular service separately. The entire user experience is designed by Google, according to the WSJ.
KPN.com - informatie, service en online winkelen
WaarZitWie HiKPN
Dutch telecom group KPN has agreed to acquire the 44% of U.S.
KPN Acq- uires iBasis For $93.3 Million
Sprint: Cell-Mobile Phones,Wireless
SingTel leads Asia's telecommunications with offers on Mobile, B
Go! Shopping for Android
Go! Shopping provides you with accurate indoor maps to the major malls in Singapore. With Go! Shopping, you no longer need to squint at maps within the mall to find the nearest restaurants, shops or cinemas. Find information on stores and promotions plus navigate from one store to another all at your fingertips.
Why Gmail's New Phone Service Scares Mobile Providers
Google announced a new communication service this week – you can dial up your friends and talk to them on their phones through your computer.