Humanitarian
ushahidi on Twitter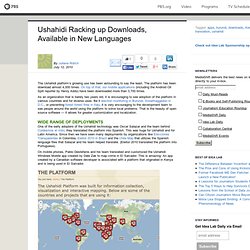 Ushahidi Racking up Downloads
The Ushahidi platform's growing use has been astounding to say the least. The platform has been download almost 4,000 times. On top of that, our mobile applications (including the Android Oil Spill reporter by Henry Addo) have been downloaded more than 3,700 times. As an organization that is barely two years old, it is encouraging to see adoption of the platform in various countries and for diverse uses. Be it election monitoring in Burundi, Snowmaggedon in D.C., or preventing forest forest fires in Italy, it is very encouraging to the development team to see people around the world using the platform to solve local problems. That is the beauty of open source software — it allows for greater customization and localization.
News from the web during a crisis
20 July 2010Last updated at 04:54 ET By Jonathan Fildes Technology reporter, BBC News SwiftRiver attempts to siphon off useful information from the web In 2009, a series of deadly riots swept through the Ugandan capital of Kampala.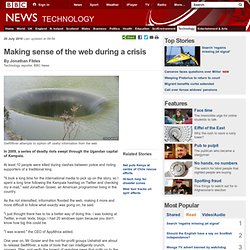 Scobleizer Ushahidi leads way to crisis news curation systems
Ten Ways to Use SwiftRiver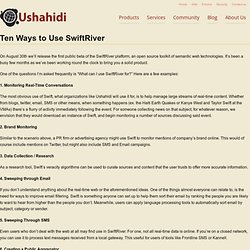 On August 30th we'll release the first public beta of the SwiftRiver platform, an open source toolkit of semantic web technologies.
Getting Started With Swift River
Swift River: Trying to Filter the Social Web Firehose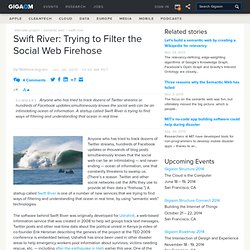 Anyone who has tried to track dozens of Twitter streams, hundreds of Facebook updates or thousands of blog posts simultaneously knows that the social web can be an intimidating — and never-ending — ocean of information, one that constantly threatens to swamp us.
Making sense of the web during a crisis
Valuch admitted the process wasn't perfect; but it showcases some of the techniques that can be used in crowdsourced verification.
The Challenge of Verifying Crowdsourced Information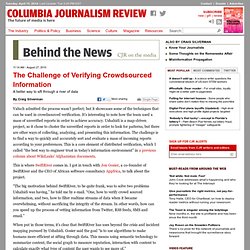 5s6peuj - Uploaded by unxposed
Crowdmap (Crowdmap) on Twitter
Introducing Crowdmap
brianherbert on Twitter Ushahidi Developer
testing
What the Launch of Crowdmap Can Mean - Marc-Alexandre Gagnon
Indigenous Mapping Network
Rosemarie McKeon (IndigMapNetwork) on Twitter
haitiaidmap
@DigiDem helps NYC students map their community and future! | MapTogether.org
CauseWorld on Twitter
Causeworld Android App Review - AndroidApps.com
MapTogether.org | Mapping the world a better place...
MapTogether (maptogether) on Twitter
4H geo curriculum
4H (4H) on Twitter
VMConnect on Twitter
VolunteerMatch Live Map
New app puts the power of VolunteerMatch.org into your pocket and demonstrates the potential of pro bono collaboration. SAN FRANCISCO, Mar. 15 /CSRwire/ - VolunteerMatch, the popular volunteer service, this week announced the availability of its first full-featured application for smart phone users, VolunteerMatch for iPhone.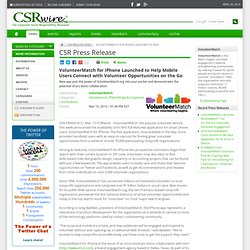 VolunteerMatch for iPhone Launched
GeoStor 6.0
Arkansas GeoStor (GeoStor) on Twitter
niceSERVE
niceSERVE.org
Dale Zak: Mobile Volunteerism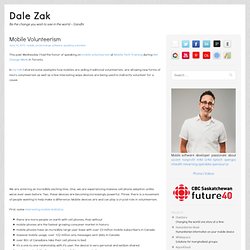 This past Wednesday I had the honor of speaking on mobile volunteerism at Mobile Tech Training during Net Change Week in Toronto.
kaboom on Twitter
WISER Home
First Aid Corps
firstaidcorps on Twitter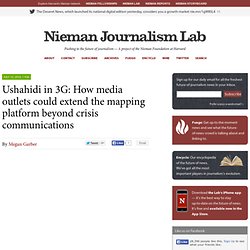 Since its launch in early 2008, the crowdsourced mapping platform Ushahidi has been used to monitor elections in Burundi, to track violence in Pakistan, to coordinate aid in Haiti. Its platform has been downloaded nearly 4,000 times; its mobile platform, more than 3,700.
Ushahidi in 3G: How media outlets could extend the mapping platform beyond crisis communications