Humanitarian
Ushahidi Crowdsourcing Crisis Information. ReliefWeb » Home Page. Ushahidi. ArcGIS. Ushahidi Racking up Downloads. The Ushahidi platform's growing use has been astounding to say the least.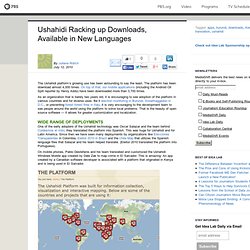 The platform has been download almost 4,000 times. On top of that, our mobile applications (including the Android Oil Spill reporter by Henry Addo) have been downloaded more than 3,700 times. As an organization that is barely two years old, it is encouraging to see adoption of the platform in various countries and for diverse uses. Be it election monitoring in Burundi, Snowmaggedon in D.C., or preventing forest forest fires in Italy, it is very encouraging to the development team to see people around the world using the platform to solve local problems. That is the beauty of open source software — it allows for greater customization and localization. News from the web during a crisis. 20 July 2010Last updated at 09:54 By Jonathan Fildes Technology reporter, BBC News SwiftRiver attempts to siphon off useful information from the web In 2009, a series of deadly riots swept through the Ugandan capital of Kampala.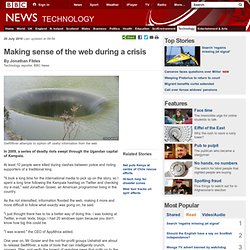 SwiftRiver | Verifying and Filtering News (FOSS) Scobleizer Ushahidi leads way to crisis news curation systems. Ten Ways to Use SwiftRiver. On August 30th we'll release the first public beta of the SwiftRiver platform, an open source toolkit of semantic web technologies.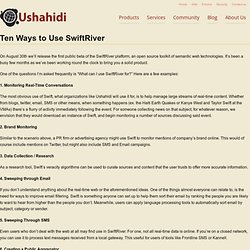 It's been a busy few months as we've been working round the clock to bring you a solid product. One of the questions I'm asked frequently is "What can I use SwiftRiver for?" Here are a few examples: 1. Getting Started With Swift River. Swift River: Trying to Filter the Social Web Firehose. Anyone who has tried to track dozens of Twitter streams, hundreds of Facebook updates or thousands of blog posts simultaneously knows that the social web can be an intimidating — and never-ending — ocean of information, one that constantly threatens to swamp us.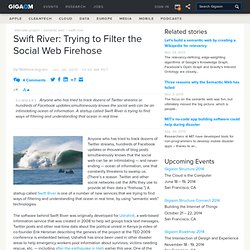 (There's a reason Twitter and other social networks call the APIs they use to provide all their data a "firehose.") A startup called Swift River is one of a number of new services that are trying to find ways of filtering and understanding that ocean in real time, by using "semantic web" technologies. The software behind Swift River was originally developed for Ushahidi, a web-based information service that was created in 2008 to help aid groups track text messages, Twitter posts and other real-time data about the political unrest in Kenya (a video of co-founder Erik Hersman describing the genesis of the project at the TED 2009 conference is embedded below). Making sense of the web during a crisis. The Challenge of Verifying Crowdsourced Information.
Valuch admitted the process wasn't perfect; but it showcases some of the techniques that can be used in crowdsourced verification.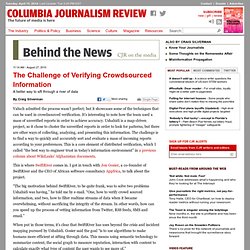 It's interesting to note how the team used a mass of unverified reports in order to achieve accuracy. Ushahidi is a map-driven project, so it chose to cluster the unverified reports in order to look for patterns, but there are other ways of collecting, analyzing, and presenting this information. The challenge is to find a way to quickly and accurately sort and evaluate a mass of incoming reports according to your preferences.
This is a core element of distributed verification, which I called "the best way to engineer trust in today's information environment" in a previous column about WikiLeaks' Afghanistan documents. 5s6peuj - Uploaded by unxposed. Crowdmap. Crowdmap (Crowdmap) Introducing Crowdmap. When the Ushahidi platform was written as an open source project in 2008, the vision was to have a platform that any individual or organization could easily deploy in any situation.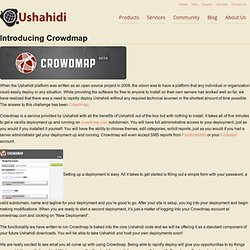 While providing the software for free to anyone to install on their own servers has worked well so far, we have realized that there was a need to rapidly deploy Ushahidi without any required technical acumen in the shortest amount of time possible. The answer to this challenge has been Crowdmap. Brianherbert on Twitter Ushahidi Developer... Testing. What the Launch of Crowdmap Can Mean - Marc-Alexandre Gagnon. Indigenous Mapping Network. Rosemarie McKeon (IndigMapNetwork) Haitiaidmap. @DigiDem helps NYC students map their community and future! | MapTogether.org. CauseWorld. CauseWorld. Causeworld Android App Review - AndroidApps.com. ESRI Gulf Oil Spill Map. MapTogether.org | Mapping the world a better place... MapTogether (maptogether) 4H geo curriculum. 4H (4H) VolunteerMatch - Where Volunteering Begins.
VMConnect. VolunteerMatch Live Map. VolunteerMatch for iPhone Launched. New app puts the power of VolunteerMatch.org into your pocket and demonstrates the potential of pro bono collaboration.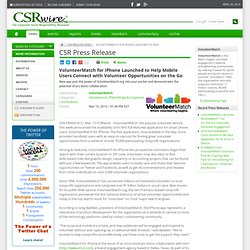 SAN FRANCISCO, Mar. 15 /CSRwire/ - VolunteerMatch, the popular volunteer service, this week announced the availability of its first full-featured application for smart phone users, VolunteerMatch for iPhone. The free application, now available in the App Store, provides handheld users with an easy-to-use tool for finding great volunteer opportunities from a network of over 70,000 participating nonprofit organizations. Among its features, VolunteerMatch for iPhone lets prospective volunteers begin their search with their current location or ZIP code. Volunteers may also elect to find skills-based roles like graphic design, carpentry or accounting projects that can be found with just a few keywords.
GeoStor 6.0. Arkansas GeoStor (GeoStor) NiceSERVE. NiceSERVE.org. Dale Zak: Mobile Volunteerism. This past Wednesday I had the honor of speaking on mobile volunteerism at Mobile Tech Training during Net Change Week in Toronto.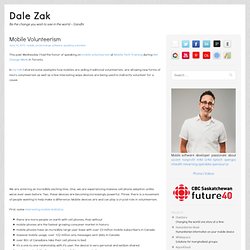 In my talk I shared some examples how mobiles are aiding traditional volunteerism, are allowing new forms of micro-volunteerism as well as a few interesting ways devices are being used to indirectly volunteer for a cause. We are entering an incredibly exciting time. One, we are experiencing massive cell phone adoption unlike we've ever seen before. KaBOOM! We help communities build playgrounds |
Kaboom. Oil Reporter itunes.apple. WISER Home. First Aid Corps. Firstaidcorps. Ushahidi in 3G: How media outlets could extend the mapping platform beyond crisis communications. Since its launch in early 2008, the crowdsourced mapping platform Ushahidi has been used to monitor elections in Burundi, to track violence in Pakistan, to coordinate aid in Haiti.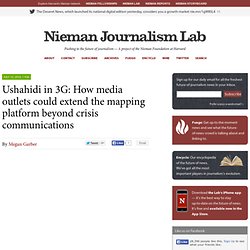 Its platform has been downloaded nearly 4,000 times; its mobile platform, more than 3,700. It's now been six months since Haiti's earthquake; and Patrick Meier, Ushahidi's director of crisis mapping and strategic partnerships, was on hand to discuss his work at Harvard's Berkman Center earlier this week as part of the center's regular luncheon series. (Archived here, by the way, are some of our favorite videos from past luncheons.) A point Meier stressed during his talk — and a point also stressed by Ory Okolloh, Ushahidi's co-founder and the site's executive director, when she and I had a conversation recently — is that, despite its most common framing, Ushahidi is not actually a crisis-mapping platform.
---