Gov2.0 Ambtenaar2.0
Ambtenaar 2.0 — Web 2.0 en de overheid. Government20Camp. Government 2.0 Camp is the unconference about using social media tools and Web 2.0 technologies to create a more effective, efficient and collaborative U.S. government on all levels (local, state, and federal).
Government 2.0 Camp will bring together the leading thinkers from government, academia and industry to share Government 2.0 initiatives that are already in process and collaborate about how to leverage social media tools and Web 2.0 technologies to create a more collaborate, efficient and effective government -- Government 2.0. Government 2.0 Camp is the inaugural event of Government 2.0 Club, a newly-launched national organization that creates opportunities for government, academia and industry to share ideas and solutions for leveraging social media tools and Web 2.0 technologies to create a more collaborate, efficient and effective government. See for yourself!
TimBerners-Lee unveils government data project. Web founder Sir Tim Berners-Lee has unveiled his latest venture for the UK government, which offers the public better access to official data.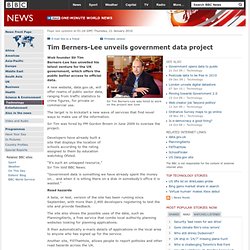 A new website, data.gov.uk, will offer reams of public sector data, ranging from traffic statistics to crime figures, for private or commercial use. The target is to kickstart a new wave of services that find novel ways to make use of the information. Sir Tim was hired by PM Gordon Brown in June 2009 to oversee the project. Developers have already built a site that displays the location of schools according to the rating assigned to them by education watchdog Ofsted. "It's such an untapped resource," Sir Tim told BBC News. Unlocking innovation. Mike Butcher: RT @hubmum: Huge props for... Tim Berners-Lee Video making data free. SteveRessler govloop. Why Citizen Participation May Be An Illusion. There are great expectations about how governments will be able to leverage technology in the near future that will finally allow them to re-engage with citizens.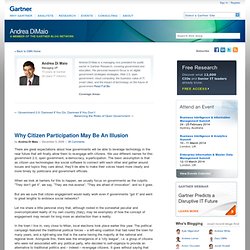 We use different names for this: government 2.0, open government, e-democracy, e-participation. The basic assumption is that as citizen use technologies like social software to connect with each other and gather around issues and topics they care about, they'll be able to make their voices heard more clearly and more timely by politicians and government officials. Changing Government and Tech With Geeks - Bits Blog - NYTimes.co. Code for America.
On Government Big and Small. And Weeding. » Code for America. We are at a wonderful cultural moment, when the concept of big government is getting batted around, pulled apart and reconstructed in terribly useful ways.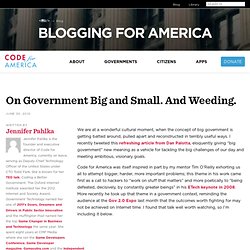 I recently tweeted this refreshing article from Dan Palotta, eloquently giving "big government" new meaning as a vehicle for tackling the big challenges of our day and meeting ambitious, visionary goals. Code for America was itself inspired in part by my mentor Tim O'Reilly exhorting us all to attempt bigger, harder, more important problems; this theme in his work came first as a call to hackers to "work on stuff that matters" and more poetically to "being defeated, decisively, by constantly greater beings" in his ETech keynote in 2008. More recently he took up that theme in a government context, reminding the audience at the Gov 2.0 Expo last month that the outcomes worth fighting for may not be achieved on Internet time. I found that talk well worth watching, so I'm including it below. Gov 2.0 Expo 2010: Tim O'Reilly, "Government as a Platform for G. SunlightFoundation Making Government Transparent and Accountable.
SunFoundation. Sunlightnetwork. Case Foundation: Investing in People and Ideas that Can Change t. CaseFoundation.
---