Container 1
Living0Maps by tss.veloso - Pearltrees
Here it is ! The Mobile 3D City application : Paris 3D has been submitted yesterday as an Apple iPhone application ! After almost twenty man-years of R&D over a four year period, here it is, the first embodiment in a collection that will rapidly expand as each newopus is added. What is Mobile 3D City ? It is a collection of tourism guides developed specifically for mobile terminals (currently iPhone), in truly photo-realist 3D format, which is interactive and includes numerous points of interest.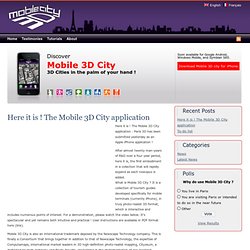 mobile 3d city
Chaîne de mobile3dcity
A LA CARTE MAPS - Discover the world à la carte
Stylish Maps That Are Chatty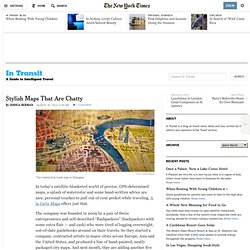 A la Carte MapsThe colorful À la Carte map to Shanghai. In today's satellite-blanketed world of precise, GPS-determined maps, a splash of watercolor and some hand-written advice are nice, personal touches to pull out of your pocket while traveling. A la Carte Maps offers just that. The company was founded in 2009 by a pair of Swiss entrepreneurs and self-described "flashpackers" (backpackers with some extra flair — and cash) who were tired of lugging overweight, out-of-date guidebooks around on their travels. So they started a company, contracted artists in major cities across Europe, Asia and the United States, and produced a line of hand-painted, neatly packaged city maps. And next month, they are adding another five destinations to their roster.