Blogs
A Check-In Each Second. Last Friday, the location-based service Foursquare announced that it was opening their service to be used anywhere in the world.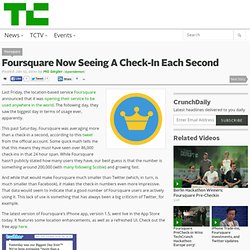 The following day, they saw the biggest day in terms of usage ever, apparently. This past Saturday, Foursquare was averaging more than a check-in a second, according to this tweet from the official account. Some quick math tells me that this means they must have seen over 86,000 check-ins in that 24 hour span. While Foursquare hasn't publicly stated how many users they have, our best guess is that the number is something around 200,000 (with many following Scoble) and growing fast. 11 Ideas for New4square Features. .Eureka Earthquake cashmore TwitterPics. A strong earthquake (magnitude 6.5) hit Northern California today, breaking windows and taking out power lines in some areas.
The quake hit at 4:27 pm PT, with the epicenter around 25 miles from Eureka. Being a Saturday with most of the news media not at work, it was left to Twitter to tell the story, with users posting pics to photo site Twitpic almost immediately. Here are the most retweeted Twitpics from the incident, all of them from @amyeureka — her full Twitter feed paints a picture of the damage more detailed than any news outlet has achieved. Got more Twitpics of Eureka earthquake damage? .6Foursquare Apps We'd Love to See. Foursquare is one of the crucial new social networks to keep tabs on, and for entrepreneur types, the recent release of its open API is big news.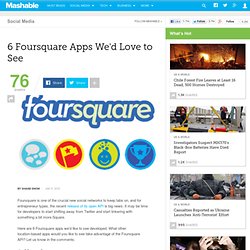 It may be time for developers to start shifting away from Twitter and start tinkering with something a bit more Square. Here are 6 Foursquare apps we'd like to see developed. .Harvard Teams Up With Foursquare. It's hip to be square.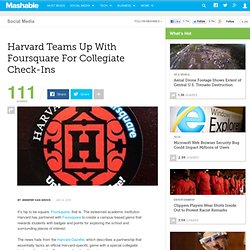 Foursquare, that is. The esteemed academic institution Harvard has partnered with Foursquare to create a campus-based game that rewards students with badges and points for exploring the school and surrounding places of interest. The news hails from the Harvard Gazette, which describes a partnership that essentially tacks an official Harvard-specific game with a special collegiate badge on the existing Foursquare functionality and purpose.
---