Blogs
Last Friday, the location-based service Foursquare announced that it was opening their service to be used anywhere in the world . The following day, they saw the biggest day in terms of usage ever, apparently. This past Saturday, Foursquare was averaging more than a check-in a second, according to this tweet from the official account. Some quick math tells me that this means they must have seen over 86,000 check-ins in that 24 hour span. While Foursquare hasn't publicly stated how many users they have, our best guess is that the number is something around 200,000 (with many following Scoble ) and growing fast.
A Check-In Each Second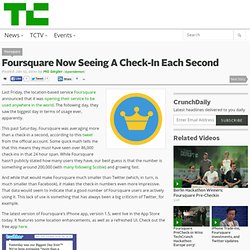 11 Ideas for New4square Features As some may know, I occasionally use Foursquare . OK, I'm a fairly avid user - and I've enjoyed seeing what benefits I can get out of it. A few of these include meeting people in my local area, learning about new places to go, and getting a wide variety of suggestions from others for many of the places I go. I believe the application and platform have significant potential (see some posts/articles on this at Mashable and by Robert Scoble ), and so I'd like to offer up some suggestions for Foursquare features that I think would enhance the platform: Key app features on the Web site.
.Eureka Earthquake cashmore TwitterPics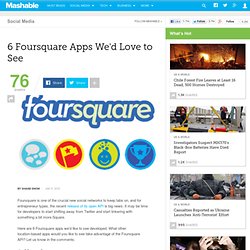 .6Foursquare Apps We'd Love to See
Foursquare is one of the crucial new social networks to keep tabs on, and for entrepreneur types, the recent release of its open API is big news. It may be time for developers to start shifting away from Twitter and start tinkering with something a bit more Square. Here are 6 Foursquare apps we'd like to see developed.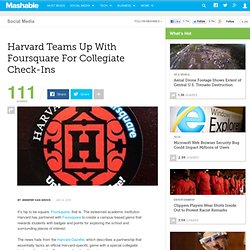 It's hip to be square. Foursquare , that is. The esteemed academic institution Harvard has partnered with Foursquare to create a campus-based game that rewards students with badges and points for exploring the school and surrounding places of interest. The news hails from the Harvard Gazette , which describes a partnership that essentially tacks an official Harvard-specific game with a special collegiate badge on the existing Foursquare functionality and purpose.
.Harvard Teams Up With Foursquare