BingMaps
Bing Maps Enterprise from Microsoft - Integrated Mappin. Most Windows Store apps for consumer audiences can be licensed free of charge under our Bing Maps Terms of Use.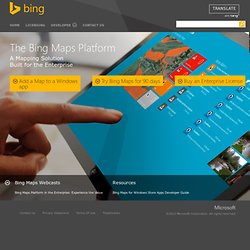 To confirm which Windows Store app license is right for you, visit our licensing tool, evaluate your requirements, and find the right Bing Maps Key to authenticate your application. If your Windows Store app is for use on a Private network (CRM, Business Intelligence or Asset Tracking), an Enterprise License for a Windows Store app will be required. For technical and community resources: click here. For our Developer Guide PDF: click here. Bing Maps.
Bing Maps Beta Review | Pinoytutorial Techtorial. Posted on 03 December 2009 by author inShare About Six years ago, millions of people were amazed when Google launched its maps.google.com.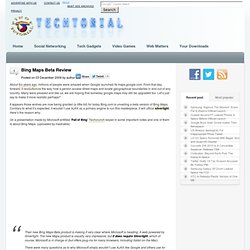 From that day forward, it revolutionize the way how a person access street maps and locate geographical boundaries in and out of any country. Many were pleased and like us, we are hoping that someday google maps may still be upgraded too. Let's just say to make it more realistic perhaps? It appears those wishes are now being granted (a little bit) for today Bing.com is unveiling a beta version of Bing Maps. NationalGeographic Launches iPhone Atlas Using Bing Maps. Photosynth: Your photos, automatically in 3D. Around the UK's economy. The UK economy has emerged from recession after growing by 0.1% in the final quarter of 2009.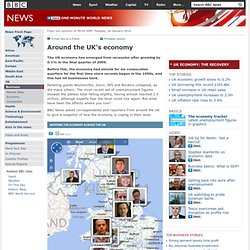 Before this, the economy had shrunk for six consecutive quarters for the first time since records began in the 1950s, and this has hit businesses hard. Retailing giants Woolworths, Zavvi, MFI and Borders collapsed, as did many others. The most recent set of unemployment figures showed the jobless total falling slightly, having almost reached 2.5 million, although experts fear the level could rise again. But what have been the effects where you live? BBC News asked correspondents and reporters from around the UK to give a snapshot of how the economy is coping in their area. Integrating OSM/Bing1 Maps (Part 1) WorldWide Telescope.
NASA and Microsoft Let You Explore Mars Like Never Before. Microsoft Research and NASA have teamed up once again and brought the "most complete, highest-resolution coverage of Mars available" to WorldWide Telescope.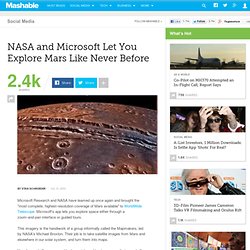 Microsoft's app lets you explore space either through a zoom-and-pan interface or guided tours. This imagery is the handiwork of a group informally called the Mapmakers, led by NASA's Michael Broxton. Their job is to take satellite images from Mars and elsewhere in our solar system, and turn them into maps. Yes, it sounds like every geek's dream job, and having a name that sounds like something from a William Gibson novel doesn't hurt, either. Microsoft WorldWide Telescope Web Client. Street Slide: Browsing Street Level Imagery. Abstract Systems such as Google Street View and Bing Maps Streetside enable users to virtually visit cities by navigating between immersive 360° panoramas, or bubbles.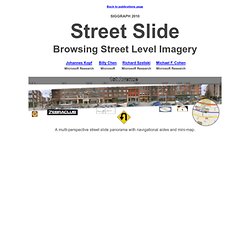 The discrete moves from bubble to bubble enabled in these systems do not provide a good visual sense of a larger aggregate such as a whole city block. Multi-perspective "strip" panoramas can provide a visual summary of a city street but lack the full realism of immersive panoramas. We present Street Slide, which combines the best aspects of the immersive nature of bubbles with the overview provided by multiperspective strip panoramas. We demonstrate a seamless transition between bubbles and multi-perspective panoramas. Microsoft Street Slide: it's electric! (video) Remember the first time you used Google Street View?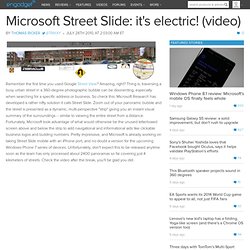 Amazing, right? Thing is, traversing a busy urban street in a 360-degree photographic bubble can be disorienting, especially when searching for a specific address or business. So check this: Microsoft Research has developed a rather nifty solution it calls Street Slide. Zoom out of your panoramic bubble and the street is presented as a dynamic, multi-perspective "strip" giving you an instant visual summary of the surroundings -- similar to viewing the entire street from a distance. Fortunately, Microsoft took advantage of what would otherwise be the unused letterboxed screen above and below the strip to add navigational and informational aids like clickable business logos and building numbers. Bing Maps Adds OpenStreetMap.
Bing Goes Hyperlocal With Portland Food Cart Finder. During an event at Alpha Broadcasting's new Bing Lounge in downtown Portland today, Microsoft announced the launch of its first hyperlocal Bing product: a food cart finder that provides Portland's food cart-crazy population with access to menus, directions and reviews for over 250 food carts.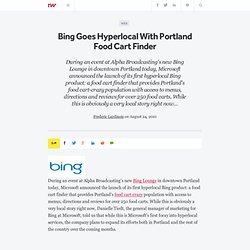 While this is obviously a very local story right now, Danielle Tiedt, the general manager of marketing for Bing at Microsoft, told us that while this is Microsoft's first foray into hyperlocal services, the company plans to expand its efforts both in Portland and the rest of the country over the coming months. The service, which is available for mobile and desktop browsers, allows users to filter food carts by cuisine, opening hours, ratings and location.
Bing partners with the Portland Monthly magazine to source this information. More Hyperlocal Bing Services Coming Soon.
---