4sq Apps
Foursquare is one of the crucial new social networks to keep tabs on, and for entrepreneur types, the recent release of its open API is big news. It may be time for developers to start shifting away from Twitter and start tinkering with something a bit more Square.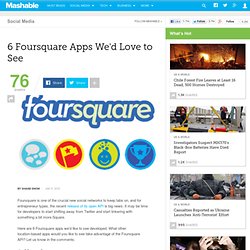 6Foursquare Apps We'd Loveto See
Fourface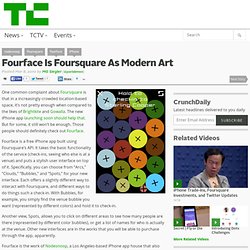 Fourface Is Foursquare As Modern Art
One common complaint about Foursquare is that in a increasingly crowded location-based space, it's not pretty enough when compared to the likes of Brightkite and Gowalla . The new iPhone app launching soon should help that . But for some, it still won't be enough.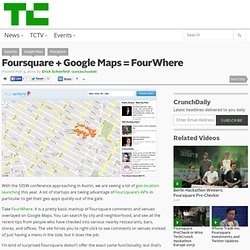 Foursquare + Google Maps = FourWhere
With the SXSW conference approaching in Austin, we are seeing a lot of geo-location launching this year.
Nodesnoop Labs
Mayor War - Virtual Warfare on Real World Locations
Mayor War (mayor_war) on Twitter
Products - Social Media Monitoring and Social Media Analytics So
Sysomos is redefining social media analytics with a powerful product suite that provides customers with the tools to measure, monitor, understand and engage with the social media landscape.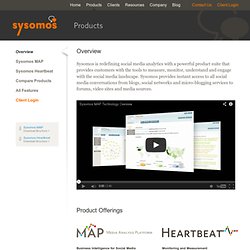 FourWhere Mashes Up Foursquare and Google Maps
UpNext 3d Cities: The Future of Mobile Maps
upnext (upnext) on Twitter
One of the most detailed 3-D mapping apps on the iPhone is UpNext , which lets you click on 3-D buildings and see a list of the businesses and offices inside. Up until now, however, it only covered New York City.
UpNext: Three New Cities, Glowing Foursquare Checkins, And CityG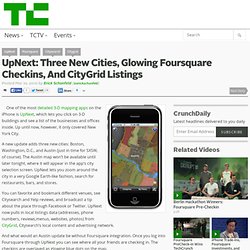 UpNext 3d Cities iPhone App
foursquare app gallery
4mapper - Mapping foursquare
Assisted Serendipity - Your Foursquare powered wingman
Avoidr
Foursquare Plugin Lets You Avoid Foes and Exes [APP]
It's something everyone dreads upon breaking up or having a falling out with a friend: the inevitable run-in. You're out on the town and then BAM, a night can be ruined by a former friend's face. Well, now you can circumvent all that heartache with a clever new web app that's basically the anti- Foursquare : Avoidr.