Feb5-6
Un homme avec un blouson barré du mot « Press » à terre après avoir été attaqué par des émeutiers au Caire, le 3 février (Reuters) (Du Caire) La révolution s'était enfoncée dans une torpeur routinière depuis la fin des violences avec la police, vendredi 28 janvier. La place Tahrir, le cœur du Caire et de la contestation avait pris un aspect familial et bon enfant. Venir manifester s'apparentait à une promenade du dimanche au jardin des Tuileries. Dans une ambiance festive, les Egyptiens venaient faire le tour de la place et y retrouvaient leurs amis. On discutait, on plaisantait, on prenait des photos.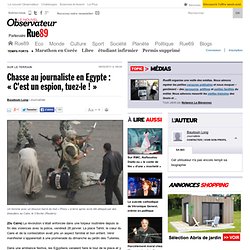 Chasse au journaliste en Egypte : "C'est un espion, tuez-le !"
Marching around Tahrir, covered by a plastic sheet to protect
Detentions, and a Mubarak Aide's Role in Them, Anger Egyptians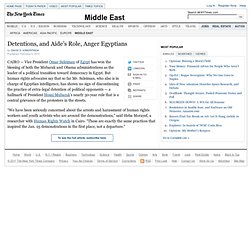 Majdi Mohammed/Associated Press Vice President Omar Suleiman of Egypt also is in charge of Egyptian intelligence.
Tahrir Square 05-feb-2011 (Part 2) [HQ].mp4
Wednesday night intense battle
Hosny out, Egypt is free
Rocks used to defend Tahrir sq have been repurposed into scul
Share photos on Twitter
À quelques centaines de mètres de là, François Hien suit également le soulèvement et raconte son point de vue sur l'évolution de la situation. Mardi 8 février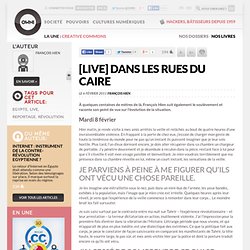 [LIVE] Dans les rues du Caire » Article » OWNI, Digital Journalism
Share photos on Twitter
Live blog Feb 6 - Egypt protests
From our headquarters in Doha, we keep you updated on all things Egypt, with reporting from Al Jazeera staff in Cairo and Alexandria.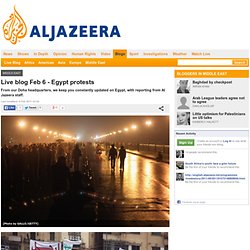 Mubarak is Illegitimate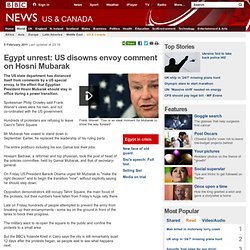 5 February 2011Last updated at 18:19 ET
Egypt unrest: Hosni Mubarak must stay - US envoy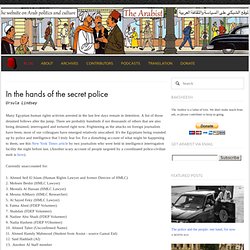 In the hands of the secret police
Many Egyptian human rights activists arrested in the last few days remain in detention. A list of those detained follows after the jump. There are probably hundreds if not thousands of others that are also being detained, interrogated and tortured right now. Frightening as the attacks on foreign journalists have been, most of our colleagues have emerged relatively unscathed. It's the Egyptians being rounded up by police and intelligence that I truly fear for. For a disturbing account of what might be happening to them, see this New York Times article by two journalists who were held in intelligence interrogation facility the night before last.
Girl leading chants at Tahrir
Chaîne de AlJazeeraEnglish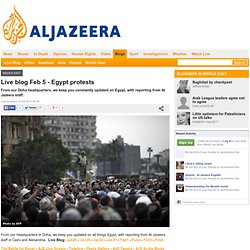 Live blog Feb 5 - Egypt protests
From our headquarters in Doha, we keep you updated on all things Egypt, with reporting from Al Jazeera staff in Cairo and Alexandria.
Deux personnes ont été tuées samedi et 17 autres blessées dans la nord de la Tunisie lorsque la police a tiré pour repousser des manifestants qui lançaient pierres et cocktails Molotov sur un poste de police. a-t-on indiqué de source proche du ministère de l'Intérieur. Le ministère de l'Intérieur a arrêté le chef de la police d'El Kef à la suite de ces incidents, a-t-on ajouté. Un peu plus tôt dans la journée, Franck Wisner, émissaire personnel du président Barack Obama, avait déclaré que L'administration américaine a pris ses distances avec ces propos, un haut reponsable indiquant que ces déclarations Un membre de la délégation de la secrétaire d'Etat Hillary Clinton à la Conférence sur la sécurité à Munich (sud de l'Allemagne) avait jugé peu avant que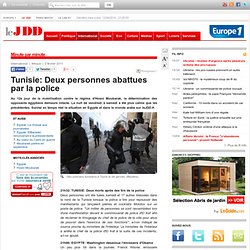 Egypte: Démission de l'exécutif du Parti national démocrate
Activists block tanks from entering Tahrir Square
Protesters line up against Egyptian military tanks at an entrance to Tahrir Square on Saturday.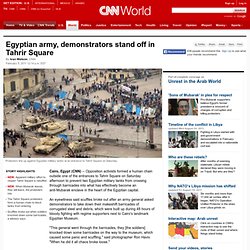 Egypt military mulls its options - Middle East
Egypt's army is likely to decide the fate of the pro-democracy protesters in Tahrir Square, and the short-term future of the country's government – yet few Egyptians know what to expect, because the army's objectives and orders remain unclear and sometimes contradictory.