Censure
Live Messages from Egypt. Gypte : les hacktivistes tissent leur bout de toile. Nous vous avons récemment parlé de Telecomix et de la manière dont des hackers et des radio amateurs ont réussi à établir des communications avec l'Égypte, ce malgré un blackout quasi total du Net et des réseaux de communication 3G et GSM.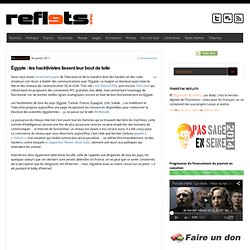 Très vite c'est d'abord FDN, puis encore Telecomix qui s'illustraient en proposant des connexions RTC gratuites, bas débit, mais présentant l'avantage de fonctionner sur de bonnes vieilles lignes analogiques, encore en état de bon fonctionnement en Égypte. Les hacktivistes de tous les pays (Égypte, Tunisie, France, Espagne, USA, Suède…) se mobilisent et Telecomix propose aujourd'hui une page récapitulant les ressources disponibles pour contourner le blackout des autorités égyptiennes… ça se passe sur le wiki WeRebuild.
A Message to the United States Government from Anonymous. Almasryalyoum. Egypt condemned for blocking media - Middle East. International press institutes have come out strongly against Egyptian authorities' suppression of the media, following the withdrawal of Al Jazeera's license to broadcast from the North African country.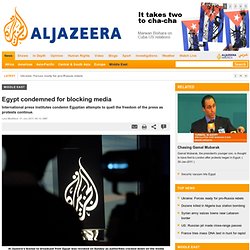 The Committee to Protect Journalists (CPJ) condemned on Sunday the information ministry's move to shutdown Al Jazeera's bureau in the country. The CPJ described the move as an attempt to "disrupt media coverage by Al Jazeera and calls on them to reverse the decision immediately". The official Middle East News Agency (MENA) reported that the order was to take effect on Sunday, and transmissions originating from Egypt ceased within an hour of the announcement. [AFP] La coupure d'internet en Egypte, une première mondiale par son ampleur. La coupure du réseau internet en Egypte [...] est une première par son ampleur et les autorités ont clairement fait pression sur les opérateurs pour neutraliser cet outil clé dans la mobilisation, selon des experts.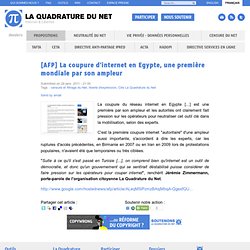 C'est la première coupure internet "autoritaire" d'une ampleur aussi importante, s'accordent à dire les experts, car les ruptures d'accès précédentes, en Birmanie en 2007 ou en Iran en 2009 lors de protestations populaires, n'avaient été que temporaires ou très ciblées. "Suite à ce qu'il s'est passé en Tunisie [...], on comprend bien qu'internet est un outil de démocratie, et donc qu'un gouvernement qui se sentirait déstabilisé puisse considérer de faire pression sur les opérateurs pour couper internet", renchérit Jérémie Zimmermann, porte-parole de l'organisation citoyenne La Quadrature du Net.
Egypt/Main Page - We Re-Build. Stat :: egypt/ Starting from 27 Jan 20:30 UTC we observe increased levels of BGP activity for Egyptian prefixes.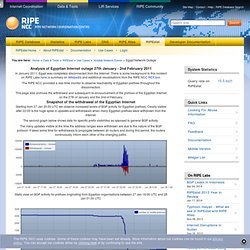 Clearly visible after 22:00 is the huge spike in updates and withdrawals when many Egyptian prefixes were withdrawn from the Internet. The second graph below shows data for specific prefix visibilities as opposed to general BGP activity. Le gouvernement Egyptien a coupé Internet. Je ne sais pas si vous suivez un peu l'actu avec ce qui se passe en Egypte, mais grosso modo, le peuple égyptien emboite le pas des Tunisiens et réclame le départ de leur dictateur Mubarak.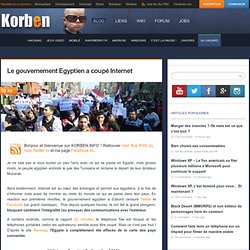 Alors évidemment, Internet est au cœur des échanges et permet aux egyptiens, à la fois de s'informer mais aussi de montrer au reste du monde ce qui se passe dans leur pays. En réaction aux premières révoltes, le gouvernement egyptien a d'abord censuré Twitter et Facebook (un grand classique)... Censure de l'internet en Égypte : une humble action de FDN. Cette nuit les instances dirigeantes égyptiennes semblent d'après cet article avoir ordonné aux fournisseurs d'accès internet égyptiens d'éteindre leurs interconnexions internationales, donc avec le reste d'internet.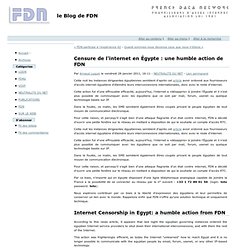 Cette action fut d'une effroyable efficacité, aujourd'hui, l'internet a «désappris» à joindre l'Égypte et il n'est plus possible de communiquer avec les égyptiens que ce soit par mail, forum, usenet ou quelque technologie basée sur IP. Dans la foulée, ce matin, les SMS semblent également êtres coupés privant le peuple égyptien de tout moyen de communication électronique. Egypte : Internet coupé, des solutions improvisées. La situation politique se durcit en Égypte, alors que les manifestations gagnent en importance.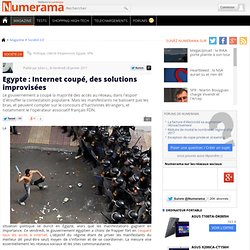 Ce vendredi, le gouvernement égyptien a choisi de frapper fort en coupant tous les accès à Internet. L'objectif du régime étant de priver les manifestants du meilleur (et peut-être seul) moyen de s'informer et de se coordonner. La mesure vise essentiellement les réseaux sociaux et les sites communautaires. Egypte : retour partiel de la téléphonie mobile, censure en Syrie et en Chine. La colère des Égyptiens à l'égard du gouvernement ne faiblit pas.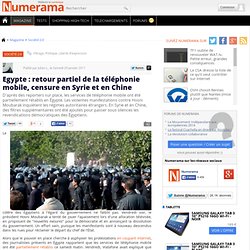 Vendredi soir, le président Hosni Moubarak a tenté de jouer l'apaisement lors d'une allocation télévisée, en proposant de "nouvelles mesures" pour la démocratie et en annonçant la dissolution du gouvernement. Un effort vain, puisque les manifestants sont à nouveau descendus dans les rues pour réclamer le départ du chef de l'État. Alors que le pouvoir en place cherche à asphyxier les protestations en coupant Internet, des journalistes présents en Égypte rapportent que les services de téléphonie mobile ont été partiellement rétablis ce samedi matin. Vendredi, Vodafone avait expliqué que "tous les opérateurs de téléphonie mobile [avaient] reçu pour instruction de suspendre les services" de téléphonie mobile.
À l'étranger, les autres régimes autoritaires craignent que les troubles qui secouent la Tunisie et l'Égypte finissent par se produire chez eux. How Egypt did (and your government could) shut down the Internet. How hard is it, exactly, to kill the Internet?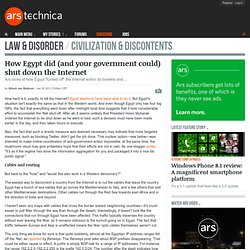 Egypt seems to have been able to do it. But Egypt's situation isn't exactly the same as that in the Western world. And even though Egypt only has four big ISPs, the fact that everything went down after midnight local time suggests that it took considerable effort to accomplish the 'Net shut-off. Kill-switch: Egypt vs. the US. In response to protests , the Egyptian government took the unprecedented step of disconnecting its Internet from the rest of the world.
Egyptians can no longer reach Twitter, Facebook, or other "subversive" websites. While Iran and Tunisia partially restricted the Internet during their protests, they did not go to this extreme of turning it off completely. While extreme, this is exactly the ability our president wants (it's unfair to blame it on the current president -- our previous president wanted the same ability).
The proposed "Protecting Cyberspace as a National Asset Act" would give the president broad powers to disable the Internet after declaring a "cyber emergency", specifically, shutting down links to the outside world. Such things are always well intentioned, but often become a bigger problem than the threat they are designed to address. Egypt shuts down Al Jazeera bureau - Middle East. The Egyptian authorities are revoking the Al Jazeera Network's licence to broadcast from the country, and will be shutting down its bureau office in Cairo, state television has said.
"The information minister [Anas al-Fikki] ordered ... suspension of operations of Al Jazeera, cancelling of its licences and withdrawing accreditation to all its staff as of today," a statement on the official Mena news agency said on Sunday. In a statement, Al Jazeera said it strongly denounces and condemns the closure of its bureau in Cairo by the Egyptian government. The network received notification from the Egyptian authorities on Sunday morning.
L'Égypte coupe l'accès à Internet  Arbor Networks Depuis hier soir, les quatre principaux fournisseurs d'accès à Internet -Link Egypt, Vodafone/Raya, Telecom Egypt et Etisalat Misr – ne répondent plus. Idem pour les réseaux de téléphonie cellulaire. Selon la firme Renesys, le blocage a commencé à 00 h 34 vendredi, heure locale. « Renesys a observé le retrait quasi simultané de toutes les voies menant vers les réseaux égyptiens. » Censure du Net et violences contre les journalistes en marge des manifestations. Reporters sans frontières condamne fermement les interpellations et les agressions de journalistes en marge des manifestations qui se sont déroulées les 25 et 26 janvier 2011 dans différentes villes du pays. Les autorités ont tout mis en œuvre pour maintenir à distance les médias, afin que les images des manifestants exigeant le départ du président égyptien, Hosni Moubarak, ne circulent pas. Aucune chaîne télévision n'a pu filmer en direct le rassemblement sur la grande place de Tahrir, au Caire.
Modempools. How To Help Egypt Get Online. See updates below Egypt is in the midst of an Internet blackout that experts are calling the "worst in history. " Renesys estimated that 93% of Egypt's networks were still unavailable Friday evening (EST). With the country's citizens unable to log on to the Internet as they normally would, people have turned to a variety of other means to get online, including using ham radios, fax machines, and landline phones.
Anonymous Internet Users Team Up To Provide Communication Tools For Egyptian People. "Internet not working, police cars burning," sent out one Egyptian. "Today marks a great day for Egypt," sent out another. These messages weren't coming from mobile phones or computers, but from an amateur radio sending out Morse Code somewhere amidst the chaos in Egypt. The Egyptian government's efforts to limit communications within the country has triggered a wave of activism from an international group of free speech activists on the Internet called Telecomix. Organizing using chat rooms, wikis, and collaborative writing tools, this largely anonymous group has worked to inform Egyptians about their communications options while receiving incoming messages from them. How Governments Flip the Internet's Kill Switch. In Egypt, should Internet access be an inalienable right? Al Jazeera Provides via Internet After Nilesat Cuts Signal.
Government shuts down Al Jazeera's operations - Reporters sans frontières. Al Jazeera In Cairo Being Shut Down, Press Credentials Revoked: Egypt State TV. Al Jazeera Provides via Internet After Nilesat Cuts Signal. La chaîne Al-Jazira interdite en Egypte.
---