Website Tools
SyncLive
Using this tool you can: - See how search engine robots analyze your or your competitors web site - Receive tips on how to improve your Meta Tags - Check the keywords used on the page and find the keyword density - Check web server operating system where site is hosted - Check website load time - Check website file size - Check URLs and links found on the page Type your URL below: Example: http://www.host.com or http://www.host.com/index.html URL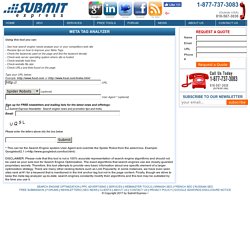 You need backlinks (= link popularity) to improve your search engine ranking. But that's not all: You need backlinks from different domains (= domain popularity) based on different IPs (= IP popularity). This is more valuable for your search engine ranking.
As a small business owner did youknow that over 86% of consumerssearch online to find local businesses? That's true! In fact many people prefer using the Internet over their local yellow pages when looking for things like a dentist, chiropractor, interior decorator, new restaurant, hotel reservations, etc., which means that you need to take your business online so that new, paying customers, can find you and do business with you. To ensure that your business is found online our Calgary Web Designers will develop a professional website for your business with an impressive design that: Increases profits.Appeals to you and your online audience. Assists your visitors in quickly locating exactly what they need.
Business Web Design | Design Professional Websites | SEO | CMS | Professional Web Studio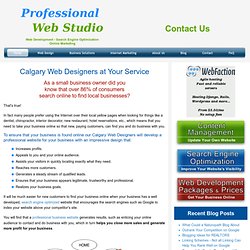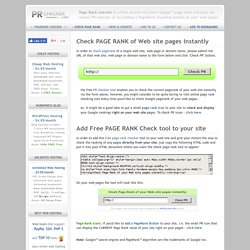 Check PAGE RANK of Web site pages Instantly In order to check pagerank of a single web site, web page or domain name, please submit the URL of that web site, web page or domain name to the form below and click "Check PR" button. the free PR checker tool enables you to check the current pagerank of your web site instantly via the form above, however, you might consider to be quite boring to visit online page rank checking tool every time you'd like to check Google pagerank of your web pages..