Candle Making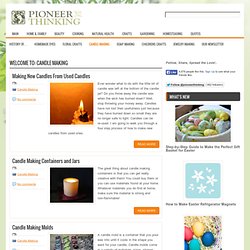 Candle Making - page 1
Making New Candles From Used Candles Ever wonder what to do with the little bit of candle wax left at the bottom of the candle jar? Do you throw away the candle wax when the wick has burned down? Well, stop throwing your money away.
candle class|candle material in India|Professional chocolate course in India|Candle material|Shampoo cream making classes
There are various institutes, who provide the courses for candle making in India. These institutes are run by the professionals who have a thorough knowledge of the process of candle making. Besides that, they are also very creative and can help you to explore your own creative nature. The institutes are registered and thus, you get authenticated and proper training on making of the candles. They conduct regular classes with hands on training, so that, you learn the process in the proper manner.
Candle Making Instructions - Scented