Reggae keyboard players
Roots Archives - Artist : Winston Wright
The piano, a common keyboard instrument History[edit] Among the earliest keyboard instruments are the pipe organ, hurdy gurdy, clavichord and harpsichord.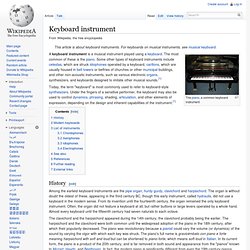 Keyboard instruments
The piano is a musical instrument played using a keyboard.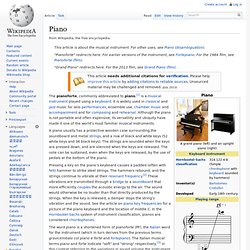 Piano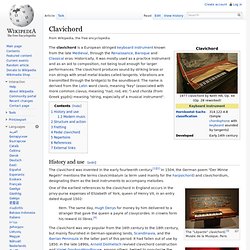 Clavichord
History and use[edit] The clavichord was invented in the early fourteenth century.[1][2] In 1504, the German poem "Der Minne Regeln" mentions the terms clavicimbalum (a term used mainly for the harpsichord) and clavichordium, designating them as the best instruments to accompany melodies.
Pablo Black
Organ
Non-piped organs include the reed organ or harmonium, which like the accordion and harmonica (or "mouth organ") use air to excite free reeds.
Booker T & The MG's - 'Time Is Tight' (from the 1968 lp 'Uptight')
Mishka - Above the bones: 3rd Eye Vision
How do you play reggae keyboard
The reggae keyboard is probably the hardest instrument in reggae music to get information on.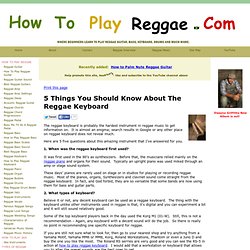 how to play reggae - 5 things You Should Know About The Reggae Keyboard
How Are Keyboards Used in Reggae?
Autumn Sounds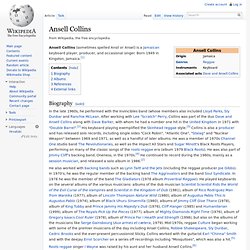 Ansell Collins (sometimes spelled Ansil or Ansel) is a Jamaican keyboard player, producer, and occasional singer.
Ansell Collins
Dave & Ansel Collins discography
Double Barrel
Welcome to YouTube! The location filter shows you popular videos from the selected country or region on lists like Most Viewed and in search results.To change your location filter, please use the links in the footer at the bottom of the page. Click "OK" to accept this setting, or click "Cancel" to set your location filter to "Worldwide".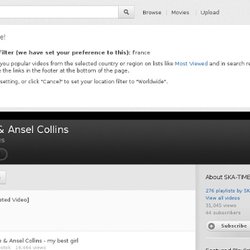 Dave & Ansel Collins
Only The Strong Survive
Revolutionaries - Post Mortem (InstraDub)
TEN TO ONE
Double Barrel (HQ) |TOTP 29-04-1971
Monkey Spanner
Ain't That Lovin You
Power To The People
Ride Your Pony
In The Ghetto
Shocks of Mighty
Lonely Man Am I
Slavery Days
Interview Bob Marley and Tyrone Downie
A Quiet Place (ALA Johnny Dollar)
Give Me Some Light
Burning Love
Secret Weapon
My Best Girl
Just My Imagination
What A Confusion (Live)
Earl "Wire" Lindo (sometimes referred to as "Wya") is a Jamaican reggae musician, born 7 January 1953.
Earl Lindo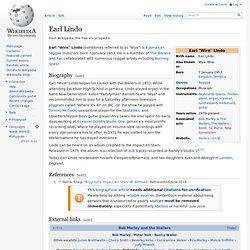 Earl 'Wire' Lindo Discography at Discogs
Tommy McCook Jamaica Bolero
Tommy McCook Green Mango
Tommy McCook (Earl Lindo) - White Rum - Treasure Isle records
More Ball
Biography[edit] He was born Donat Roy Mittoo in Browns Town, Saint Ann Parish, Jamaica, and began learning to play the piano when he was four under the tutelage of his grandmother.
Jackie Mittoo
Jackie Mittoo Discography at Discogs
Jackie Mittoo playlist
Who Done It
Jackie Mittoo - Keep On Dancing at Discogs
Evening Time
Choice Of Music
Midnight Special
Full Charge
Best By Request
In London
Night Of Love
Napoleon Solo
Hot Shot
Rock Steady Wedding
Whiter Shade of Pale
Summertime
Kicksie
Mission Impossible
Winchester Cathedral
Hot Milk
Evening Time
One Step Beyond
Darker Shade Of Black
jackie mittoo, drum song
Love Is Blue
Hip Hug
Ram Jam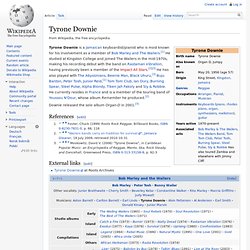 Tyrone Downie is a Jamaican keyboardist/pianist who is most known for his involvement as a member of Bob Marley and The Wailers.[1] He studied at Kingston College and joined The Wailers in the mid-1970s, making his recording début with the band on Rastaman Vibration, having previously been a member of the Impact All Stars.[2][3] He has also played with The Abyssinians, Beenie Man, Black Uhuru,[3] Buju Banton, Peter Tosh, Junior Reid,[1] Tom Tom Club, Ian Dury, Burning Spear, Steel Pulse, Alpha Blondy, Tiken Jah Fakoly and Sly & Robbie.
Tyrone Downie
Tyrone Downie Discography at Discogs
Bob Marley Jam session with Tyrone & Carlton
Jahmark, PJ, Sly & Robbie, Tyrone Downie "Unity" (pt. 1)
Jahmark, PJ, Sly & Robbie, Tyrone Downie "Unity" (pt. 2)
Robert Lyn Discography at Discogs
Robert Lyn
REGGAE~ROBERT LYNN & SOUND DIMENSION - Zip Code
Third World
96° In The Shade
One Cold Vibe
Dreamland
Jah Glory
Tribal War
Third World Man
96 degrees in the shade
Feel A Little Better
Third World playlist
Journey To Addis
Kumina
Rejoice
Human Market Place
Satta Massagana
Rhythm of life
African Woman
Cool Meditation
Now That We've Found Love
Fret Not Thyself
Cold Sweat
Journey To Addis