Humor
Comics. Know Your Memes. That's Racist! About "That's Racist" is an expression often used in jest to point out the politically incorrect or racially insensitive nature of a post or comment online.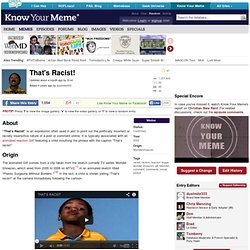 It is typically associated with an animated reaction GIF featuring a child mouthing the phrase with the caption "That's racist!" Successful Negro. About Successful Black Man, also known as "Successful Negro", is an advice animal image macro series featuring a photo of a black man dressed in business attire superimposed in front of a brown and beige color wheel background.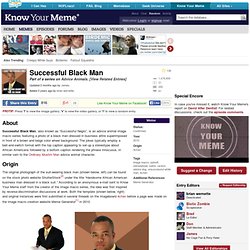 The jokes typically employ a bait-and-switch format with the top caption appearing to set-up a stereotype about African Americans followed by a bottom caption rendering the phrase innocuous, in similar vein to the Ordinary Muslim Man advice animal character. Origin.
---