DIY
Craftgawker | look to inspire. Out of Order: DIY Tutorials. Recycle Tutorial: Woven Rag Rug. Thank you for all the great feedback for liking my Braided Rag Rug.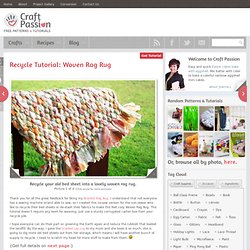 I understand that not everyone has a sewing machine or/and able to sew, so I created this no-sew version for the non-sewer who like to recycle their bed sheets or de-stash their fabrics to make this feet cozy Woven Rag Rug. This tutorial doesn't require any loom for weaving; just use a sturdy corrugated carton box from your recycle pile.
I hope everyone can do their part on greening the Earth again and reduce the rubbish that loaded the landfill. By the way, I gave the braided rag rug to my mum and she loves it so much, she is going to dig more old bed sheets out from her storage, which means I will have another bunch of supply to recycle. Brenna's paper capiz shell chandelier. I love wax paper for packing lunches; i wrap sandwiches in a piece of wax paper and tie it like a present with a little cotton string. it's so much better looking than a plastic bag. wax paper comes in handy for more things than i realized, like rolling it up to use for a funnel, or how about rubbing a piece of wax paper on the top of your shower curtain rod to cut down on that terrible screeching in the morning…problem solved. but who knew that if you iron layers of wax paper together it looks remarkably similar to a capiz shell?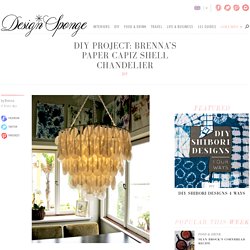 This discovery brought me to today's project: the faux capiz chandelier. hung over your dining table, or outside at an outdoor dinner party, it is an easy solution to a dramatic light fixture and will look phenomenal in either setting. i hope you enjoy making your own as much i did! -brenna CLICK HERE for the full how-to after the jump! Materials: Make coasters from curling ribbon. Years ago when I was a college student, I had a part time job in a card store.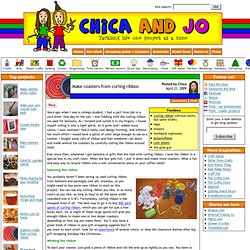 One day on the job, I was fiddling with the curling ribbon we used for balloons. As I twisted and curled it in my fingers, I found myself rolling it into a tight spiral. As it grew and I added more colors, I soon realized I had a really cool design forming, and without too much effort I would have a spiral of color large enough to use as a coaster. 36 Do It Yourself Gift Box Tutorials For Your Christmas Presents & ... Gift-Wrapping Ideas. Tutorial: Homemade Sidewalk Chalk. By Michelle Vackar, Modern Handmade Child One of our favorite outside activities at our home is drawing with chalk on the driveway.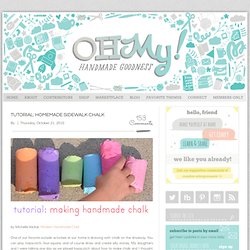 You can play hopscotch, four-square, and of course draw and create silly stories. Heart-Shaped Soap - Martha Stewart Holiday & Seasonal Crafts. 39 DIY Gifts You'd Actually Want To Receive.
Marth Stewart.com
Bubble Chandelier DIY ~ Frou Frou Fashionista - Luxury Lingerie Blog. At long last we are excited to share the process of how we created the Champagne Bubbles "Frou Frou Chandelier" for our boutique (aka Bubble Chandelier for those of you who want a simpler name for it)!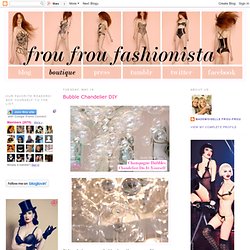 Instead of paying $3,000-$7,000 for a chandelier, we thought it would be much more rewarding to create our own for just a few hundred dollars. This is a step-by-step guide for how we made the chandelier you see at Faire Frou Frou. Sweetheart Bow T-shirt Tutorial. I've been slightly obsessed with bows recently in case you haven't noticed.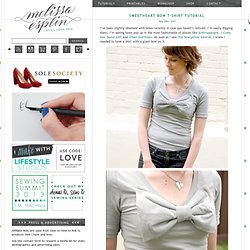 I'm really digging them. I'm seeing bows pop up in the most fashionable of places like Anthropologie, J.Crew, Ann Taylor Loft and Urban Outfitters. As soon as I saw this bow pillow tutorial, I knew I needed to have a shirt with a giant bow on it. I bought two DownEast Basics v-neck shirts and transformed them into what you see above. The project cost a total of $5 and 45 minutes. Scratch-Off Save-the-Date How-To. You won the lottery when you found each other, so send this cheeky save-the-date card to let guests share in your luck.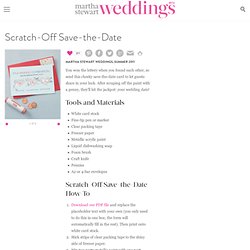 After scraping off the paint with a penny, they'll hit the jackpot: your wedding date! Tools and Materials White card stock Fine-tip pen or marker Clear packing tape Freezer paper Metallic acrylic paint Liquid dishwashing soap Foam brush Craft knifePennies A2 or 4-bar envelopes Scratch-Off Save-the-Date How-To. Make your own bath bomb fizzies. Make your own bath bomb fizzies I don't know about you, but I love to grab some time to myself to indulge in a luxurious bath.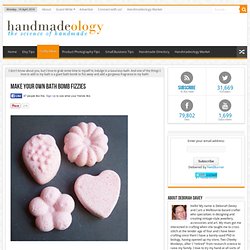 And one of the things I love to add to my bath is a giant bath bomb to fizz away and add a gorgeous fragrance to my bath! My children really love bath bombs too, so if you are looking for a way to entice your kids to get clean more regularly, or just want to spoil yourself, then this might be just what you are looking for! These bath bombs are very easy to make in bulk so this project is also suitable for making large quantities for gifts or party favours. Ingredients. Make-up Magnet Board. We all know with craft blogs that original ideas are often hard to come by, we find ideas we love and make them our own but we didn't come up with the idea ourselves.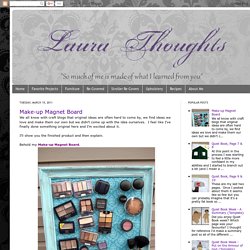 I feel like I've finally done something original here and I'm excited about it. I'll show you the finished product and then explain. Behold my Make-up Magnet Board. I have a friend who is beautiful and stylish and has always loved make-up but recently took a course that intensified her love.
---