Desserts
Frosting Basics. A couple weeks ago I had a reader write in and request a recipe for a slightly less sweet butter cream frosting recipe.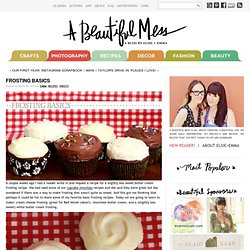 She had used some of our cupcake mixology recipes and she said they were great but she wondered if there was a way to make frosting that wasn't quite so sweet. And this got me thinking that perhaps it could be fun to share some of my favorite basic frosting recipes. Cakes and parties / gorgeous cake.
Cakes/Cupcakes. Dessert-ishy Drinks. Chocolate Desserts. Most favorited all-time - page 2 | foodgawker - StumbleUpon. Two Ingredient Ice Cream - No Ice Cream Machine Required.
1.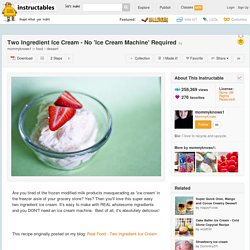 Whip 1.5 cups of whipping cream (plus 1 teaspoon of vanilla extract if desired) until it forms stiff peaks, refrigerate. 2. Heat honey on low heat until it is very runny and add the remaining 1 cup of cream. The Bakers Daughter: Polka dot cheesecake. I saw someone wearing the greatest polka dot rain coat today and it inspired me to make this cheesecake.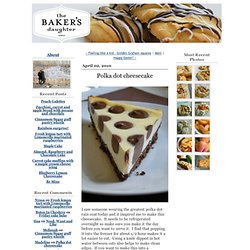 It needs to be refrigerated overnight so make sure you make it the day before you want to serve it. I find that popping it into the freezer for about 1/2 hour makes it a lot easier to cut. Using a knife dipped in hot water between cuts also helps to make clean edges. If you want to make this into a traditional cheesecake you will need an 8 inch spring form pan. Crust. The Best Chocolate Chip Cookies Recipe - Recipe for The Best Chocolate Chip Cookies.
These cookies are incredible!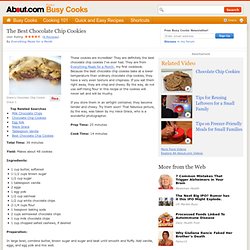 They are definitely the best chocolate chip cookies I've ever had. They are from Everything Meals for a Month, my first cookbook. Because the best chocolate chip cookies bake at a lower temperature than ordinary chocolate chip cookies, they have a very even texture and crispness. Fun Summer Dessert: Watermelon Pie. One of my summertime childhood memories is eating the yummy watermelon sherbet dessert at Friendly's restaurant.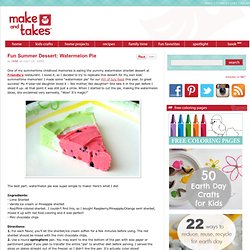 I loved it, so I decided to try to replicate this dessert for my own kids' summertime memories! I made some "watermelon pie" for our 4th of July feast this year…to great success! My 4-year-old daughter loved it – like mother, like daughter!
---