TARJEtas de Presentación
Leather Style Business Card - Design Templates - GraphicRiver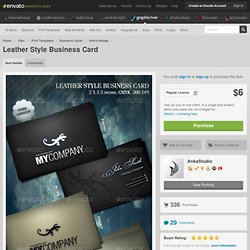 Hi, These business cards are print ready, CMYK , 300DPI with bleed lines and guides included. To enable guides, simply go View > Show > Guides.
This Mini cards are designed for people who love typography and want to have a great and unique Business card. Don't let the design intimidate you! Is very easy to edit and create you own Slogan, Pincoya Black is an elegant-symmetric font; which make it very easy to work with. Even for those who are not typography nerds Features Print Ready CMYK Layered, Grouped, Named .PSD layers Two size: 2×3.5 in and 1.75×3.5 in (Slim) Vertical and Horizontal 2 Styles: Grunge and Clean 3 color combination: Brown-Yellow Black-White Red-Black Create your own color combination with a few clicks Black and White reverse (for low cost ptint)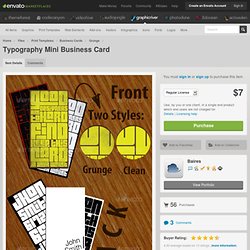 Typography Mini Business Card - Design Templates - GraphicRiver
Vertical business cards vectors from Business Cards
Saying thanks won't be enough to show how I've been so happy with all of your supports for Graphic Identity blog throughout these years my awesome readers! As the 2010 is here, I want to wish you a very Happy New Year. May you gain more success in life, happiness in better friendship and also good health. :)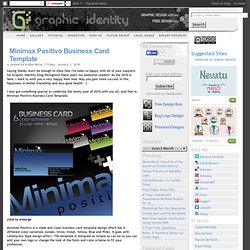 Minimax Positivo Business Card Template
Business Cards « Cursive Q – Designs
i love dA business card by ~depart on deviantART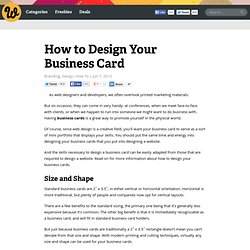 As web designers and developers, we often overlook printed marketing materials. But on occasion, they can come in very handy: at conferences, when we meet face-to-face with clients, or when we happen to run into someone we might want to do business with. Having business cards is a great way to promote yourself in the physical world. Of course, since web design is a creative field, you'll want your business card to serve as a sort of mini portfolio that displays your skills. You should put the same time and energy into designing your business cards that you put into designing a website. And the skills necessary to design a business card can be easily adapted from those that are required to design a website.
Advertisement Professionals in any field should always keep business cards on them because you never know when you'll meet a potential client, partner or like-minded person. Despite their small size, business cards are one of the most powerful and handiest marketing tools. Not only do they create a link between you and your new contact, they're also a quick way to give a great first impression. Business cards promote your skills and achievements and serve as a little container for big ideas.