Diseño Web
Web2.0 2. ARTIST IN DESIGN aus Leipzig | Webdesign & Grafikdesign Leipzig, Grimma und Umgebung. Zusammenkommen ist ein Beginn, Zusammenbleiben ein Fortschritt, Zusammenarbeiten ein Erfolg.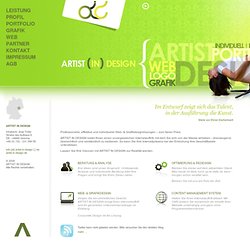 Henry Ford Thomas Braun - Controlling · Fotografie · Marketing Professionelle und fundierte betriebswirtschaftliche Unterstützung • Schulung und Support insbesondere in den Bereichen Controlling & Kostenrechnung • Marketingberatung, insbesondere Internetmarketing • professionelle Fotografie webmatr1x - webcoding agency Webdesign, Webentwicklung und Suchmaschinenoptimierung (SEO) Bei uns arbeiten Designer & Programmierer Hand in Hand für ein perfektes Ergebnis im Code und im Design. 40 Must See Cool Short Animation Websites | Dzine Blog. Learn how to earn $125 or more per hour as a freelancer - Click Here Looking for hosting?.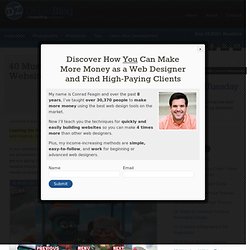 We recommend MediaTemple for web hosting. Use Code MTLOVESDESIGN for 20% off In our previous article State of The Art Professional Animators' Site Graphics we presented 40 examples of the best animators' site. Featured portfolios. TDX. Fur.ly | shorten multiple urls into one.
Scr.im « Share your email in a safe way. Get less spam. MakeTEXT, because lorum ipsum is so boring. Ojos - 280 Slides. Webokeyus. Smashing Magazine - Page 4. Creating Responsive Prototypes With Adaptive Views In Axure RP 7 Responsive Web design has vexed people who build prototypes since the techniques came into use several years ago.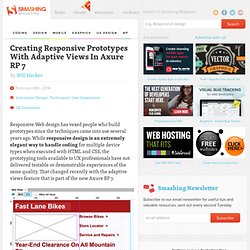 While responsive design is an extremely elegant way to handle coding for multiple device types when executed with HTML and CSS, the prototyping tools available to UX professionals have not delivered testable or demonstrable experiences of the same quality. That changed recently with the adaptive views feature that is part of the new Axure RP 7. Creating responsive prototypes without writing code is now possible with Axure RP 7's new adaptive views feature. Smashing Magazine. Shopping Cart. Free webhosting - Freewebspace.net. James Lai Creative - Professional Design, Usability and Programming. Vector Graphics. Foro Creativo.
Revisando la Accesibilidad con Estilo. [ HERA | Ayuda | Info | Código | Contacto ] HERA es una utilidad para revisar la accesibilidad de las páginas web de acuerdo con las recomendaciones de las Directrices de Accesibilidad para el Contenido Web 1.0 (WCAG 1.0).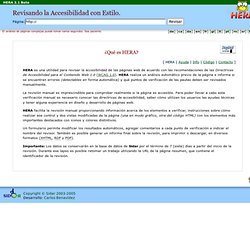 HERA realiza un análisis automático previo de la página e informa si se encuentran errores (detectables en forma automática) y qué puntos de verificación de las pautas deben ser revisados manualmente. La revisión manual es imprescindible para comprobar realmente si la página es accesible. Para poder llevar a cabo esta verificación manual es necesario conocer las directrices de accesibilidad, saber cómo utilizan los usuarios las ayudas técnicas y tener alguna experiencia en diseño y desarrollo de páginas web.
Popular Links: Hacker News. Line25 Web Design Blog. Web Designer Wall - Design Trends and Tutorials. Noupe Design Blog. FRESH01 | Web Design, Code & …Stuff! Portfolio and blog of Jeffrey Sarmiento a web designer/developer from Toronto, Canada currently working for FreshBooks. Pro Blog Design.
Images enhance the visual impact of a blog and make it more likely a post will be read.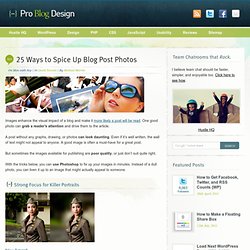 One good photo can grab a reader's attention and drive them to the article. A post without any graphs, drawing, or photos can look daunting. Websites | Website Showcase. 10 SEO tips for YouTube. Many people are surprised to learn that YouTube is the second-largest search engine.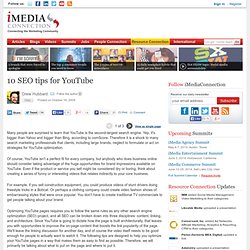 Yep, it's bigger than Yahoo and bigger than Bing, according to comScore. Therefore it is a shock to many search marketing professionals that clients, including large brands, neglect to formulate or act on strategies for YouTube optimization. Of course, YouTube isn't a perfect fit for every company, but anybody who does business online should consider taking advantage of the huge opportunities for brand impressions available on YouTube. Even if the product or service you sell might be considered dry or boring, think about creating a series of funny or interesting videos that relates indirectly to your core business. RIOT - Radical Image Optimization Tool. What is RIOT ?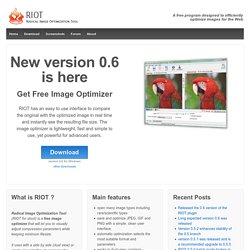 Radical Image Optimization Tool (RIOT for short) is a free image optimizer that will let you to visually adjust compression parameters while keeping minimum filesize. It uses with a side by side (dual view) or single view interface to compare the original with the optimized image in real time and instantly see the resulting file size. It is lightweight, fast and simple to use, yet powerful for advanced users. 30+ principles to a better landing page design | landing Page Op. After hundreds of landing page optimization projects, we wanted to share few of the lessons we learned when creating a successful landing page.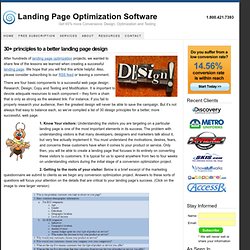 We hope that you will find this article helpful. Also, please consider subscribing to our RSS feed or leaving a comment. There are four basic components to a successful web page design: Research; Design; Copy and Testing and Modification. It is important to devote adequate resources to each component – they form a chain that is only as strong as the weakest link. HTML Tutorial. ASCII Generator.
HTML Quick List. Best Tutorials On Web! Tips for Designers, Bloggers and Tech Users. Tim-adler.com - web · design · thinking. Fotografia - Intenta, Desarrollo Web y Recursos. Web Design Resources and Tutorials - Webdesigner Depot.
Analyseur de pages Web - Alyze. Dynamic Drive- FavIcon Generator. Use this online tool to easily create a favicon (favorites icon) for your site.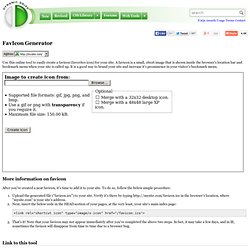 A favicon is a small, 16x16 image that is shown inside the browser's location bar and bookmark menu when your site is called up. It is a good way to brand your site and increase it's prominence in your visitor's bookmark menu. More information on favicon After you've created a neat favicon, it's time to add it to your site. Favicon Collector | Julian Bez. I've made this web application primary to get favicons as PNG files (okay, originally gif, but this PHP version does not support this) without having to start Photoshop.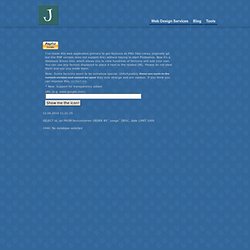 Now it's a database driven tool, which allows you to view hundreds of favicons and add your own. You can use any favicon displayed to place it next to the related URL.
---