Raoul day to day pages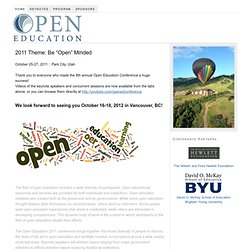 Open Education 2011 Conference
2011 Theme: Be "Open" Minded October 25-27, 2011 :: Park City, Utah Thank you to everyone who made the 8th annual Open Education Conference a huge success!
100 Web 2.0 Tools Every Teacher Should Know About 44.24K Views 0 Likes We're always trying to figure out the best tools for teachers, trends in the education technology industry, and generally doing our darnedest to bring you new and exciting ways to enhance the classroom. But I wanted t... 20 Free and Fun Ways To Curate Web Content
Latest Added <embed src="streaming_flow2_v8.swf?math=1300979310" width="600" id="1300979310" height="225" allowscriptaccess="always" allowfullscreen="true" random="1300979310" flashvars="address=/playlist.aspx?
social media in education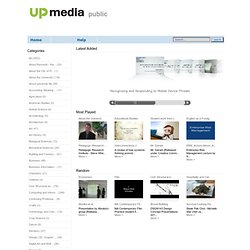 Interactive Lessons About Art and Artists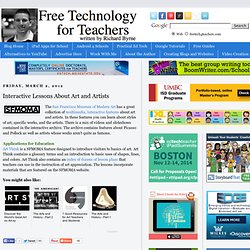 The San Francisco Museum of Modern Art has a great collection of multimedia, interactive features about art and artists. In these features you can learn about styles of art, specific works, and the artists. There is a mix of videos and slideshows contained in the interactive archive. The archive contains features about Picasso and Pollock as well as artists whose works aren't quite as famous. Applications for Education Art Think is a SFMOMA feature designed to introduce visitors to basics of art. Art Think contains a glossary terms and an introduction to basic uses of shapes, lines, and colors.
Conférence sur le luxe et le marketing - Swiss Marketing Lausanne, networking et conférences sur la communcation, vente et marketing région Lausanne et Leman
iPad for Teaching & Learning
Open University of Nepal Workshop, held at Carleton University | Hamrosamaj
Open Educational Resources OERs
Tuesday, February 15, 12:30 pm Berkman Center, 23 Everett Street, second floor RSVP required for those attending in person to Amar Ashar ( ashar@cyber.law.harvard.edu ) This event will be webcast live at 12:30 pm ET and archived on our site shortly after. Recognising that ICTs are powerful tools shaping people's everyday lives, practitioners, policy-makers and academics in the ICT for development (ICT4D) field engage with these technologies in the name of "development". Yet understandings of development differ and too often remain implicit and removed from participatory processes involving the intended users.
Whose choice? ICTs for "development" and the lives people value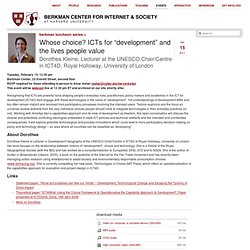 Photo: Malawians pose for a quick photo. (Getty Images) If you're one of the bazillion Americans (confirmed statistic...) already lining up for the next generation iPhones or Androids, recent college grad Josh Nesbit wants you to consider this: The old phone you may be tempted to ditch is a lifeline waiting to launch. Four years ago, while enrolled at Stanford University, Nesbit spent a summer volunteering at an AIDS clinic in Malawi, where hospitals are not easily accessible for many residents in rural communities. He witnessed sick and injured locals traveling up to 100 miles for treatment, consuming valuable time, resources and energy just getting to facilities.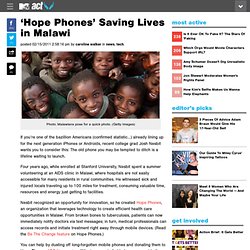 'Hope Phones' Saving Lives in Malawi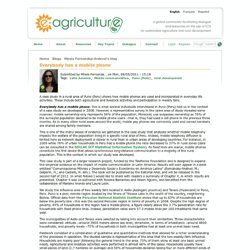 A case study in a rural area of Puno (Peru) shows how mobile phones are used and incorporated in everyday life activities. These include both agricultural and livestock activities and participation in weekly fairs. Everybody has a mobile phone : this is what several individuals interviewed in Puno (Peru) told us in the context of a case study we developed in 2008. However, a representative survey in the same area of study revealed some nuances: mobile ownership only represents 56% of the population. Moreover, use surpasses ownership as 76% of the surveyed population declared to be mobile phone users –that is, they had used a cell phone in the previous three months. As in many other rural areas around the world, mobile pay phones are commonly used and owned handsets are shared among family members.
Everybody has a mobile phone
Making money with mobile apps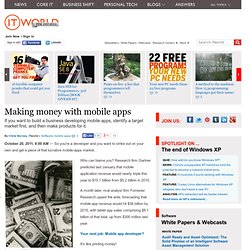 October 20, 2011, 8:00 AM — So you're a developer and you want to strike out on your own and get a piece of that lucrative mobile-apps market. Who can blame you? Research firm Gartner predicted last January that mobile application revenue would nearly triple this year to $15.1 billion from $5.2 billion in 2010. A month later, rival analyst firm Forrester Research upped the ante, forecasting that mobile-app revenue would hit $38 billion by 2015, with tablet app sales comprising $8.1 billion of that total, up from $300 million last year.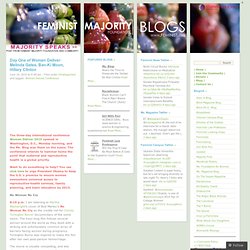 Day One of Women Deliver: Melinda Gates, Ban-Ki Moon, Hillary Clinton « Majority Speaks
The three-day international conference Women Deliver 2010 opened in Washington, D.C., Monday morning, and the Ms. Blog was there on the scene. The conference intends to hammer home the point that maternal and reproductive health is a global priority.
VIDEO: "We Have to Put the Power in Women's Hands" -- Melinda Gates | TakePart - Inspiration to Action
Hillary Clinton Wants Global Standards For Cookstoves
Woman - Tools to Succeed for Professional & Executive Women - Forbes.com
School of Public Health, UMD- College Park
Social Media Seminar - AACE Connect
Copyright 9/27/2009 By: This is the best time in history to be a teacher-librarian. Major shifts in our information and communication landscapes present new opportunities for librarians to teach and lead in areas that were always considered part of their role, helping learners of all ages effectively use, manage, evaluate, organize and communicate information, and to love reading in its glorious new variety. A school's teacher-librarian is its chief information officer, but in a networked world, the position is more that of moderator or coach, the person who ensures that students and teachers can effectively interact with information and leverage it to create and share and make a difference in the community and beyond.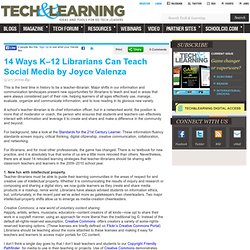 Developing a School or District Technology Plan
ISSUE: To realize the benefits of technology, schools must develop a plan for integrating technology into the curriculum. An effective technology plan is based on the shared vision of educators, parents, community members, and business leaders who have technological expertise. It ensures that technology strengthens existing curricula and supports meaningful, engaged learning for all students. It also specifies how the technology will be paid for and how its use will be supported. OVERVIEW: Because technology continues to play an important role in modern industrial society, integrating technology into the schools will help prepare students to succeed in a rapidly changing world.
Hi everyone!
I am from Rwanda.can we share our experiences on how to use facebook for learning?
Thanks everyone. by raoulrugamba May 10
quelle est ton experience de facebook en education?je fais quelque recherche sur le social media dans l'education.merci bien by raoulrugamba Mar 31