Eluveitie
Eluveitie | Bezpłatna muzyka, koncerty, zdjęcia, teledyski. ELUVEITIE lyrics. Eluveitie. Eluveitie use traditional instruments amidst guitars and harsh vocals.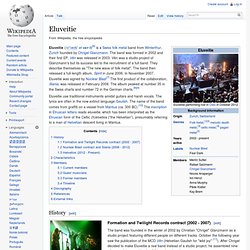 The lyrics are often in the now extinct language Gaulish. The name of the band comes from graffiti on a vessel from Mantua (ca. 300 BC).[10] The inscription in Etruscan letters reads eluveitie, which has been interpreted as the Etruscan form of the Celtic (h)elvetios ("the Helvetian"), presumably referring to a man of Helvetian descent living in Mantua. History[edit] Eluveitie ...new wave of folk metal! ELUVEITIE - Omnos. ELUVEITIE - Inis Mona. ELUVEITIE - Thousandfold. Eluveitie - Uis Elveti.
Eluveitie - Gray Sublime Archon. Eluveitie, Bloodstained Ground. Eluveitie The Dance Of Victory. Eluveitie - Brictom.
---